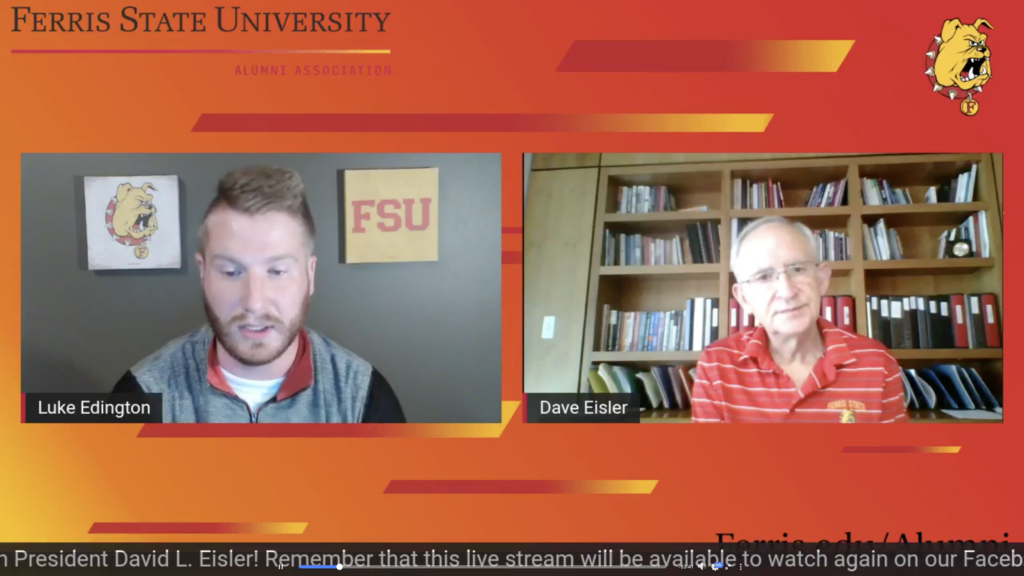 Over the last two weeks, Ferris' President Dr. David Eisler has addressed the Ferris community multiple times and talked about both Bulldog history along with what there is to look forward to.
First, Eisler sat down with Luke Edington on an episode of Ferris Forward where he discussed his time at Ferris. Then he took to the stage for his annual Presidential address delivered in the University Center on Sept. 2.
Eisler touched on everything from move-in activities, the demolition of Vandercook and Taggert Halls, the construction of the Center for Virtual Learning and finally all of Ferris' upcoming projects.
"This is a year with a fair amount of construction going on, there's the Center for Virtual Learning… and then we are going to be renovating the Alumni Building," Eisler said.
The oldest building on campus is getting a facelift. The Alumni building, constructed in 1929, will now feature things like air conditioning.
An additional floor is also going to be added to the building which will accomidate the IT department who will be reloacting from the West Building.
Athletics will also be receiving some upgrades, notably a new Bulldog Area which will be replacing the current Vollyball facilites at Ewigleben Sports Arena.
Ewigleben Sports Arena will then be upgraded to become a new fitness and conditioning facility.
Athletics renovations will also include upgrading the remaining locker rooms on campus that have yet to be renovated and tidying up hallways and pathways within existing sports complexs.
"It'll be a great place for our athletes," Eisler said.
"They deserve a great facility and we're going to build them one,"
Those interested in learning more about the campus master plan can find on Ferris' website by serarching "campus master plan".