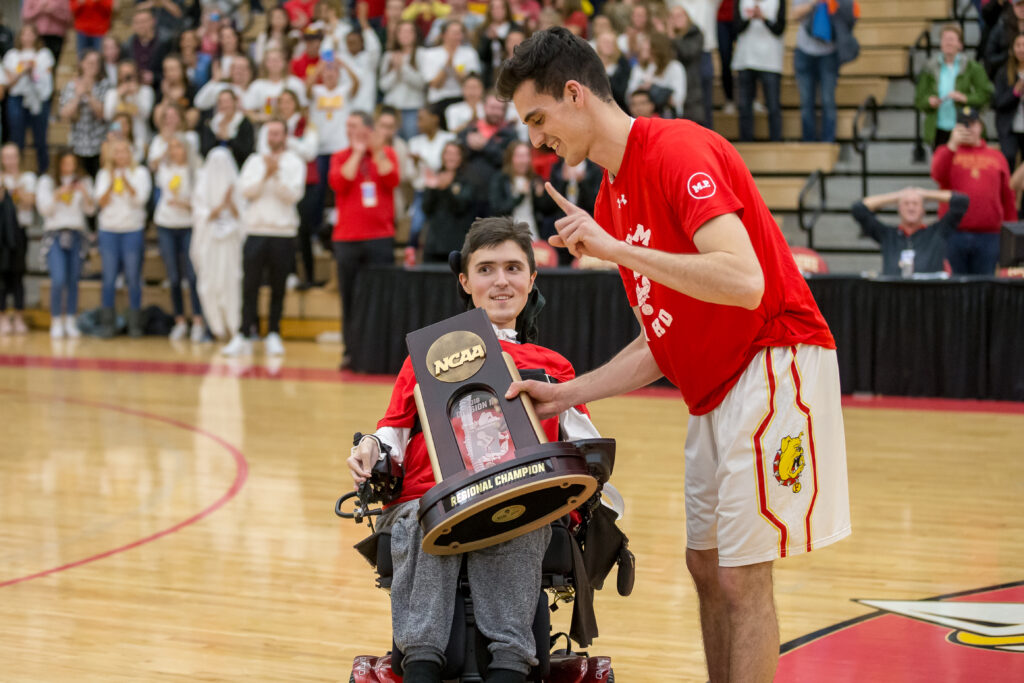 Imagine not being able to brush your teeth on your own ever again. Never type a text message. Never shoot a basketball.
For Mitchell Peterson, these limitations are reality.
The physical limitations from Duchenne muscular dystrophy have been nothing short of strenuous, but this has not stopped him from being a key component within the Bulldog Basketball program.
As an honorary team member for over four seasons, Peterson has made a huge impact on the men's basketball team. On Aug. 19, the opportunity for his outreach grew even bigger with the announcement of his promotion to Volunteer Assistant Coach. Since his influence has been so great, the coaching staff decided to make Peterson an essential part of the team.
"Mitch has been such a key member of our program," head coach Andy Bronkema said in the announcement press release. "He has helped contribute to the success of our program and is very deserving of this recognition and position."
Peterson entered the men's basketball program back in 2017. He joined his brother and former Rockford High School standout, Michael Peterson, at Ferris. Not only did Mitchell get a chance to join the team, but he even got his own signing day experience like his brother and other college athletes.
"That whole event was awesome," Michael said. "It was cool that we did the whole decision-making process for him."
In his first season with the Bulldogs, Mitchell experienced one of his favorite memories ever. He was able to watch his brother and his teammates win a school-record 38 games on the way to a Division II National Championship win over Northern State (South Dakota).
"It was surreal," Mitchell said. "Everyone knew throughout the entire season we were going to make it [to the championship]. It was fun seeing it come to fruition."
Mitchell continued his journey for another three seasons on Coach Bronkema's team. As a part of the staff, Mitchellhas the role of observing and reporting how the team is doing. This means giving updates and advice for players seeking to take their game a step further. For the players, his presence brings plenty of perspective in key moments.
"When we were talking before the national championship game, everybody began saying who they were playing for, and I said I was playing for Mitch," Michael said. "I know if Mitch could go out and airball a free throw with the game on the line, he would do it in a heartbeat."
Not only do players and staff show appreciation for Mitchell's hard work on the court, but off the court, as well. One example is with the annual Mitchell's Run Thru Rockford; a 5k race that the entire basketball team comes out and runs in honor and support for Mitchell and Parent Project Muscular Dystrophy.
"It's supposed to be an off weekend for those guys," Mitchell said regarding the team's support of the race. "For them to stick around and actually run the race shows what Ferris State athletics is all about."
Not only has the team been a huge contributor by raising awareness with the race, but the community support has been even greater. Over the last 20 years, the race has helped fund over $1.2 million to help end Duchenne muscular dystrophy, a fatal genetic disorder that slowly robs people of their muscle strength. In partnership with Parent Project Muscular Dystrophy, the funds help "accelerate research, raise community voices to impact policy, demand optimal care standards, ensure every family has access to expert healthcare providers, cutting edge treatments and a community of support."
With a first-hand perspective, Mitchell's mom, Sandy Peterson, says the amount of public support "makes her heart explode."
"Thousands have supported the race through the years," Sandy said. "We have received letters from people letting us know the run is a calendar marker for goal-setting and summer plans. We could not have forecasted all the continued support."
Whether it's the race itself or the support on the sidelines, Mitchell's story has been an inspiration to many people throughout the community. When it comes to the most identified aspect, Sandy believes it's his determination that stands out.
"It's difficult for Mitch in the winter because of the cold, so when people see him attending games and braving the snowstorms, they, in turn, want to show their support and realize they should do more," Sandy said. "His struggles make everyone around him realize how fortunate they are."
For Mitchell, he simply hopes everyone can use his story as a message of inspiration.
"Whatever life gives you, just keep going and find a way," Mitchell said. "It doesn't matter what's wrong. If you are able to move on day to day, that's all you can do. Good things will always find you."
For more information on supporting Parent Project Muscular Dystrophy, visit www.parentprojectmd.org. For information on Mitchell's Run Thru Rockford, go to mitchellsrun.org.