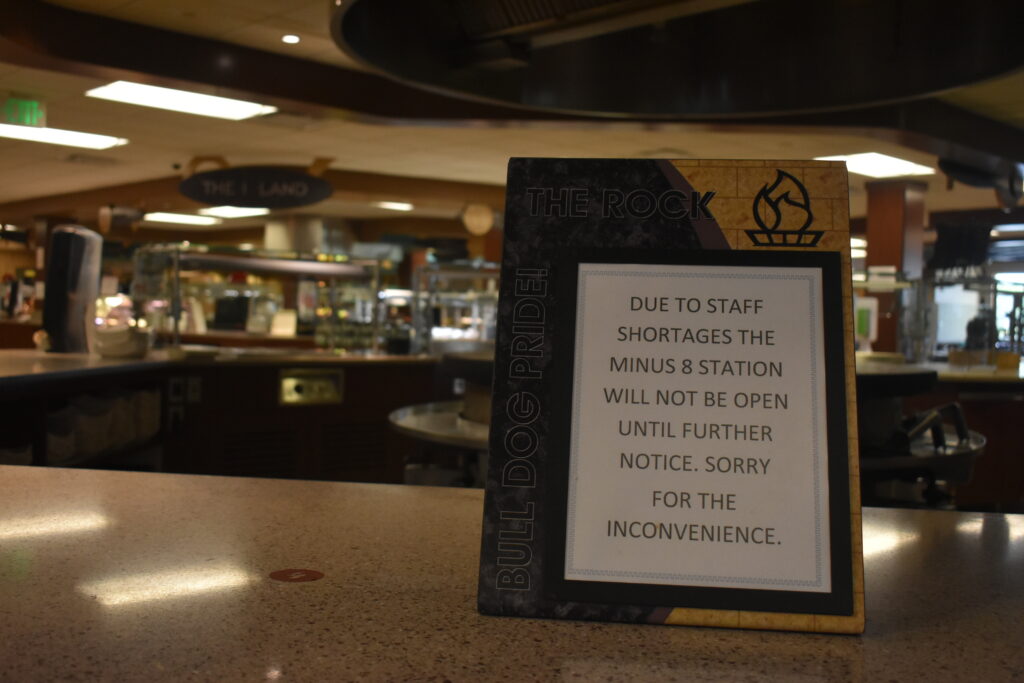 Staffing shortages at the Rock, an on-campus dining location, have resulted in the shutdown of two of the loca- tion's 12 stations.
Mongo Grill and Minus 8 are the two locations that were shut down this semester. Minus 8 has been shut down since the beginning of the semester while Mongo Grill was open for a few days before being forced to close.
"We need 23 full-timers and about 135 part-time posi- tions with about 120 of the student workers [for maximum efficiency]," Scott Rossen, the director of dining services for Ferris said. "We currently have 15 full-time positions filled along with about 50 part-time positions consisting of ca- shiers and student workers."
Mongo Grill allowed students to create their own stir fry, and Minus 8 provided food options that did not contain the eight most common food allergens. Dining services decid- ed to close these stations to allow "the flexibility to keep all of our other stations open to better serve our diners with a diversity of options," according to Rossen.
Employees at the Rock are being assigned to stations- they did not originally sign up for to keep things flexible. Students who had signed up to work Mongo Grill or Minus 8 were reassigned to other stations.
"We also tend to do a lot more work during our shifts than usual to get everything done," Bethany Parker, a Ferris student working part-time at the Rock said. "A lot of stuff that should get done isn't always done on time or the right way."
According to the Food Allergen Labeling and Consumer Protection Act of 2004, the eight most common food al- lergies were milk, eggs, shellfish, fish, tree nuts, peanuts, wheat and soybeans. These allergens make up 90% of all food allergies. Even with the closing of Minus 8, dining ser- vices are still accommodating those with food allergies.
"All stations provide options for individuals with aller- gies," Rossen said. "Our dietary nutritionist has reached out to any individuals who have extreme allergies, and we are still able to accommodate all of them. Anyone we have not reached out to is invited to contact us so we can work to accommodate their needs."
Reopening Minus 8 would allow students, reguardless of of whether they have food allergies to have access to more diverse food options. It would also allow students without food allergies to have more options to choose from.
Dining services is working to hire enough staff to open Minus 8 and Mongo Grill. Rossen said that he hopes to have at least Minus 8 open this semester. He also expects that the Rock will not have to close any more stations, how- ever, it is all dependent on hiring new staff and maintaining the current staff.