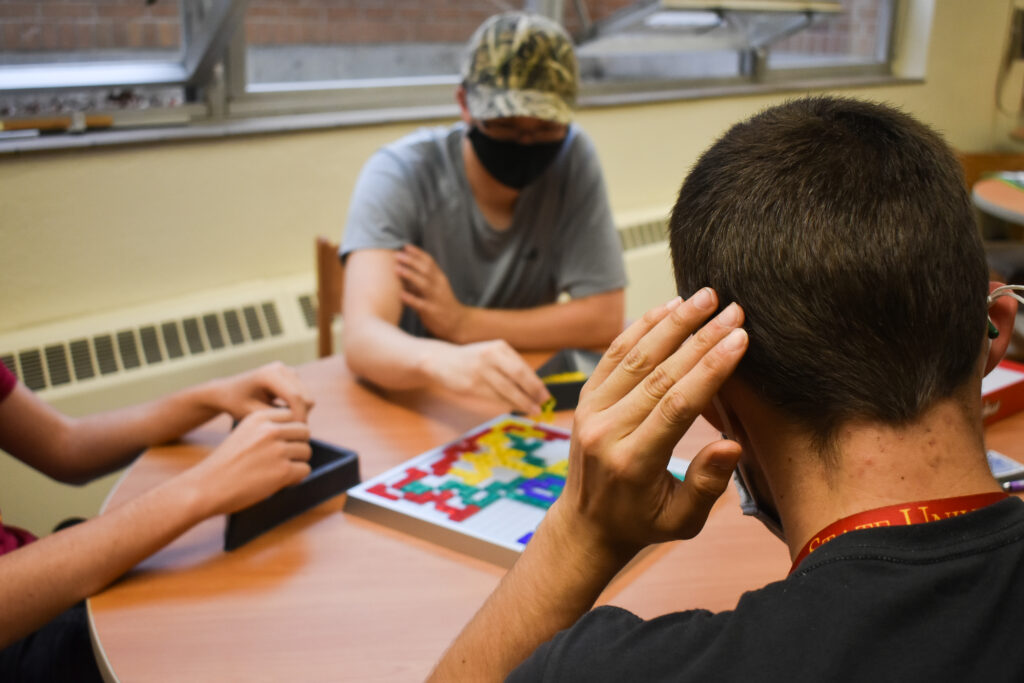 There are many unique aspects to the bulldog community here on Ferris' campus, one of them being the board game RSO.
Established in the fall of 2018, the board game RSO is what many would expect just from their group name. They are a group of people who play board games for a few hours once a week.
However, these are not ordinary games like 'Clue' and 'Monopoly'.
President Hannah McKeen says the games they bring to the table are in-depth with storylines that take players on true adventures.
"The biggest thing is that we play a lot of strategy-type games," McKeen said. "We play a game called 'Munchkin', we've had 'Ticket To Ride' brought in and a game called 'Oceans'. More in-depth games but we also have cooperative games."
Cooperative games are where all the players work together to accomplish the game, rather than competing against each other until there is a loan survivor. McKeen says that anyone who enjoys board games, or simply the idea of them, will be able to find something they enjoy.
The group currently has 15 games that are up for anyone to play and members are encouraged to bring games themselves for the group to try out to see if they like some of the newer games currently out. McKeen herself owns five board games that she keeps in a cloth bag.
Because of the variety of board games out in the world and the connections individuals can have when playing them, McKeen set out to create this group with the purpose of the ladder coming to the Ferris community.
"The main reason that I actually created the group was because as a freshman coming in it's kind of hard to make friends, especially if your kind of shy," McKeen said. "People like board games and competitive people tend to get louder when they play board games which means there have been a lot more people who have been able to make friends."
William Houghten, the treasurer of the RSO, has been able to connect with others in the group all thanks to an invitation from a friend when the group started to form.
"A friend of mine, from a job I was working at the time, told me about it," Houghten said. "This was actually before the club had formed, they needed someone who wanted to be the treasurer and so they brought me on."
Houghten says there can be a lot of stress that can come from being in college, especially the longer you are in school and the harder the classes get. Luckily, for him, the board game club has become a place where he doesn't have to worry about anything but being himself.
"It's a place for people to relax, hang out and just spend some time away from the stress that is college life," Houghten said. "It's someplace you can go where no one's going to ask anything of you, your only responsibility is to just be kind to other people there and that shouldn't be too big of an ask."
Mckeen and Houghten both have said it's a place where connections can be made, people can enjoy themselves and try out new games they probably wouldn't have ever come across before.
The Board Game RSO meets on Tuesday nights at 6 p.m. in the downstairs lobby of Pickell Hall, the honors hall. The hall has large round tables that make for great, safe gameplay, especially in the midst of COVID-19 cases slowly on the rise.
New members are always welcome to stop by the hall, call the front desk, and be let in to try the group out. Mckeen, the President, is also keen on welcoming new editions to the group from Presence on Bulldog Connect.
The Board Game RSO always has a winning time when they are together and never turn away from new challenges or adventures. If you are interested in starting a quest with them, make sure to check them out on Bulldog Connect.