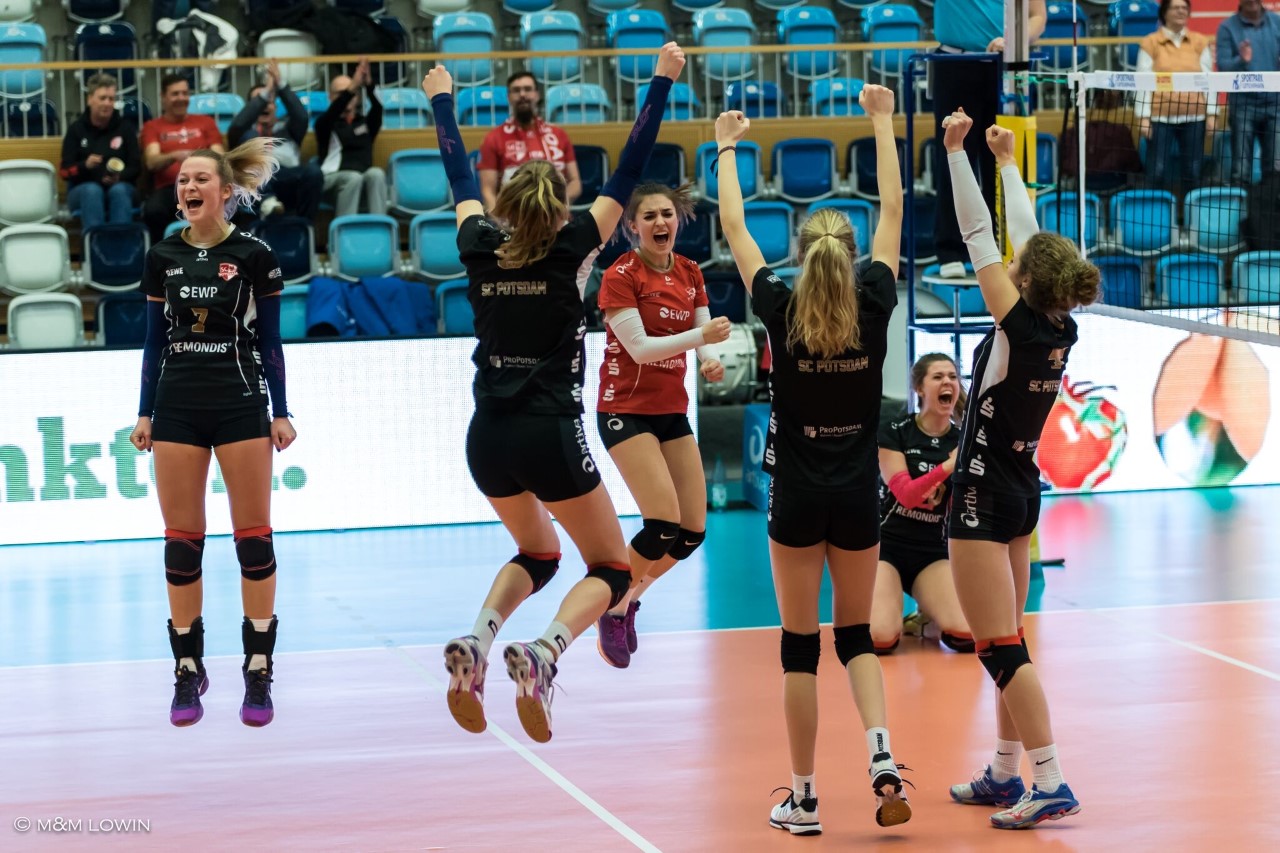 Imagine moving overseas to start college in a place you know nothing about and the position you play is different than the one you've learned.
From being a German national champion to a GLIAC national champion, Ferris senior Nina Gorgijevska enters her final season for the Ferris volleyball team and wants to embrace her time at Ferris as a team player.
Gorgijevska said that she did not come from a volleyball family, but that her family has always been into sports and her father was an avid sports fan. With her dad's passion for sports, Gorgijevska felt inspired to play sports. Due to the popularity of volleyball at the time in Germany, she started playing at a young age and fell instantly in love with the sport.
"We were not expected to win, and we were the underdog, the pressure was huge, and we were very young to know how to handle it," Gorgijevska said. "I remember our coach talking to us before the game and he asked us to draw a heart on a teammate's shoulder. The idea behind this was when you struggle in the game you just look at their shoulder and remind yourself that you are loved, and you do this out of love and then we won."
Gorgijevska said one of her favorite memories of playing overseas was when the team went to Italy for a tournament. Gorgijevska said that her team had an abundance of fun and that the team got better collectively. During the tournament in Italy Gorgijevska said they made many new friends on Italy's team and in the end, they were able to visit venues all around Italy for sightseeing.
As her playing journey continued in Germany, Gorgijevska's competitiveness grew along with her drive to win, and this led to her wanting to play college volleyball overseas. Her passion to play in the United States grew because Gorgijevska wanted to play in an atmosphere where she could have a whole team support her in being herself. Gorgijevska wanted to compete at a higher level because she enjoys being challenged.
When she moved to the United States the first thing Gorgijevska learned was that liberos serve in the US whereas in Europe they do not. Gorgijevska had to adjust to the length of seasons because in Europe the seasons start in September and end in April.
"I am still struggling with the fact that you can only play 4-5 years of college volleyball, this is not enough," Gorgijevska said. "I mean, you are playing with your best friends, what is better than that? And after 4 years it's over. What is life after volleyball?
"When I was looking into playing in the States I didn't really know where to start. "Gorgijevska said. "I had an agent from Germany that helped me get in touch with some coaches, and that's how I found Colby Community College. I had other offers too but what caught my attention at Colby was the fun the whole team had playing volleyball and the atmosphere created by the team."
Since Colby Community College already had six international players on the team, Gorgijevska's decision to join the Trojans was easier. She said having more international players helped her to feel less homesick. Gorgijevska said that her time at Colby College was unforgettable, and all the friends she made there are family now. In 2019, she decided to transfer to Ferris and play for head coach Tia Brandel-Wilhelm. Gorgijevska said she was blessed to have Brandel-Wilhelm as a coach and mentor.
"Tia is one of the strongest women I know, and I wish more people were like her," Gorgijevska said. "She is not just preparing us for volleyball, but she is teaching us a lot about life after college. I have a very strong relationship with her that I will keep nourishing even after my time at Ferris."
Not only does Brandel-Wilhelm have a positive effect on Gorgijevska, but the senior libero shows just who she is to her teammates. Fellow senior outside hitter Katie O'Connell said Gorgijevska is one of the most competitive, determined and selfless volleyball players she knows. O'Connell said that she can see what Gorgjeska wants in life by her determination and drive to succeed in every aspect of life.
"Off the court, we're really great friends," O'Connell said. "She's always checking in and how I'm doing and is always down just to hang out at the apartments with people. She has a way of forming a unique relationship with everyone on the team and takes the time to hang out with everyone individually."
In her teammate's eyes, Gorgjiveska is someone who knows what to say when things aren't going well. Gorgijevska helped O'Connell bring up excitement and energy levels to their team to get them excited to play. O'Connell said that Gorgijevska really helps to motivate her to play better and work harder when it's needed. Gorgijevska is always focused on others and what she can do to help the team win. As a person, Gorgijevska is determined and honest, according to O'Connell.
"It's been great playing with Nina the past few years and develop that chemistry on the court because we kind of just know where the other one is without saying anything and can help each other help the team in the best way," O'Connell said. "I'll miss her honest, good nature, and just friendship in general once we graduate and leave Ferris. She's someone I can always rely on to tell me the hard truth and see the positive in any situation."
Gorgijevska is not sure what her full plans are after she graduates but said there will be room for playing professional volleyball in Europe. With this, Gorgijevska said that she will have to start her "big girl job" in her field of Biotechnology and that her passion for both areas are very equal. However, she will focus on finding more clear answers once her time at Ferris is over. Away from volleyball and school Gorgijevska can be found cooking in the kitchen or dining out with friends and family. Due to her taste in trying new foods from different cuisines and her love of travel, Gorgijevska said she loves being a tourist and taking pictures.
Perhaps Gorgijevska's favorite memory was when she won the German National Championship, but she has many great memories to go along with it. Gorgijevska said that she will always remember Ferris and the volleyball team as the reason of who she is today and that one of her biggest goals once she ends her time at Ferris is to be remembered by generations to come as an example of someone who is competitive, serves and cares for the team. Her biggest wish is to be a team player, and she wants to leave Ferris possessing that legacy.