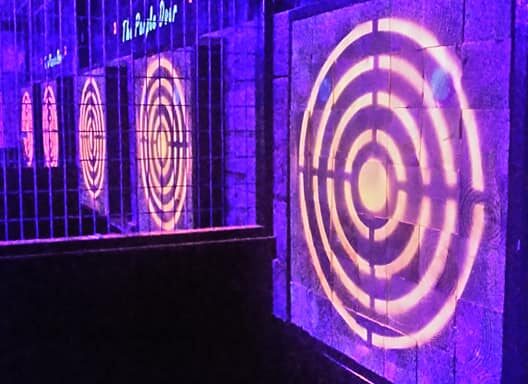 The Purple Door is a new business in Big Rapids, but already one that is establishing a home-grown reputation for itself quickly.
Axe-throwing is both a hobby and a sport, and one that is relatively new compared to other sports. With only roughly eighteen locations for the sport in the state of Michigan, The Purple Door, established recently in early August, hopes to cement itself as the place to be for axe-throwing in Northern Michigan. With it being such a niche interest, manager Chuck Wohlford believes a big part of the interest comes from one specific thought.
"Curiosity," Wolhford said. "Curiosity is what makes people want to come in here. They look at the Purple Door sign and wonder what goes on inside."
Wohlford's experience with axe-throwing came right when he decided to create the business, and using a few Youtube videos and other third-party sources, he eventually was able to throw an axe himself and get into the business. This ability to get into it on his own time prompted him to move forward with his axe-throwing venture idea and create the location in Big Rapids.
While advertising is slim, word-of-mouth and reputation is everything. In such a small town with most major big-ticket businesses in walking distance from each other, The Purple Door is reliant on people's good reviews locally and spreading the word to friends to gain traction. With very little time to establish itself, a reputation like this is invaluable.
"Word-of-mouth is perfect," Wohlford said. " Big Rapids is a small town, so it works well. So far we've had amazing customers, and they've given us great reviews."
The Purple Door boasts eight axe-throwing stations, each complete with either a black light target or projector screen that simulates a bullseye. The idea behind these is to provide both a large space for throwing to be a challenge while also being safe. Many are afraid at first of throwing, but in Wohlford's experience, once that first axe makes it to the board, people can't stop putting it down.
"A lot of people are scared they'll hit themselves with the axe," Wohlford said. "Once they stick it, though, they're addicted. They hoot and holler and cheer, and it's so much fun."
While a small business isn't uncommon, short staffing is almost inevitable in the era of COVID-19. Finding people to work shifts at a new establishment is difficult, and thus makes working The Purple Door rather difficult with such a limited roster of employees.
However, expansion is already coming fast for the location. With a new pizza place set up that has orders taken inside the Purple Door, as well as items like jukeboxes being recently installed, the business is taking on bigger projects and seeks to grow outward.
"We are adding a ski ball table in the next room," Wolhford said. "As far as the future, we have an outside area that's grass. We want to privacy fence that and make open lanes for throwing in the summer."
This growth is directly driven by customers, who come in droves every weekend. However, weekdays can be slow, and Wohlford is attempting to mold the business to fit the customers availability and the reality of Big Rapids being a major college town that needs to adhere to student's schedules to go forward.
"We wanted to cater to everybody, and that's why we wanted to give the community something to do," Wolhford said.
While there are many aspects to axe throwing, Wohlford feels there should be one major take-away from the experience at The Purple Door. He feels this idea is what allows people to make word-of-mouth advertising viable and gives people reason to spread the word about the location. to their friends and family.
"They had fun," said Wolhford. "It's all about having fun at the end of the day."