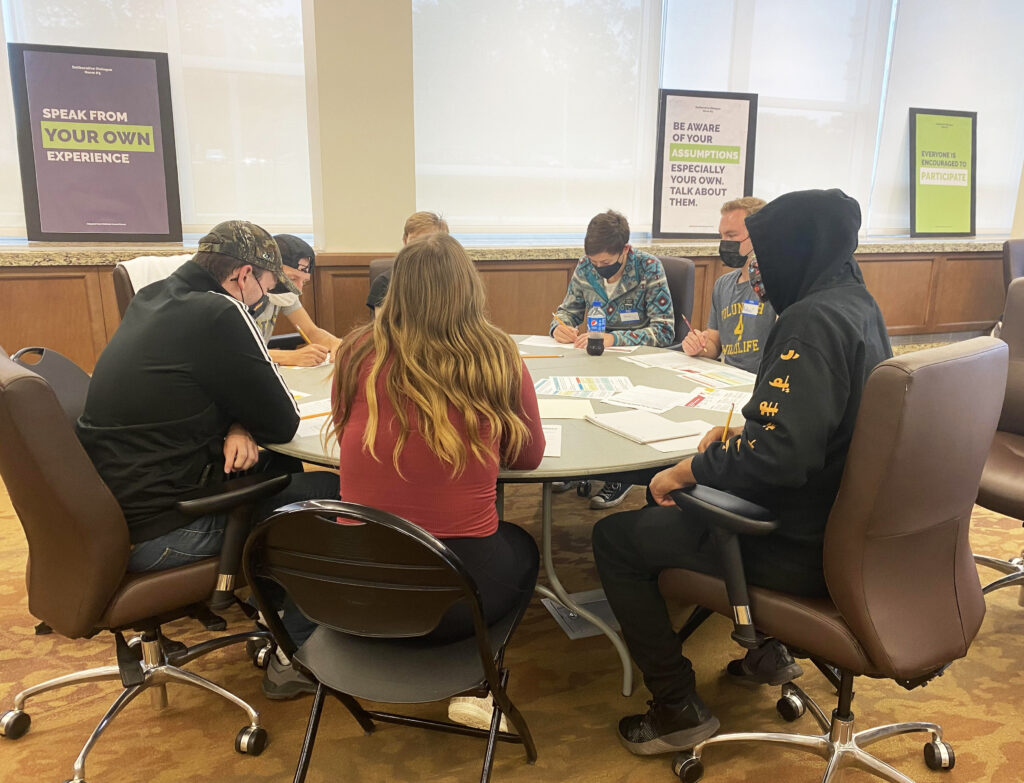 As national COVID case numbers and tensions rise, community members found common ground during last Monday's Deliberative Dialogue event.
Deliberative dialogue is a collaborative method of thinking and talking. The event entitled "COVID-19: On What do We Agree?" invited people from different backgrounds together in the name of shared understanding and vaccine awareness.
With 14 people in attendance, participants were able to give and take from a variety of perspectives. Some attendees highly anticipated this exposure to new viewpoints.
"I like to see other people's backgrounds, like where they come from, get a feel of how diverse everybody is that comes to this college," Laboratory science student Ronald Mack III said.
Social work student Caleigh Gordon showed how much the pandemic altered students' lives through her story.
"I was living in the dorms last year, [and] they shut down right away," Gordon said. "I'm in the foster care system, so I didn't have anybody [to go home to]. I was…one of the few people that stayed on campus. Then, I ended up losing my job. I was out of work for like four or five months because they weren't…doing the whole hiring process last summer."
Throughout the night, participants came together despite their vastly different experiences over the past year and a half. One group realized that protecting the more vulnerable members of society was a unanimous priority. The ideal measures to ensure this protection did not look the same for everyone.
Participants also bonded over the nuance surrounding individual choice. Many attendees believed that the risk of infecting their loved ones, or even strangers, made the vaccination decision a moral obligation rather than a personal decision.
Professors Kristen Conley and Dr. Emmanuel Jadhav worked together to organize the evening. They wanted to provide a safe space for participants to share their perspectives freely.
"The goal is to speak from your own experience. We're only experts in our own experience," Conley said.
Jadhav emphasized that he did not want to sway people or dwell on disagreements. Instead, organizers and moderators were responsible for guiding attendees to a place of productive discourse.
"And I think that's the intent: trying to frame this conversation around individual choice, the common good and the protection of the vulnerable," Jadhav said.
As a Doctor of Public Health, Jadhav wanted to see how people made safe choices when considering medical facts against anecdotal evidence.
"I'm pretty confident we've all heard people say, 'I don't know anybody that died from COVID,'" Jadhav said. "You don't have to…know someone…But, seeing the numbers, it is clear people are dying. Technically, some people are speaking the truth. Nobody in their household died, but do we have to wait for that to occur?"
Conley believes that finding consensus through deliberative dialogue can enact change in today's "polarized society."
"I [strongly believe] that as individuals in our society, as voting members, as civic-minded individuals, that we all have a part to play in our democracy," Conley said.
Although only a few people were in attendance, deliberative dialogue regarding COVID regulations and mandates is not limited to a one-night-only event. Across campus, students are finding commonalities.
Communications freshman Adam Strach feels conflicted about Ferris' current handling of the pandemic.
"I understand the mask mandate because they don't want to get [the campus] shut down again. But at the same time, it irks me because I'm vaccinated," Strach said.
Social work sophomore Marisa Conklin says that the university's mask policies have little to no effect on students' personal lives.
"Even if you're vaccinated or unvaccinated, people at parties aren't wearing masks," Conklin said.
Architecture junior Samuel Serba sees the mask policy as a way for Ferris to avoid enforcing a vaccine mandate. Serba also believes that vaccination decisions have become too controversial.
Social work freshman Amaya Nelson echoed this statement and added that those who refuse to get vaccinated "think they're getting their rights taken away."
This group of students decided that getting vaccinated should not be seen as a contentious, political issue.
For information about future events, visit the Deliberative Dialogue tab under the Retention and Student Success section of Ferris' website.