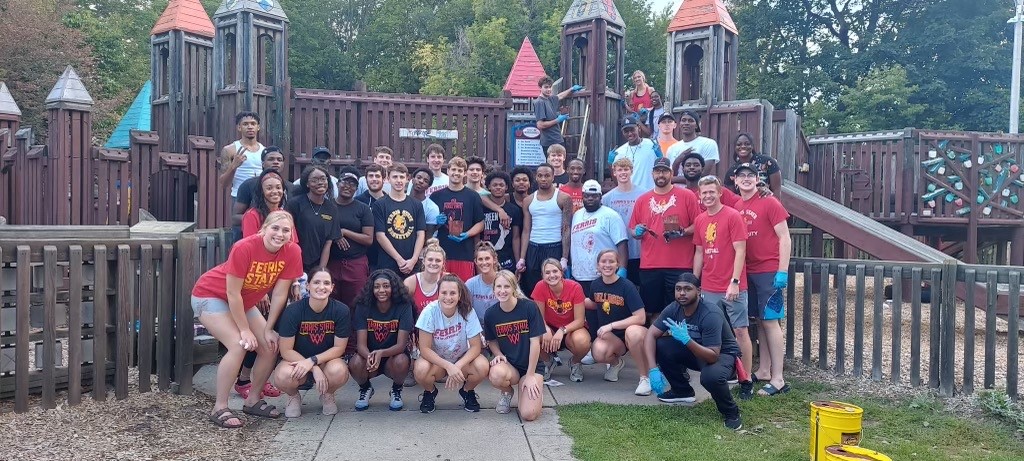 Ferris's basketball programs are known for winning on the court, but on Tuesday, Sept. 21, both the men's and women's teams focused their attention elsewhere.
The Ferris basketball teams, coaches and assistants all spent their Tuesday evening together in downtown Big Rapids as they repainted Hemlock Park. The teams spent time repainting the dull wood at the playground in the children's area into bright brown to give the park a spark.
Ferris women's basketball head coach Kurt Westendorp and men's basketball coach Andy Bronkema led their teams in this event. Josh Pyles, the director of the Big Rapids Downtown Business Association, reached out to the teams and both coaches jumped at the opportunity. Westendorp said there was a need that the teams could meet so they wanted to pitch in however they could. Bronkema said that these opportunities teach players that it's all about others and giving back to those who support you.
"It was a great time to re-engage with service to our community," Westendorp said. "So many of these opportunities were tabled last year with public health orders. To be out again with our fellow student-athletes was a great time. We love teaming up with our men's basketball program every chance we get. We want to give back right here in Big Rapids to show our appreciation to how much the Big Rapids community supports us. Hemlock Park is also a special place to me personally as I bring my kids there throughout the year."
Like many parents, each coach enjoys the ability to take their children to the park and the players said they enjoy the freedom the park brings as it is a great place to escape to, whether it's to hang out with friends or do homework. Both the men's and women's teams were seen smiling and happy to be around others in the repainting project. Ferris women's basketball junior guard Mallory McCartney enjoyed the experience, and said it was something she never thought would have been so engaging.
"While the focal point was painting, I think more than that it was just to do your best in order to give back," McCartney said. "It really made us realize how rewarding this process was seeing how important it was to the community. Supporting the community is so important to me because they do everything for us by coming to all of our games and supporting us. It was great to be able to give back and help them with this project."
Not only did McCartney see the value taken from this event but so did Ferris men's basketball sophomore wing Jimmy Scholler. Team bonding has always been a big part of Scholler's model in sports and said he always looks forward to Friday events they do for that. Scholler said that the team chemistry has been great so far and that the team has all gelled very quickly even though there are a lot of new faces.
"The best thing I saw during the repainting was watching how serious coach Bronkema was painting," Scholler said. "I think it shows how much we appreciate all the support from the community. It was cool that both teams came and stained the playground."
Both McCartney and Scholler said they wanted to really do a good job for the community because of what the community does for them to be able to play the game they love. Repainting the park was the focus of the event, but spending time together and bonding with each other was also very important for both teams.
"The team bonding was amazing," McCartney said. "It was a great way to learn about the new players on both the men's and women's teams and helped build relationships while doing it. The best thing I saw was the conversations just taking place. Seeing all the smiles of both teams and having fun with the project was really uplifting and great to see."
In turn, while the coaches were happy to help their community the best thing Westendorp viewed was giving back as well as bringing the team together as practice kick-off and their seasons begin.
"Any time we have the opportunity to take part in a project like this it helps our team grow," Westendorp said. "Getting to spend time with one another away from the court focused on giving back to others really brings us closer together. Getting to see our players working hard with smiles on their faces is very rewarding. One of our core values is gratitude, and it was great to see that in action."
Bronkema was thrilled to share the opportunity with the women's team and collectively bond the programs together since they have been apart for a while. The amount of support the teams share for each other helps their offseason so that during the regular and post-season the teams give it their all.
"It's what we teach with the curriculum here at Ferris which is about giving back to others and just know it's bigger than yourself," Bronkema said. "It's bigger than yourself and giving back to others by giving yourself to others is what we are all about." 
The men's basketball team will take the court for the first time this season on Saturday, Oct. 23 at 3 p.m. for their annual alumni game at Jim Wink Arena. The women's basketball team will kick off their season as they travel to Detroit to take on Walsh in the Conference Crossover Tourney on Saturday, Nov. 13 with a 5 p.m. tip
time.
JC