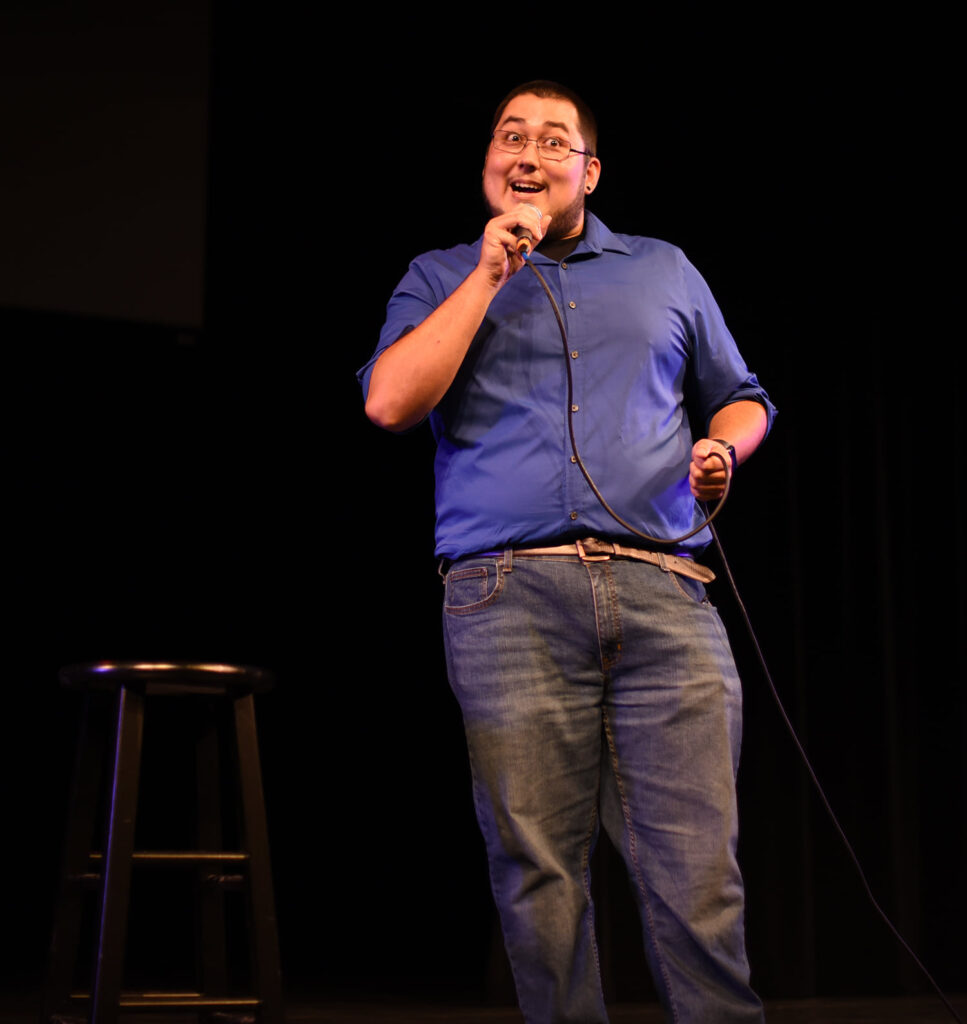 This was the big night, the chance to achieve his goal. The crowd cheered as one of their own took the stage.
Brandon Stahle is a secondary english education major with a minor in speech communications. He grew up in Morley, a small town about 20 minutes south of Big Rapids.
"Around Halloween, the jack-o'-lanterns have more teeth than those who carved them," Stahle said about his hometown.
Stahle's first experience with standup comedy was when he was in high school. He had a seven-minute set that was cut down to two minutes. Despite the short set, Stahle still had a positive experience.
His first year at Ferris, Stahle saw a poster for the Comedy Competition, where the winner would open for Dave Coulier. He decided to enter the competition, and although he was not the winner, the competition inspired him to write his own material and perform at small open mic nights.
Stahle auditioned once again in 2019 to open for Marlon Wayans, but was once again unsuccessful. However, he continued to write comedy and practice his stand-up. That same year, Stahle performed a 30-minute set in a comedy night hosted by Entertainment Unlimited.
With the third time being the charm, Stahle auditioned for and won the 2021 Comedy Competition. A week later, Stahle was on stage at Williams Auditorium.
"Onstage I was having an out-of-body experience," Stahle said. "Once I had the mic in my hand and the lights on, it felt like something so natural but out of place. I couldn't believe I was there. I thought I'd experience some stage fright or forget my material, but it just felt right. Once I heard the first scattered laughter at my opening joke, it was like a spark to a powder keg and I just didn't want to stop."
Stahle based the jokes he was going to tell on the audience present. He also considered that his set was going to be followed by comedian Whitney Cummings, who typically did more explicit humor. Stahle picked jokes that he felt confident were going to land, such as jokes about his relationship, along with new material he was hoping to try out. Not all his jokes landed as he hoped.
"That's the point of performing," Stahle said. "You find out what doesn't work, and you go back to the drawing board."
After concluding his ten-minute set, Stahle exited the stage. He was congratulated by Cummings, which he described as a surreal experience. Cummings also gave Stahle some tips on performing comedy, as well as feedback on some of his older material.
Stahle plans to continue doing stand-up at comedy clubs and open mic nights. He sees comedy as a hobby rather than a career.
"I love comedy and I wanted to go out with a win," Stahle said. "I have had two goals since attending Ferris: performing in front of a crowd at Williams Auditorium and getting my picture on [one of] those banners that line the roads into Ferris. For the longest time these were just a joke, but at least I can scratch one of them off the list."
JC