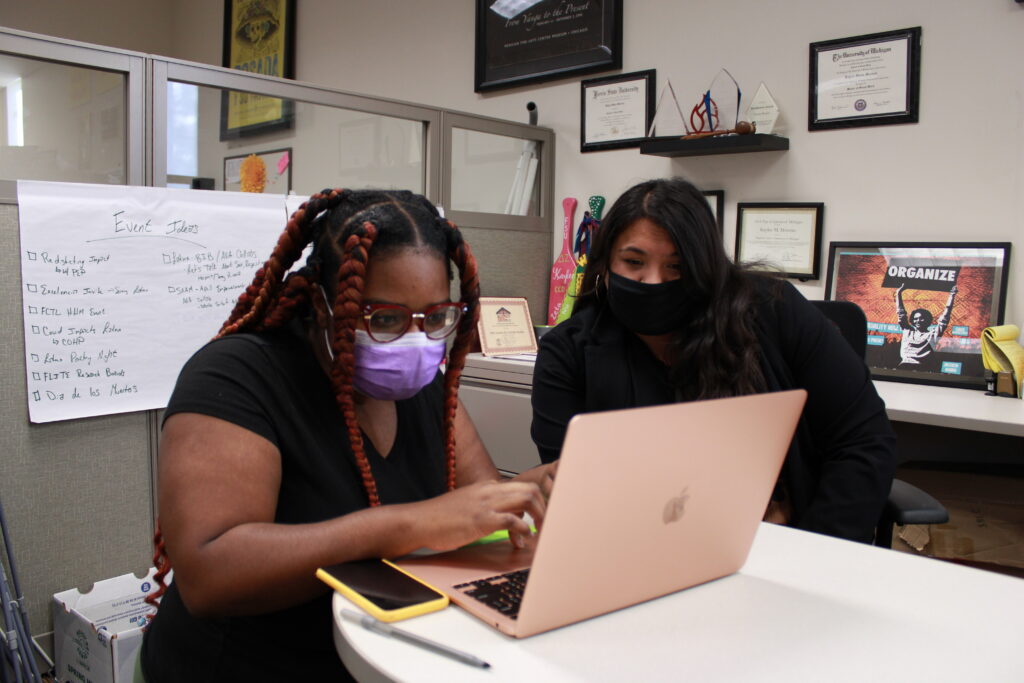 In 2011, Kaylee Moreno-Burke was a young Ferris student with a desire for community and a spark in her eye. Today, she is the executive director of the Center for Latin@ Studies.
With the ten-year anniversary of CLS fast approaching, Moreno-Burke and CLS co-founder Dr. Anthony Baker are reminiscing about the center's humble beginnings.
Before the formation of CLS, Moreno-Burke explained, there was no central hub for Ferris' Latino community. With Latino students making up roughly 1%-2% of the campus population, she found it difficult to connect with, or even find, peers that looked like her. Looking for a sense of belonging after her freshman year, Moreno-Burke approached Baker, her sociology professor, with questions of how to connect with the Hispanic community of Grand Rapids.
Baker promptly offered to set Moreno-Burke up with the Grand Rapids Hispanic Center the next morning.
"I've had lots of students say that kind of stuff to me over the 20 years I've been at Ferris, and most of the time they've got something else to do at nine o'clock tomorrow morning… So Kaylee met me the next morning in Grand Rapids, and she ended up introducing herself to people in the Hispanic Center, and she got herself an internship that summer," Baker said.
According to Baker, Moreno-Burke was a consistent self-starter. With a passion for cultural inclusion and the drive to match, Moreno-Burke was an essential force in the original focus group of students that encouraged the creation of CLS.
"[Moreno-Burke] never got to the phase of complaining about what Ferris should do for students," Baker said. "She started creating it."
The original focus group, arranged by Baker, Social Work Program Director Mike Berghoef and Vice President for Diversity David Pilgrim, described their experience as Latino members of the Ferris community. One year into this groundwork, it was decided. Ferris would create a central gathering place for Latino students.
Over the next academic year, Baker took a break from teaching to focus on arranging CLS. His immediate course of action as the center's first executive director was hiring Jessica Cruz as his assistant.
Baker and Cruz ran the commencing CLS as a type of student union, offering informal education and cultural exposure. With the center in its infancy, Cruz spoke out about how necessary this work was to community building at Ferris.
"The Latino Student Union was a home base for me when I was at Grand Valley," Cruz said. "There [were] Latino students here at Ferris who [had] just recently met other Latinos through our center who [were] already in their third year."
For CLS to develop into an inclusive home away from home, the founding members knew they had to expand. Today, the center connects Ferris students with Latino communities across western Michigan, including the areas of Grand Rapids, Holland and Oceana County.
"I'm getting a little emotional just thinking about the number of people that we have interacted with, that we have built relationships with, that we have gotten to see grow," Moreno-Burke said.
Moreno-Burke credits CLS for pushing her through her undergraduate studies. She made lifelong friends and learned to climb the ladder of leadership as a member of CLS.
"The center is the reason why I graduated from Ferris, hands down. The relationships that I built up through the center, the sense of belonging that I felt through the center's programming. Even as we were just building it, when it was just a suitcase that traveled between my apartment and another one of my friend's apartments," Moreno-Burke said.
Upon graduating with a Bachelor of Social Work degree, Moreno-Burke told Cruz, a personal mentor of hers, that she dreamed of one day having her job as assistant director of CLS. One master's degree from the University of Michigan, months of serving on the CLS advisory board and a tearful job application later, Moreno-Burke exceeded her dreams by becoming the center's youngest executive director.
"I was beyond excited at the thought about the potential of going back and helping to ensure that original vision that we created for the center could not only be fulfilled, but we could transform that vision to better meet the needs of students," Moreno-Burke said.
Accompanying the center's original vision of connecting Ferris with Latino communities, CLS leaders work towards a future in which they are no longer needed.
"Now [CLS] is owned by the Latino communities of West Michigan and the students. And it is seen as a part of them, separate from the individuals that created it. That's something to be proud of," Baker said.
Moreno-Burke described her position as executive director as intentionally working herself out of a job. When she feels that every corner of Ferris is dedicated to the inclusion and success of all races and cultures, she will know that her job is done.
"We continue to work to transform the entire campus so that it's not pockets, but every campus department, every organization, every college is intentionally thinking about the representation of Black, Latino and Indigenous voices and asking those questions. Who are we intentionally supporting? Who is being left out of these conversations? And how do we look at information to ensure that every student feels represented and connected to our institution?" Moreno-Burke said.
The road stretching from a summer sociology course to the ten-year anniversary, paved by Baker, Cruze, Moreno-Burke and countless others is far from completion. And the well of momentum stored in the heart of CLS is far from dry.
Moreno-Burke believes that the center is done crawling. Today, they walk proudly as members of the Ferris community. Soon, it will be their turn to run.