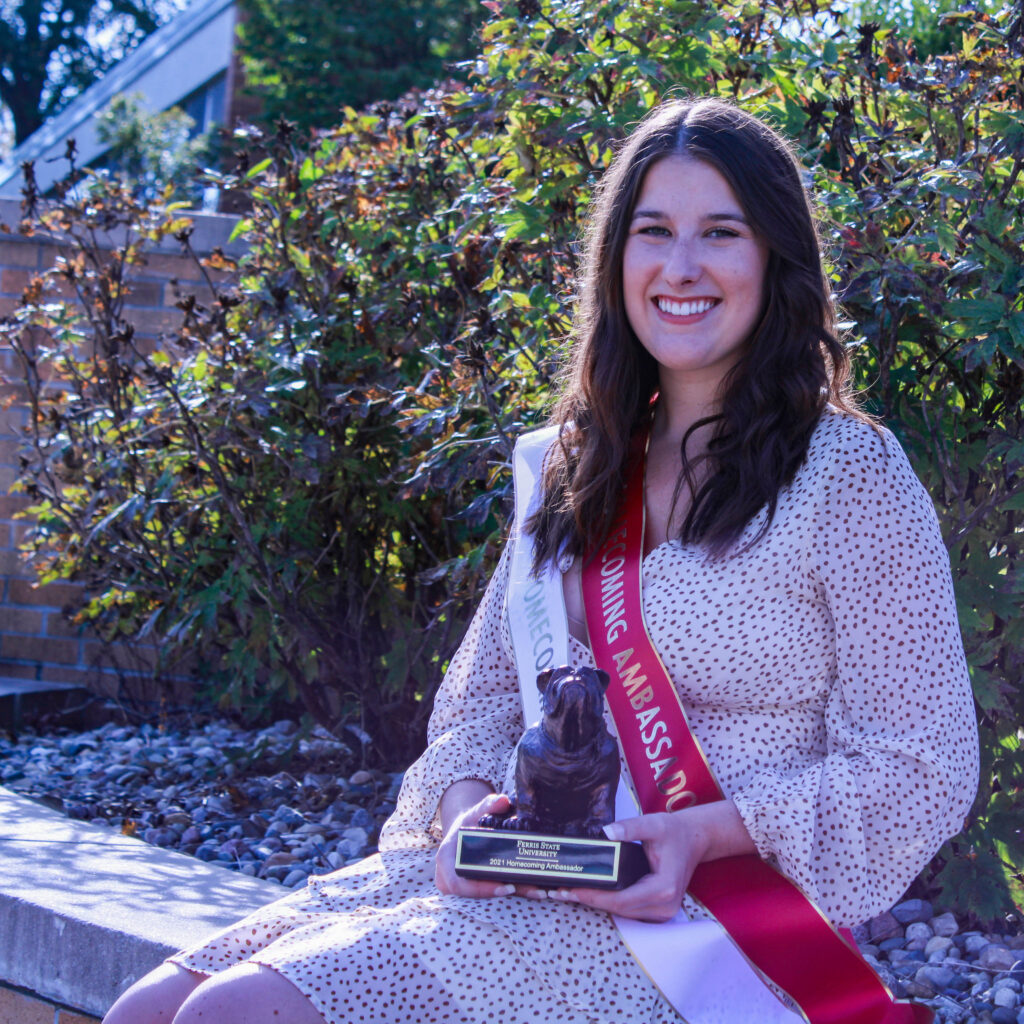 The newest Ferris ambassador is putting a spin on her new role on campus, and it all begins with her confidence.
Taking on the homecoming ambassadorship is an important role with big shoes to fill. It is a position on campus in which everyone knows your name, you represent the ideals of the university, and represent what a well-rounded college student looks like.
Emily Obermeyer was named the 2021 Ferris Homecoming Ambassador at the football game on Sept. 25th. She was excited and grateful to have acquired the title after a month-long campaign.
"It was a very humbling moment," Obermeyer said. "To kind of realize how far I've come since my freshman year and how I've been able to accomplish everything I've wanted to by making connections."
Being announced as the ambassador was validating for Obermeyer because it showed that she is able to make a presence on the Ferris campus by reaching out to students and supporting them in their endeavors. Even if she has had just one interaction with them. According to Obermeyer, it's the 'little things' that make a big impact on someone's life. It's not wanting to change the campus for Obermeyer, instead, it's wanting to help others in having a better day that is most important to her, even if all a person needs is a bit of support.
Obermeyer is ready to support not only the students on campus but the university as well. The homecoming ambassador hosts many university events such as the Torchbearer Awards, held in the springtime to honor students and student organizations that have gone above and beyond every year. The ambassador also collaborates a lot with the organization Entertainment Unlimited, a group that hosts a variety of events on campus each semester including films, comedy shows, and more.
"Anything you need the homecoming ambassador for, she will be there," Obermeyer said. "I will say 'yes' to anything. So, if they asked me, whatever they ask me to do, I'll do it."
Obermeyer likes to describe herself as a 'very outgoing eccentric person' who is ready to take on the next adventure in her life, and she has her student organizations to thank for instilling this confidence. She is currently a part of four RSOs, Women in Cyber Security, Information Security and Intelligence Alliance, Order of Omega, and Ferris State IT Cyber Security Office. She is also a member of the sorority Alpha Sigma Tau.
"I don't think I'd be where I am today, professionally and in personal growth, without any of my organizations," Obermeyer said. "My confidence has improved a ton. I feel like coming from my freshman year I was a lot more hesitant to show my full colors and exactly who I was, but at this point, I am so confident in myself I know there is so much waiting for me beyond college and I can go out there and get it because I already have all the tools I need from all these organizations."
"I have so much relevant experience from being in these organizations and being in leadership positions," Obermeyer said. "Having to make hard decisions, have hard conversations when it comes to business things, having to stay organized on top of deadlines. Alongside my other organizations, my family, I've been able to balance all those things and it made me realize how I can prioritize myself as well and what I love to do and school all at once."
A lot of growth can happen over the course of just one year of being involved in so many groups as Obermeyer has, but the payoff is worth it. Currently, Obermeyer holds an internship at ViacomCBS where she works on the social media aspect of productions.
Just before she obtained her Viacom internship, Obermeyer was losing faith she would actually find one. Her sister encouraged her to continue applying to different companies, knowing she had the skills to find the right position. And just like that, after a blind application and two interviews, Obermeyer was able to successfully get her dream internship.
"It's so ridiculously up my alley," Obermeyer said. "What I'm doing and what I get to work on, I love it, it's so cool. I think what makes me so happy with it is that I get to talk to people all day. People from all over the company and the world, which is insane. It has been absolutely incredible being able to get that exposure to work and internationally even."
Obermeyer is a current senior majoring in Information Security and Intelligence, which is a relatively male-dominated field. Jumping into this public position as ambassador she hopes that other girls, of all majors, can look up to her as a role model and encourage them to have confidence in themselves going into what they are passionate about.
"No matter your major, you don't have to fit into one certain mold just because you think that's what people expect from you," Obermeyer said. "Just keep being true to who you are and don't minimize any part of yourself in order to fit in a bowl you think people want. The more true to yourself the more doors will stay open."
Had it not been for the influence of close friends and her leadership experience in her organizations, Obermeyer would not have been able to show as much of her true self as she does now nor reach for what she truly wants.
"It's been absolutely amazing and beyond what I thought I could have achieved in my time at Ferris," Obermeyer said. "Advice I would give, the biggest piece of advice I would give to anyone at Ferris is if you're thinking about doing something, do it. You are here for a limited amount of time and once you are out of college you don't get that time back. You don't want to regret anything, so go for everything, dive in headfirst."
In Obermeyers' case, confidence has really been the key all along. She hopes that others will take on her advice, challenge themselves, and make some memories while they are still on campus.