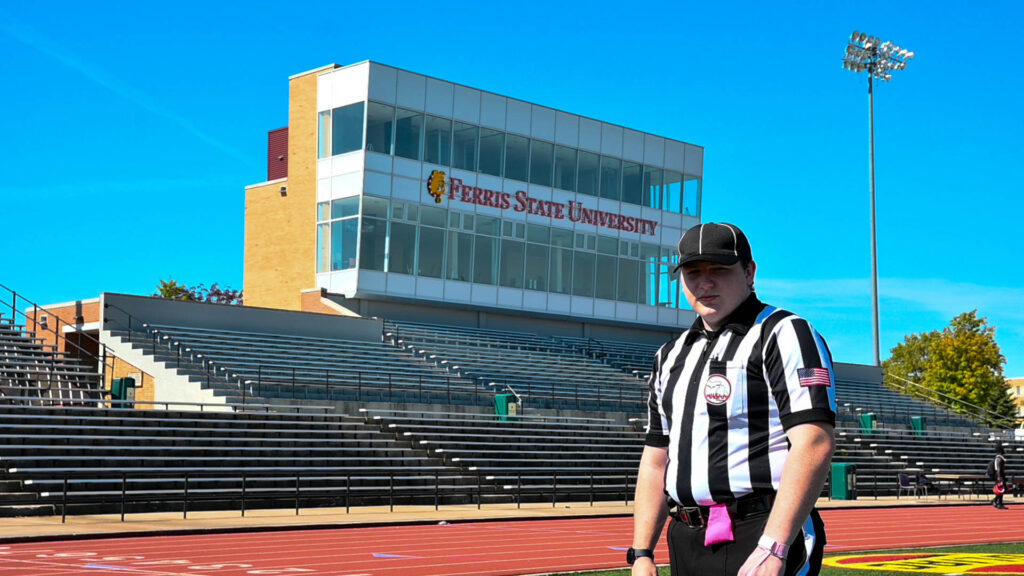 Ry Rodriguez worked at the Torch from 2019-2021 as a reporter and news editor.
As a child, thinking of what you are going to be when you grow up is the best thought. As a teenager, it becomes scary. But for some, they know at a young age what their calling is, and they work hard for that dream to become reality.
Ry Rodriguez is a junior at Ferris studying criminal justice law enforcement. He is a former employee of the Torch and recently stepped down from an intramurals referee to focus on other opportunities. Aside from these on-campus jobs, he has had many other crazy opportunities that are hard to find at such a young age.
Rodriguez was a football player and decided after one too many concussions that he no longer wanted to get hurt. In order for him to still be involved with sports, he started officiating at the age of fifteen. Football was the one and only sport he officiated, until later when he realized he wanted to take on more. His first mentor was his dad's best friend, who helped him begin this journey.
"Really, you're just thrown in the job," Rodriguez said. "And then it's kind of your responsibility to have that mentor to show you how to do everything."
After a while of just officiating football, he decided to expand to women's lacrosse. He grew up around this sport and already knew the rules. Nonetheless, he enjoyed it and thought it would be fun to put two things that he loved together. He later added basketball to the list to be his winter job.
He was considered the youngest official to ref a playoffs game and a varsity sport. In the past, he worked at CMU and GVSU and will be making a full transition from a high school official to NCAA this year.
In a few weeks, Rodriguez will be attending transitional camp and then will be working at Sienna Heights later this year. Going onto six years of officiating in MHSAA, Rodriguez was elected the secretary of Woman's Lacrosse Officials of Michigan back in March 2021.
"[Officiating is] a lot of training… It's not just like it comes easy," Rodriguez said. "I've had more than 150 games under my belt. More than probably 500 hours of training because no matter what tournament I go to, there's got to be some type of training attached to it."
When Rodriguez came to Ferris, the assistant director at the time was impressed with his resume and believed he was overqualified for the job at the Recreational Center. With that, he was hired as an intramural sports official. In his second semester of college, he was promoted to the supervisor position.
"I definitely felt like I had imposter syndrome, but at that time, I also felt like I can train other people the right way to be an official and everything else," Rodriguez said. "But yeah, I didn't feel like I [deserved to be there] because I was so young."
Rodriguez has officiated for middle school, high school, college, and even elementary schools. He finds this job enjoyable because it comes easy to him, and he feels as though he is giving back to the community. He wants to give people their first good experience with a good official so that they can enjoy the sport they are playing and their referee of that game.
"I met these triplets down in Indiana… [their] dad was the most supportive of all three of them," Rodriguez said. "It's just fun to see those moments because it brightens up your day."
Rodriguez encountered a lot of negativities throughout these experiences. At games, parents and players would get mad at the calls he made or did not make.
"At the end of the day, someone has to lose," Rodriguez said. "And I'm not there to make someone lose, I'm there to keep the game safe."
After some games, he felt poorly because he knew he did not perform to his full abilities. The job is hard and stressful because he is constantly having to make split-second decisions, and at any time can get yelled at for doing his job.
It's easy to take what people say personally. Regardless, he ignored the negativity and continued to be confident in his calls and stay objective.
"Some people need to understand that they're yelling just at your stripes," Rodriguez said.
He thinks it would be cool to pursue officiating as a career, but at a certain point, he feels it is unnecessary. He still enjoys the job and wants to continue to give back to his community.
Rodriguez's passion and hard work paid off because he got to experience so much at such a young age. He went for what he wanted and succeeded greatly.