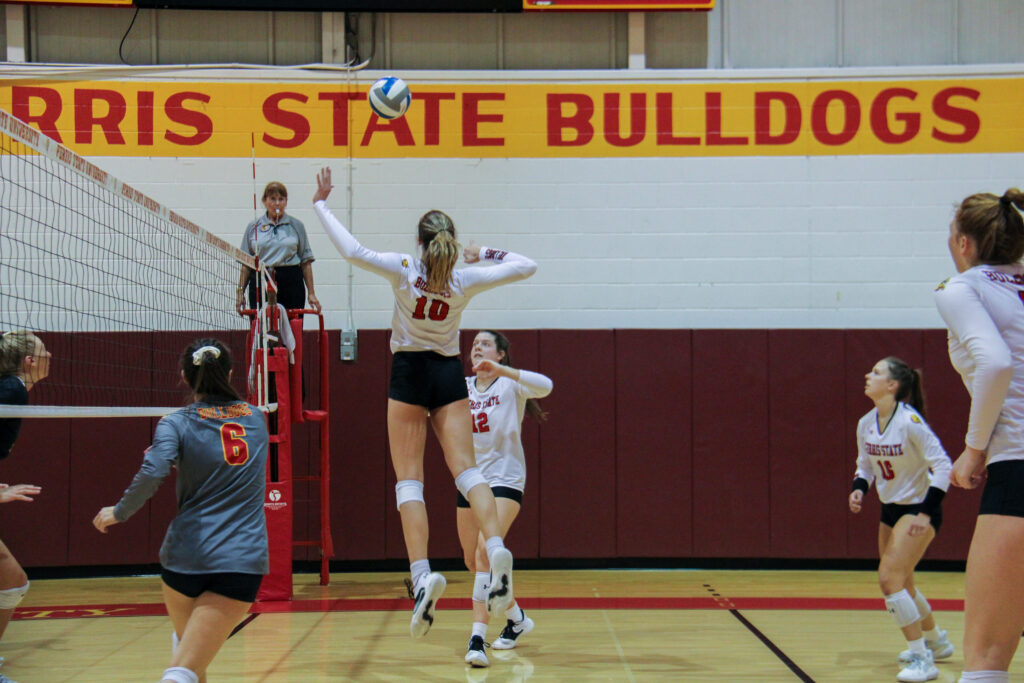 Ferris added two more conference victories over the weekend against GLIAC opponents Purdue Northwest and Wisconsin-Parkside. Not only did the Bulldogs come out on top but were able to sweep both teams in three straight sets.
In Friday's opening home match, the Bulldogs wasted no time to set the tone. Head coach Tia Brandel-Wilhelm's squad took an early 12-1 lead thanks to seven aces.
"Our game plan was to establish velocity with our serves," Brandel-Wilhelm said. "We did it very early and I thought it put (Purdue Northwest) on their heels a little bit."
Ferris finished the set winning 25-6, their largest set win since Sep. 11 against Southeastern Oklahoma (25-9). While the Pride fought back in set two by limiting errors early, they were unable to slow the Bulldog offense. Senior outside hitter Katie O'Connell and freshman outside hitter Claire Nowicki combined for 10 of the Bulldogs' 18 set kills to win 25-14.
Ferris took control of set three and cruised to a 25-8 win, winning the match 3-0. Nowicki led the Bulldogs with 10 kills, followed by sophomore middle hitter Kira Merkle (9) and O'Connell (6). Merkle also added four of Ferris' 10 aces in the game while freshman setter Kaylee Maat recorded 36 assists and senior middle hitter Samantha Hermann added four block assists. Junior libero Brooke Norder and senior libero Nina Gorgijevska led the back row having 12 and 14 digs, respectively.
"We played a great game," Norder said. "Our energy has been upbeat and we've been following the scouting report well."
Sunday's home match against Wisconsin-Parkside began similar to Friday, but it was unfortunately worse for the Rangers. The Bulldogs unloaded with their most efficient offensive set of the season, scoring a hit percentage of 47.8%. They only needed 28 points to win the opening set 25-3, breaking their previous season-best from two days earlier.
"Our serves came out right away with velocity," Brandel-Wilhelm said. "We wanted to force them into some uncomfortable situations."
Ferris did cool down slightly in set number two but were able to capitalize on nine Ranger errors to win the second set 25-18. The final set turned into the most back-and-forth period of the match, where Ferris trailed 12-11 midway through. The Bulldogs responded by scoring nine of the next ten points, giving them the eight-point cushion that would seal the win 25-17.
"Parkside has a really potent, aggressive offense," Brandel-Wilhelm said. "We tried to pull them off the net as much as we could."
O'Connell led the team with 12 kills followed by freshman outside hitter Keona Salesman adding nine. Maat recorded 22 assists and 10 digs with Gorgijevska adding 11 digs and five assists. Freshman middle hitter Olivia Henneman-Dallape led Ferris with 3 solo blocks.
Ferris moved to 9-4 on the season and 4-2 in GLIAC play with the victories over the weekend. The Bulldogs will look to continue their winning streak at Saginaw Valley State on Friday, Oct. 8 at 7 p.m. and at Wayne State on Saturday, Oct. 9 at 2 p.m. For more information, find the "Volleyball" tab at www.ferrisstatebulldogs.com.