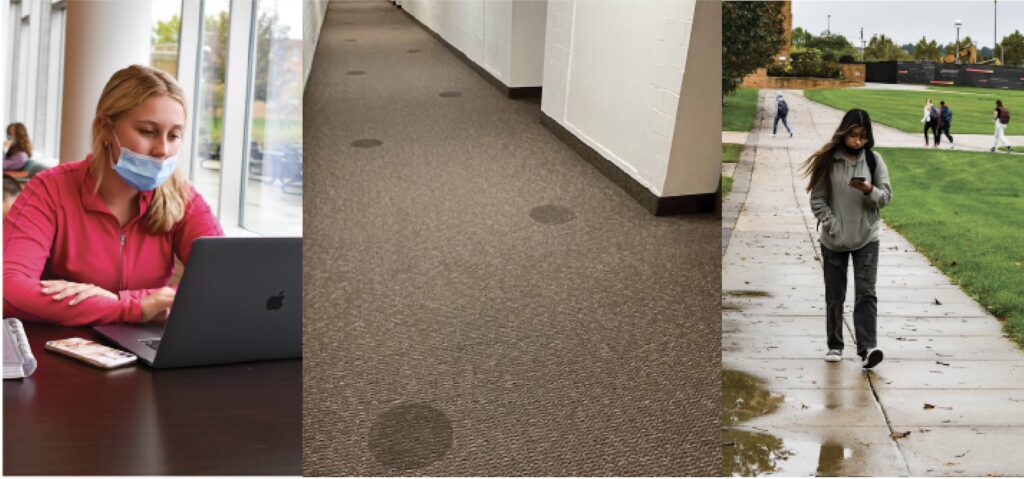 As COVID-19 case numbers rise at the national, state and university levels, Ferris has no plan for expanding campus-wide rules and regulations.
The Re-entry Committee has been responsible for creating and executing a gradual re-engagement to face-to-face learning since late 2020. Though the Committee meets weekly, the potential of returning to previous levels of restrictions has yet to be discussed.
Sandra Alspach, communications professor and sole faculty member of the Committee, explained that it is difficult to engage fellow committee members in conversations regarding additional policy.
"What's our tipping point? Will it take a death to make us flip?" Alspach said. "And of course, when I [say] that, there's a dramatic 'aha' moment and [the Committee is] very quiet. Because, of course, nobody wants that to happen. But in terms of what percentage of positive cases will we need to make a flip, nobody wants to speculate."
According to Ferris Faculty Association president Charles Bacon, President Eisler's stance on face-to-face learning remains "intractable."
On Thursday, Sept. 23, the FFA held a demand to bargain with Eisler, Vice President Fleischman and five other high-level administrators. Attorney Robert A. Boonin of Detroit's Dykema Gossett spoke on behalf of every administrator in attendance.
The FFA did not reach their goal of finding compromise regarding faculty who feel unsafe teaching face-to-face with a student body that is less than one quarter vaccinated.
"…'We believe that we've done all that we need to do.'  These are the words of Rob Boonin, who was brought in to be the sole voice to speak for Eisler [and] Fleishman… The only person permitted to speak knows nothing about what we do," Bacon wrote to the FFA.
This failed demand to bargain follows a summer-long general pause on non-COVID-19 related grievances. Several issues, including queries about the spending of a $26 million Higher Education Emergency Relief Fund, were compiled throughout the season. Bacon stated that the next step is to move to mediation.
While plans for mediation develop, exemptions from face-to-face teaching remain unattainable for most faculty members.
"Even if you had a compromised immune system, it didn't make any difference at all unless you were declared disabled under the Americans with Disabilities Act," Gary Huey, a history professor at Ferris, said.
Huey uses two immune system suppressing medications to treat Crohn's Disease, an auto-immune disorder he has lived with for over 50 years. Because his particular case was considered severe enough by the ADA and Ferris' administration, he now teaches fully online.
"I had to get my doctor to fill out a three-page form, indicating why the doctor believed I should be allowed to teach on Zoom, and how it was dangerous for me to be face-to-face," Huey said.
Huey was notified about his ADA accommodation over two and a half weeks after his form was sent to Ferris. Other faculty members were denied any accommodation.
"You had to be in the classroom because [the administration] wanted it just like it was back in the fall of 2019. Sticking their head in the sand like that, and just ignoring what was taking place. That is, I think, what happened to a couple of my colleagues," Huey said.
With no shortage of faculty grievances, Alspach describes her committee role as "the squeaky wheel that squeaks every meeting." She has felt strongly about this representation since the Committee's conception.
"When the Re-entry Committee was announced… and they listed the participants, it was clear that they were representing the whole of the organizational structure," Alspach said. "But they had forgotten the faculty. So as academic senate president, I reached out on behalf of the faculty and requested a seat at the table."
Alspach explained that the Committee is a democratized entity. Before policy changes are set in motion, they must be discussed at length by all 16 members. These members represent several corners of the university, including academic affairs, the FFA, Birkam Health Center, administration and finance and the president's office.
"Understand that one or two voices are not driving the committee… So, to the extent that we have the healthcare specialists offering their perspective and their advice, that's taken into account. They're not driving the bus," Alspach said.
Despite this work, Bacon, history professor Barry Mehler and other faculty members feel that they are being ignored by administration and underrepresented on the Committee.
"I have been a faculty member here at Ferris for over thirty years and I think the administration is significantly more intransigent than it has ever been before," Mehler wrote in an open letter to faculty and staff. "We have been consistently shut out of the conversation regarding how to adapt to the ongoing threat posed by the pandemic."
Among Mehler's top concerns are the reporting of positive COVID-19 test results and subsequent contact tracing.
"[A student] was experiencing COVID symptoms. Birkam said she should probably get tested. She asked if she had to get tested. No, but it would also be really good to stay in your room and quarantine for a couple of days or until the symptoms go away. We can get you in for a test day after tomorrow," reads a post from the Ferris Facebook Faculty Lounge.
As explained in the Committee's message to students from Sept. 28, testing and quarantining are not always mandatory. Asymptomatic vaccinated students are not required to get tested or quarantine after exposure. This is in direct contradiction with the Centers for Disease Control and Prevention's most recent advice.
"Anyone who has been potentially exposed to the virus should get tested, the CDC now says. Previous guidance recommended testing only for fully vaccinated people who were symptomatic," reported the New York Times on Sept. 21.
Testing is not mandatory for students to return to work or classes, regardless of color status in the Healthy Dog Portal, if a 10-day quarantine period is executed.
According to Lindsay Barber, Director of Health Services and member of the Committee, contact tracing is only conducted by a Birkam registered nurse after a student reports their positive status in the Report a Positive Test Result Portal.
Melher believes that this system of self-reporting is unreliable and insufficient at this stage of the pandemic.
"I am more and more convinced that Birkam is being actively used to suppress the true COVID case count on campus," Mehler said.
Alspach and Jeremy Mishler, director of re-entry communications, stated that the Committee is both "positive and optimistic" that their approach will keep the Ferris community safe.
"If there is one thing the pandemic has taught us, it is to be nimble, to be flexible and to be prepared for changes, sometimes on a daily basis." Mishler said. "The university continues to take a proactive, flexible and collaborative approach to operating during the pandemic…"
According to Alspach, Ferris is unable to make grand policy changes that only concern the Big Rapids campus. Other locations including Flint, Traverse City and Dowagiac must also be considered to avoid accusations of favoritism.
"We don't have the freedom that individual school districts in the state have to come up with their own local policies," Alspach said. "The last government directive was do what you need for your community, and if your community needs to take time out, take it. But we're not going to impose a state standard on you."
As the semester continues and holidays approach, faculty members remain uneasy about the safety of the Ferris community, as well as the motives of the administration.
"They don't care about the health and safety of the faculty and staff. They only care about the money they get from students and families." Bacon said.
Bacon publicly stated that "it is time for Eisler to leave and take Fleishman with him."
Eisler and his team have yet to comment to the Torch regarding this story.