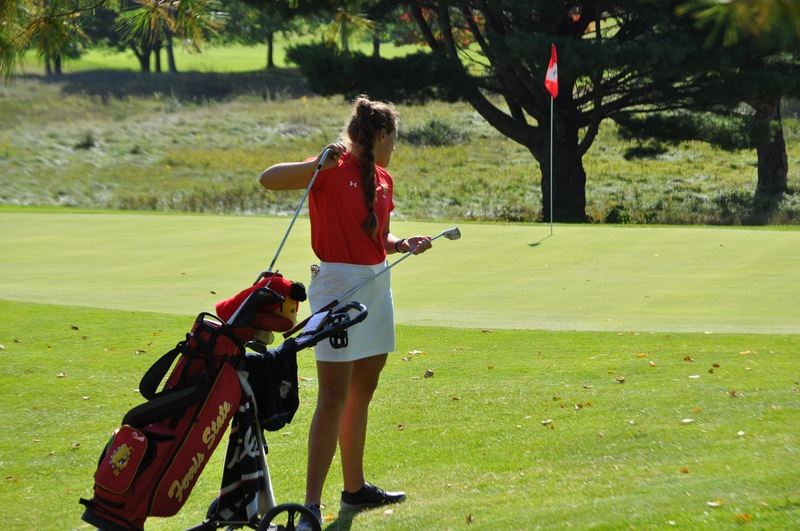 With just two invitationals left on their schedule, the Ferris's golf teams have slightly different goals to end their season . 
The two teams are on slightly opposite ends of the spectrum. With the women's team having found success, head coach Sam Stark wants the men's team to meet higher expectations. 
Stark, who is in his first year with both teams, has been vocal about pushing his men's team to be better. 
"We haven't carried ourselves like I thought we would in these first two tournaments," Stark said of the men's team. "[We] came out a bit timid. So just seeing them stay aggressive, stay hungry on the golf course- being appropriately aggressive is what I tell them a lot. How can we channel that into playing well. Lot of it is body language. Lot of it is what we're doing between shots. Lot of it's how long can we keep our intensity up over 36 holes of golf. That's what I wanna see."
The men's team has not finished in the top five through the three invitationals they have played in. They finished seventh, 11th, and 16th. 
Stark's words have not fallen upon deaf ears as the push to be better is echoed through junior Nathan Kraynyk.
"Going out there, for each individual, they gotta be the guy that day," Kraynyk said. "We can't be waiting for someone to make a play. Go out there and be the guy to put up a good score."
As for the women's team, they have had a strong season so far. With two top-five finishes through the three invitationals they have played in, there is not too much change needed to continue their dominance. 
Stark, although pleased with the women's performance, wants the women to focus on finishing rounds strong.
"I don't know how to quantify that other than just score at the end and how we finish those last six holes or so of a round," Stark said. "There's been some days where we have to play two rounds in one day- we hit a little bit of a wall. This week we did that. We did a little better job of climbing over the wall… or at least trying to scale the wall. Now we just have to get all the way over the top." 
Stark emphasized this alongside the fact that the women's team has lost to rivals by a stroke or two.
Once again, Stark has made himself clear with his players as sophomore Alayna Eldred repeated his words.
"Each one of us needs to clean up a few shots," Eldred said.
With both Fall seasons winding down, the teams remain hopeful. Both teams next stop is the Davenport Panther Invitational, which is held Oct. 16th through the 17th. 
END