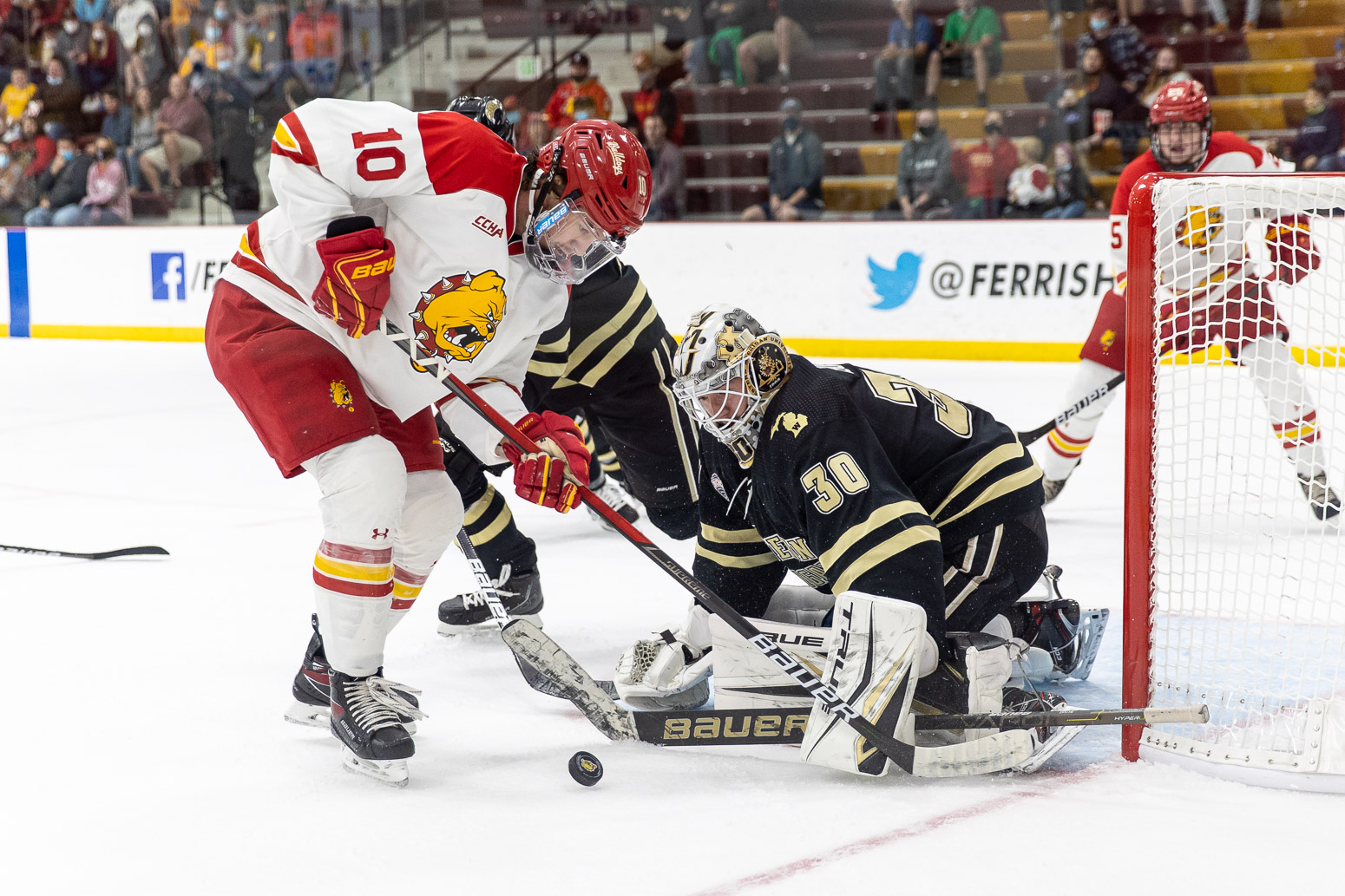 After losing to Western Michigan University on Friday, Oct. 8, the Bulldogs got a chance at redemption against the Broncos on Saturday, Oct. 9.
The Bulldogs returned home on Saturday and tried to even the series against Western Michigan. Despite a strong first two periods, the Bulldogs ultimately fell to the Broncos by a score of 4-3.
Head Coach Bob Daniels commented on the tough-to-swallow loss.
"I thought today we competed right from beginning to end," Daniels said. "Now it's a matter of learning how to win those games."
The Bulldogs opened up scoring in the first period when senior forward Marshall Moise took a shot from a sharp angle to beat Western Michigan's goaltender. Ferris added to their lead after senior captain Ethan Stewart scored later in the period off assists from senior Jake Transit and sophomore Sam Skinner. The Bulldogs finished the first period with a 2-0 lead.
The second period was quiet until the Broncos finally broke through on a redirected puck, cutting the lead in half. After the Western Michigan goal, the period ended, leaving the score 2-1 in favor of the Bulldogs.
The fight continued well into the third as Western Michigan slipped a second goal past sophomore goaltender Logan Stein with ten minutes left to play. The Bulldogs fired back to take the lead when Stewart potted his second goal of the night with the help of Transit. Despite the presence of strong defense and excellent goaltending, Western Michigan erased the chance of a Bulldog win after scoring twice near the end of the third period.
Daniels recognized that there are areas where his team needs to improve.
"I thought we were a little tentative when we had the 2-1 lead," Daniels said. "Then we played hard again and scored, we weren't as tentative. Then we got tentative again and next thing you know it's 3-3. Like I said, we just need to find a way to drive those things home."
Daniels liked the improvements he saw from his defense. He noticed good defensive play from the entire team, not just the defensemen. From shot blocks to the penalty kill, Daniels felt his team played solid defense throughout the game.
Western Michigan had the edge in shots on goal with 26 while Ferris had 23.
The Bulldogs will be back in action at St. Thomas on Friday, Oct. 22nd. This starts a long road stint for the team as they will not return home until Friday, November 5th to take on Minnesota State.