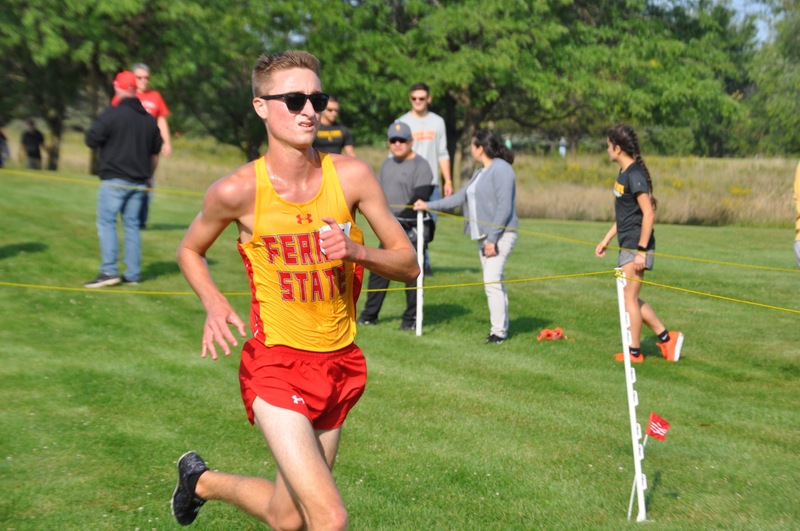 Despite not racing since 2019, Ferris's cross country teams have managed to find success.
Ray Helsing Bulldog Invitational:
 Both teams had a strong showing in their first meet at the 2021 Ray Helsing Bulldog Invitational. Ferris rose as men's and women's champions and captured the team title in both events.
Junior Donis Harris took first place in the men's race at 27:20.97 on the 8K course. Freshman Noah Griffith was the runner-up at 27:42.19 for the Bulldogs. 
The Bulldog men's squad netted 15 points to win the event. They finished with the top five place winners and had eight runners in the top nine along with 10 of the top 12 overall.  
The Bulldog women totaled 22 points, with sophomore Sydney Kubiak placing first overall with a time of 20:12.68 on the 5K course. Freshman Daisy Englund was the Bulldogs' next finisher in third place overall at 20:46.52. The Bulldog women had nine runners finish in the top 11 overall and 10 of the top 13. 
"We've been working hard all summer, and I been excited to race and being able to participate this year," Kubiak said. "I try to lead and work together to push myself and others to do our best. As a new team, we constantly support and encourage each other every step of the way."
Michigan State Spartan Invitational:
Their first away race took place at the annual Michigan State Spartan Invitational on Friday, Sept. 17.
In the men's 8K race, Bulldogs Harris clocked 27:01.2 on the course for 76th place. Sophomore Brandon Wirth was only two spots behind in 78th place at 27:02.0. 
On the women's side, Kubiak paced the Bulldogs with a time of 24:44.1 for 108th in the 6K event. Teammate Hanna Brock was next in line at 24:48.4, finishing 112th in the field. 
Lansing Community College Invitational:
During the Lansing Community College Invitational, a select number of student-athletes were selected to participate in this competition. 
The Bulldog women took eighth place overall while the men were 12th in a large field that included student-athletes from all levels of competition. 
The men's team was led by junior Andrew Yaworski, who placed 42nd overall in the 8K race with 28:22.9. Junior Logan Reimink was 46th (28:41.8), with freshman Andrew Shafley coming in 53rd (28:53.0). Sophomore Brendan Deneen finished 60th (29:11.2) with freshman Luke Anderson 103rd (31:04.4) and freshman Kevin Wilson 105th (31:06.8). 
"It felt good to be back after an injury and run," Yaworski said. "I'm constantly doing the workout and trying to increase my time. So many people are gaining experience, especially coming back this year. We are focusing on our goals trying to stay engaged in the meets." 
Meanwhile, the women's race was paced by freshman Lauryn Coleman in 36th place 20:52.0. Sophomore Lauren Sinnaeve came in 43rd 21:07.2 with junior Paige Deitering 53rd (21:25.7) and junior Claudia Baryo 58th (21:37.5). Freshman Layla Creed finished 72nd (21:57.0) and freshman Allissa Ash 80th (22:18.4). 
 "The season is going very well. It has been mentally tough, and I've been coming off an injury and trying to propel myself to do the best that I can," Baryo said. "But, overall, we have a wonderful team that is doing well and getting better."
Greater Louisville Classic:
Ferris's men's and women's cross-country squads recently took part in the Greater Louisville Classic on Saturday, Oct. 2. The meet is one of the country's largest and features teams from all levels of competition. 
For Ferris, Kubiak came in 42nd overall in a time of 19:10.3 in the event. Freshman Melanie Strauss was 57th 19:23.3. 
Junior Hannah Loucks placed 84th (19:41.5) with junior Callie Delaney 96th (19:48.4) and sophomore Amelia Topolinski 123rd (20:01.7) in the event. 
The Bulldog women's team captured ninth place overall in the 5K Blue Division with 386 total points. The Bulldog men took 19th place overall with 538 points in the men's 8K Blue Division. 
Ferris was led by Harris, who placed 16th overall at 25:13.8 in the race. Freshman Nathan Alford finished 70th 25:58.4 with newcomer freshman Noah Griffith 84th 26:06.  
 Ferris will next take part in the Muskegon Jayhawk Invitational on Saturday, Oct. 16 in Muskegon, Michigan.