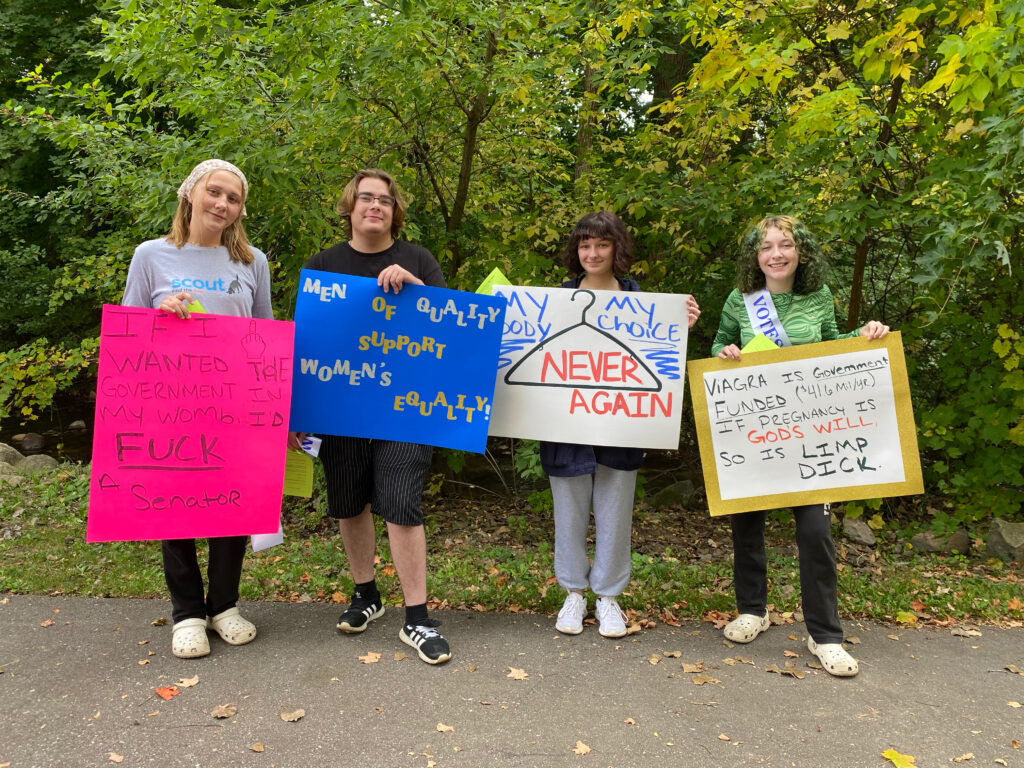 Last Saturday, a women's march for reproductive freedom and voting rights took place at Mitchell Park in Big Rapids.
Approximately 100 people from ages two to 80 attended the march that joined over 600 sister marches throughout the country. The group wound their way through the streets of Big Rapids, chanting their support of women, minorities and voting rights.
One of the individuals who planned and ran the event was Timberly Boezwinkle, an academic advisor at Ferris.
Boezwinkle explained that last year they had a march that was successful, and this year they wanted to keep the tradition alive. In doing so, they joined hundreds of groups throughout the country.
"We just think it's important to acknowledge what's going on. These are some very precarious and very unnerving times," Boezwinkle said. "I just think it's very important that we, as women, do not lose our rights to make our own choices. Also, the voter issue is huge, and change starts at a local level."
In attendance at the event were several local politicians running for office, including some who spoke to the group before the march, such as Wendy Nystrom, Jennifer Cochran, Karen Simmons and Amanda Siggins.
Siggins is a political science student at Ferris and a candidate for the Michigan House of Representatives 102nd District.
"I am speaking on my experiences, the rights to women's bodies and the unalienable rights that are given to us by the Constitution and as human beings," Siggins said.
Siggins added that teaching her three children the importance of standing up for what they believe in has changed her perspective.
"I had a rough go as a teenager; I was homeless and I was molested…, I just went through things that I don't think that anyone should go through," Siggins said. "I learned about standing up for yourself… [and] about creating change that benefits all of us, and not just the ones whose opinions are the loudest."
Amanda Johnson, who is running for City Commissioner, also attended the event with her sister.
"I am out here today because I am a woman, I have a daughter and a sister. When we were younger, we didn't have people standing up and marching in our families, but I think it's a fundamental thing to teach our youth that if our rights are being stepped on, there's nobody to do it but us," Johnson said.
Johnson further added that marching helps hold people in power accountable, showing what the people expect and want from them.
According to Boezwinkle, the event was a success and it's a tradition that they hope to continue in years to come.
am