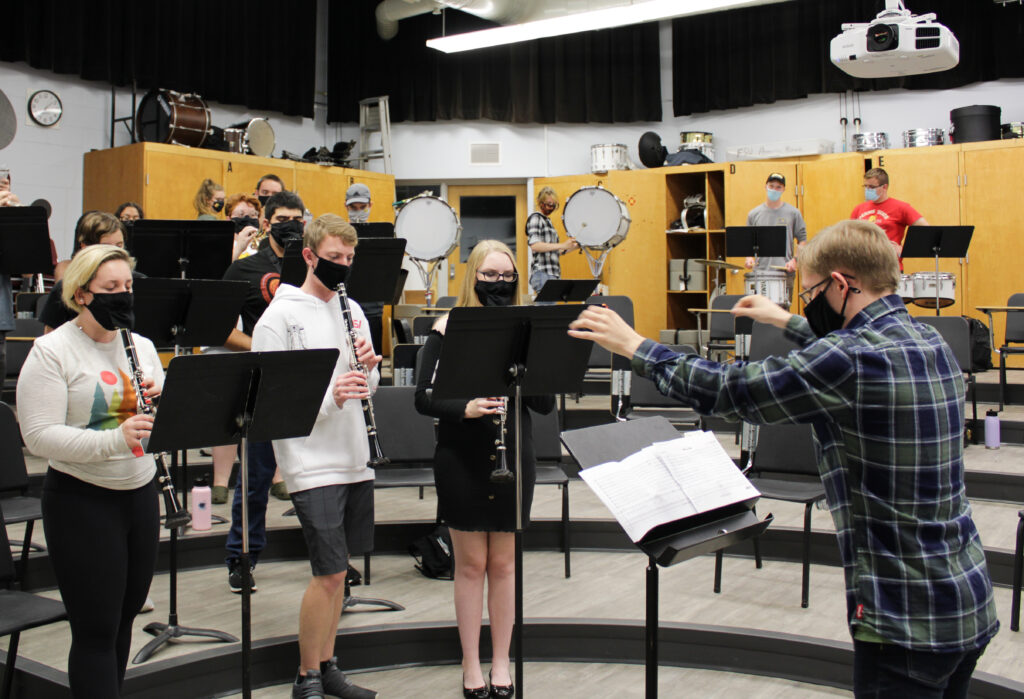 We'll stand by the crimson and gold, as the fight song for Ferris goes and the pep band is a group that represents that phrase well and true.
The FSU pep band is the official music ensemble for athletic events. Made up of 30 individuals, from students on campus and in the Big Rapids community, spectators will have seen the lively bunch at football, hockey, basketball, and volleyball games performing upbeat music.
The group has over 80 pieces ready to play in their folders when at a game. Favorites such as "The Final Countdown", "Sweet Caroline", and "Tequila" are often heard to encourage the student sections to get loud.
The band members must be ready to play any of these songs at a drop of hat, and it's up to their conductor to help them prepare properly as to what musical tune is up next.
Jack Spicer is the student conductor who has been with the band for a total of six years. He started out by playing trumpet for his first year, became a conductor trainee in his second semester, then fully became a student conductor in his second year.
Spicer has been conducting the band solely for four years, occasionally jumping back in to play, but he says a lot of the time he is just waving his arms around yelling. However, Spicer originally had no intention of joining the music program, but once he arrived on campus he started looking for a place to go.
"Once I got out of high school, I thought I was done with music," Spicer said. "I had conducted my band in high school and then I saw the pep band and I was like you know what, that might be a good shot. Especially since I can't be marching in a band with cerebral palsy, it's difficult for me, so a college-level marching band wouldn't work. I found this and it was love at first sight."
Because of Spicers love of music he has been able to encourage the individuals in the band and lead them well, even to earning national championships with just 30 individuals against 200 person marching bands.
Many people join these groups because they love music and want to continue to their passion. The music center is the place for those individuals. Dale Skornia, the Associate Professor of music and pep band advisor, promotes the centers' life motto 'music for life'. A phrase meaning coming together and making music for a lifetime.
"The philosophy of the music program is music for life," Skornia said. "Hopefully when they graduate they'll find somewhere to play. Whether it's coming back here to play as alumni members, finding a community band, or something."
Skornia always encourages his students to continue playing their instrument or singing in their life, encouraging them to join the FSU ensembles such as pep band. One of his community members in the West Central Chamber Orchestra even took him up on his offer.
Riley Greene, a freshman majoring in pre-optometry, was originally a community member of the WCCO as a violinist when he was still in high school. Greene would come to the Ferris campus once a week to play and he would hear of the activities the pep band would do together.
After seven years of playing the violin and being immersed in the orchestral world, Greene decided to see if he would enjoy having another music outlet in his life going into his first year on campus.
"I just kind of fell in love with the atmosphere around it," Greene said. "It's really different from what I'm used to because I've never even thought about the band ever in my entire music career until now. It's so different that it's really interesting and really fun to be a part of but it's familiar enough where I don't feel lost."
It's a new community that Greene is excited to be a part of as it is filled with 'outgoing people who will throw you into the spotlight but have a hell of a time.' Music has always been a part of Greenes' life and now he has the opportunity to truly immerse himself in it with the pep band.
"It's organized chaos if I were to describe it. It really is just, it's weird paradoxical almost, it's orderly but go with the flow kind of thing. Thing's can change on a dime but usually, the main structure is through."
The pep band is a lot to take on for an individual, especially a student, as it takes up almost every weekend of the fall semester to rehearse and perform. There is even a contract that must be signed before a new member can enter, it shows the amount of commitment they are willing to give in order to play.
Though the hours are long for rehearsal, the performances are short, members in the pep band say they wouldn't trade it for a thing. It brings individuals together for a lifetime, just as music does, and brings out the best of times for players and eventgoers.
For interested students, they can go into the music center and be able to talk to Skornia for more information or find it right online at the music centers webpage.