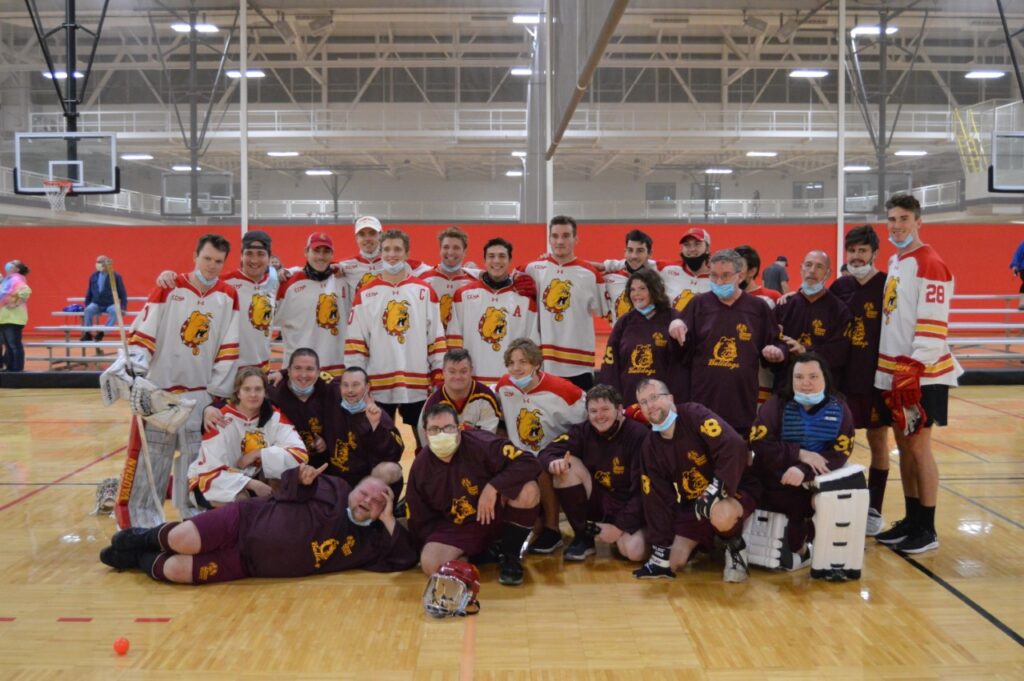 The fans in attendance at the Student Recreation Center on Oct. 12 got the chance to do something rare in the world of sports.
They rooted for both teams.
For the first time since 2019, Area 5 Special Olympians played against Ferris' hockey team in a competitive floor hockey contest. The Special Olympians came out with a victory 6-5 in overtime.
Area 5's victory boosted their record to 3-0 against Ferris hockey. Their first victory against Ferris came in the inaugural game in 2018. In 2019, the Special Olympians also emerged victorious over Ferris hockey.
As both teams stepped on the court, the crowd full of students and community members shared continuous support for the groups as they traded goals throughout the nine regulation periods. The game was tied at the end of regulation, forcing an overtime period. The Special Olympians scored first and left the event with a 6-5 victory.
University President David Eisler was pleased to attend the event.
"I'm very excited to be here," Eisler said. "This is a great event. Whenever we can use our athletic teams to help build relationships and create a once-in-a-lifetime experience for these young people is a fabulous thing."
Ferris hockey head coach Bob Daniels was thrilled to have his team participate in the event. For the first time, he got to watch his nephew join Ferris' hockey team and play alongside the Bulldogs.
"I think this is an awesome event with our guys getting out there, enjoying the game and looking forward to it every single year," Daniels said. "I got to watch my nephew, Danny, play, and that to me is something special. Seeing everyone play and the Special Olympians enjoying themselves is just wonderful."
Dakota Young, president of Special Olympics College Club, organized this event for the sole purpose of enjoyment and to bring family and friends together. Young said that Ferris embraced and supported every Olympian that came to play.
"This event had a significant impact, not only on our athletes, but our community and students as well," Young said. "We had President Eisler in attendance, and WZZM 13 came out to spread inclusion, and that really shows how Ferris is making big steps. This event was hard to put together, and it was amazing to see athletes get together and to see the RSOs, fraternities and even President Eisler come out to support us."
Because of COVID-19, the event did not take place in 2020. However, sophomore Ferris hockey forward Mitch Deelstra looks forward to the event running every year from here on out.
"It's fun and something we're happy to participate in," Deelstra said. "It just takes the little things to make to make an impact, so for us to come out here is important for us and some good people."
Deelstra said the event is also a good chance for the Bulldogs to interact with the community and participating athletes, especially with a small break before the team's next hockey game.
Sophomore goaltender Logan Stein enjoyed the event as well. Part of the event was a fundraiser for Special Olympics. Anyone in attendance of the game could donate a dollar and take a shot on Stein in goal. For the shot on goalie, the event raised $38.
"It was nice to see everyone donated a dollar for all those shots," Stein said. "It is nice to know the money is going towards the foundation and a good cause, and it's a lot of fun for both teams."
Tyler Cwshepler, a student at Ferris and Special Olympic athlete, was pleased with the event.
"Today was fairly good. I had a lot of fun," Cwshepler said.
Area 5 will look to improve upon their series record when the event runs next year.
Sports Editor Brody Keiser contributed to this article.