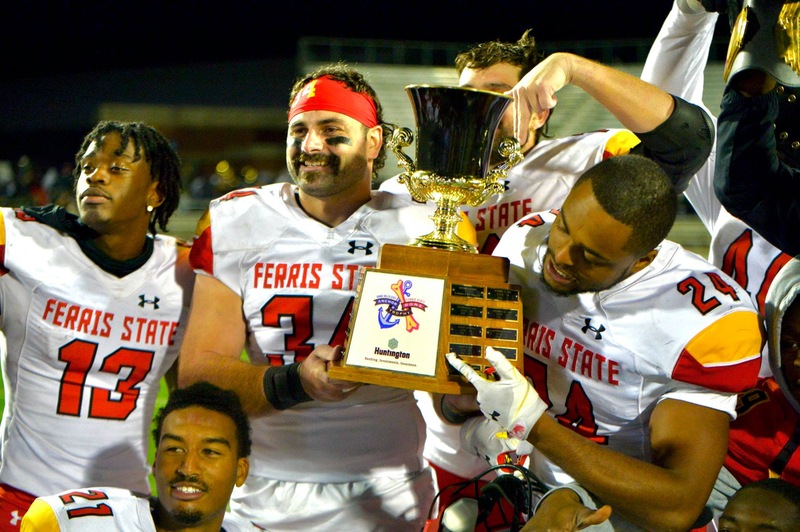 A record number of fans at Lubbers Stadium was not enough to get Grand Valley a win in the Anchor-Bone Classic.
The 51st meeting between the Lakers and Bulldogs on the gridiron certainly lived up to the hype. 17,007 fans packed into Lubbers Stadium to watch the number two ranked Ferris State Bulldogs defeat the number six ranked Grand Valley State Lakers 35-28.
This was Ferris's fifth straight victory over the Lakers, and to do it in front of a record number of fans was extra special for senior quarterback Jared Bernhardt.
"It was an awesome environment," Bernhardt said. "This is what I wanted to experience playing college football."
The game started with the Lakers grinding out a few short yardage plays. They soon decided to test Ferris's defense deep down field. Thanks to pressure from linebacker Liam Daly, Grand Valley's pass was hurried and intercepted by Alex Thomas.
"We watched and studied film for two weeks," Thomas said. "We were able to get a great look at what they liked to do. I believe that was the reason we were able to make plays."
The Bulldogs took over on offense and welcomed Bernhardt back under center in his return from a knee injury in Week 2. Bernhardt completed his first two passes until an errant snap forced a Ferris State punt. The Lakers responded with a nine play, 70-yard drive to score the game's first points, capped off by a 33-yard run by quarterback Cade Peterson.
"Grand Valley brought it to a whole other level," head coach Tony Annese said. "Give credit to their fans and players."
Ferris's second drive began with another botched snap, leaving the offense with a 2nd down and long. After two huge runs from Tyler Minor and Bernhardt, Ferris converted to continue the drive and eventually find the endzone on a 33-yard fade pass to sophomore Tyrese Hunt-Thompson.
Grand Valley began to drive on their next possession. Backed up in their own redzone, the Bulldog defense stood tall and came up with a an interception from Caleb Smith.
Ther fan noise became a factor on the Bulldog's ensuing possession. Ferris committed four consecutive false start penalties. Annese said the noise was expected but still a challenge.
"We practiced snap counts and tried to have a plan," Annese said. "Since we motion so much, it's hard to do."
Ferris's offense collected themselves to pick up a first down. Bernhardt then began to lead the passing attack, completing three consecutive passes to put the Bulldogs inside the 20-yard line. Bernhardt then connected with Xavier Wade for a touchdown.
Tempers flared near the end of the first half. Following a Peterson throw away, both teams received unnecessary roughness penalties.
Bernhardt was intercepted on Ferris's next drive. The Lakers began took over and appeared to score on a run from Ferris's two-yard line. However, the Bulldog defense forced a fumble and Thomas returned it 98 yards for a touchdown.
"I was in shock," junior defensive back Amere Blake said. "I didn't see the initial fumble due to the angle of the play. When I saw Alex running down the sideline, I got hype and started running down to celebrate. It was a great play and gave us a ton of momentum going into halftime."
Ferris wasted no time to find their groove offensively in the second half. On a rollout scramble, Bernhardt made one of the game's biggest plays with a 54-yard pass to CJ Jefferson. Later in the drive, the Bulldogs extended the lead to 28-7 on a seven-yard run from Minor.
Grand Valley battled back from down three scores. On their next drive, Peterson found Young-Walls on a wide-open wheel route for his second total touchdown of the game.
"I thought Peterson played really well," Annese said. "It's a new change with Grand Valley having a dual threat quarterback. Their offense coordinator did a good job."
Ferris was stopped cold by the Lakers linebackers on their next drive. Grand Valley ensued with their third touchdown of the game, capitalizing on two Ferris penalties.
Early in the fourth quarter, Grand Valley continued to ride the momentum. Facing a fourth and one at their own 30-yard line, the Lakers executed a fake punt and converted with a 20-yard gain. Despite the momentum in favor of GVSU, the Bulldogs buckled down and stopped the Lakers with a sack from sophomore Ian Hall.
"We had our backs against the wall a few times, but we did not give in," Blake said. "The turnovers gave our team confidence for the rest of the game."
With 9:50 to go, Ferris went back to the ground game through Bernhardt. While two false start penalties set the Bulldogs back, Bernhardt targeted Marcus Taylor for a huge completion and pass interference penalty to move the Bulldogs across midfield.
With five minutes to go, FSU faced a crucial fourth down and one. With the field goal unit on the field, Ferris faked the kick. Kicker Sy Barnett threw to Sam Girodat for a big gain down to the two-yard line. After their ninth false start of the game, Minor punched in his second seven-yard touchdown run of the game.
"In '18, Steve Casula called the pass back to Jayru (Campbell)," Coach Annese said on the fake field goal. "I tried to one-up him on that one. I'm so disappointed we didn't score a touchdown."
Trailing 35-21 with 2:19,the Lakers began to use their tempo offense to throw down the field. With just over two minutes to go, a tipped pass found the hands of Laker receiver Hunter Rison to cut the lead to just seven.
Thomas recovered the ensuing onside kick for Ferris. Minor and Bernhardt then picked up 15 yards to move the chains and run out the clock in victory formation.
"(It was a) good overall team win," Bernhardt said in his post-game press conference. "We knew it was going to be a brawl and needed to put four quarters together."
In his first game back from injury, the two-time GLIAC player of the week was 12-16 passing with 217 yards, two touchdowns, and one interception. He also led the Bulldogs with 116 yards rushing on 20 carries, followed by Minor adding six carries for 40 yards and two TD's. Jefferson led Ferris with 68 yards receiving on three receptions with teammates Wade, Hunt-Thompson, and Taylor adding 67, 43, and 39 yards respectively. Wade and Hunt-Thompson each added a touchdown.
Major Dedmond led the Bulldogs with nine total tackles, followed by Cyntell Williams with eight and Liam Daly with six. Thomas added two turnovers for the defense with an interception and a 98-yard fumble recovery. Blake contributed to forcing a fumble and Smith added an interception. Hall and Murphy combined for the Bulldog's two sacks.
"Our guys rose to the occasion," Aneese said. "This wasn't just an average Grand Valley environment. I'm glad I'm still standing after that intensity."
Ferris improved to 6-0 overall and 3-0 in GLIAC play. The Bulldogs will take the field next on Oct. 23, where they will head up north to face Michigan Tech at 1 PM. For more stats and information, visit the "Football" tab at www.ferrisstatebulldogs.com.