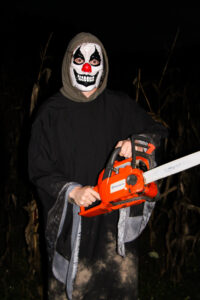 Various Ferris sports teams are helping to deliver spooks and scares at a haunted corn maze located just outside of Big Rapids.
The haunted corn maze is hosted by Four Green Fields Farm, located in Rodney, Michigan. Various groups in the community can sign up to help run the maze. The group then earns half of the money made that night.
"This was my third year working the maze, and every year has been a blast," Kendall Rooks, a women's rugby player, said. "It has been either freezing cold or raining every time, but I always enjoy spending time with my team. This is somewhat of a bonding event also, which is great."
The past two weekends have been staffed by the women's rugby, women's softball, hockey and cross-country teams. The men's basketball team and the tennis teams will be working the corn maze on Oct. 22 and Oct. 30 respectively. The Ferris Newman Center will also be staffing the maze on Oct. 29.
Scarers use a variety of tactics to try to startle participants going through the maze. They dress up in costumes and work with their teammates to try to scare maze-goers as they traverse through the maze. Scarers follow, scream at, jump in front of, and run past participants. Participants and scarers are not allowed to touch each other, so the scarers rely on frightening maze-goers through sight and sound.
"My group relied on both jump scares and the general feeling of being uneasy," Emily Stevenson, a women's rugby player, said. "We had two people stand in the middle of the path, while another person jumped out and screamed at people walking by."
The money generated goes towards funding different projects and activities for each individual team. According to Rooks, the money generated by the rugby team goes towards paying for the referees at games, after-game socials and their weekend tournament in Nashville.
The haunted corn maze is open every Friday and Saturday night from 8:30 p.m. to 10:00 p.m. until the end of the month. Entrance into the maze is $4, and participants go through the maze at their own pace.