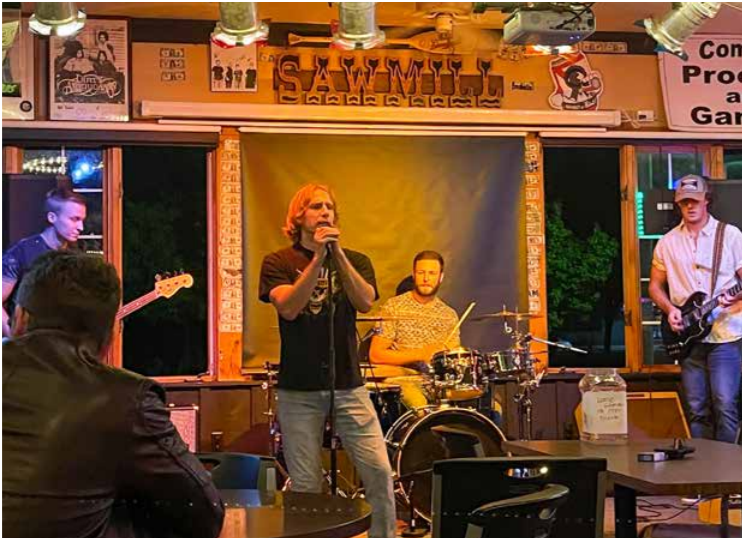 "Nobody knows who we are."
This is how Gunner Gingrich explains his band, Who Knows. The band consists of three Ferris construction management seniors and one alumni. Mitch Maier, who graduated last spring, plays drums while Gingrich and Jacob Mondak are on guitars. Matt Vandermus takes the front stage as the singer.
The band started two years ago by accident, with the four members not knowing each other until they started the band. Maier and Gingrich played at a local house party with two other students. After the show, Vandermus went to Gingrich and him that he played guitar and was interested in joining the band. Mondak, who knew a couple of guys in the band through class, was brought in after that. Because they had three guitarists, Vandermus got moved lead vocals and solidified the band.
As they were about to have their first show, they ran into the issue of settling on a name. A few days before the show, Mondak told the other members that they needed to pick a name right so they could print out posters to advertise. One of the covers they play is "Who Knows" by Jimi Hendrix and that name for the band stuck.
The music Who Knows is playing is something that most listeners haven't heard before. While they typically play classic rock, they enjoy venturing out and playing anything from country to folk music.
"A unique blend of it all," Mondak said. "A melting pot of music."
Gingrich and Vandermus have been working on writing their own music for the band. They hope to be able to play one of their originals on Halloween night.
Mondak said what he enjoys is that many people their age don't really know this type of music that they're playing. So it gives him joy that they can expose this type of music, like classic rock, to younger crowds.
Because the band is still new, only starting playing live shows in the last year, a lot of their fan base are other construction management majors coming to their shows. But that hasn't stopped them from having crazy experiences.
"When we were playing at Paz's the first time, the window was opened behind Mitch, and a girl jumped in the window behind his drum set," Gingrich said. "She then like stumbled around it, and open the side door next to where he was playing, and let like 30 girls in and they stepped on my amp cord and bent the thing inside of the little input jack and broke the cable. But it was cool seeing like 30 girls trying to get in."
Besides getting noise complaints, a big issue the group has faced is not having everyone in the same place in life. Vandermus said it is hard trying to find time to get everyone in the band together due to this.
Even though Gingrich and Vandermus will graduate this winter, leaving Mondak the only member still at Ferris, the band still plans to play together for years to come.
"My long-term goal is to bring music to people who can relate, love it, and bring an energy to people because there's nothing in the world like that feeling," Vandermus said. "I don't care if we're playing in front of 10 people or if we're playing in front of 100 people, as long as those people are into our music and they're enjoying it, that's my goal."
The band has played at local bars, like Paz and Sawmill, as well as bars in South Haven and Grand Rapids. To find more information about Who Knows go to their Instagram page @whoknows_fsu.