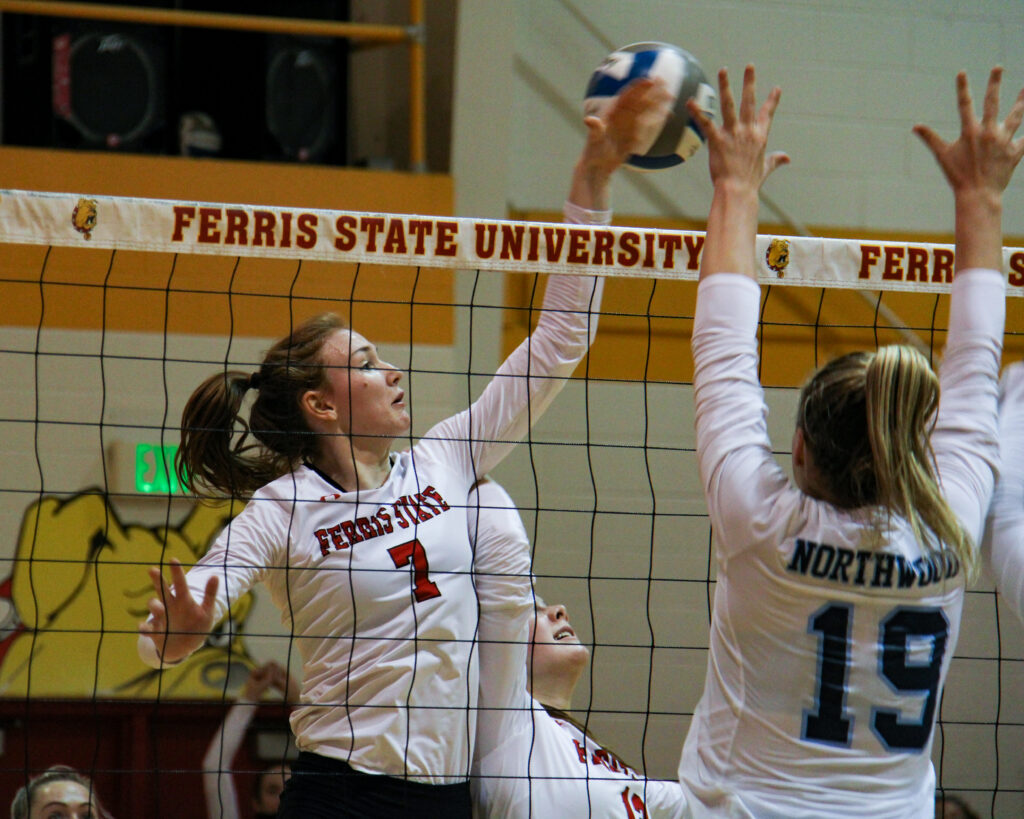 For the last time in their collegiate careers, Ferris's volleyball seniors left Ewigleben Arena with a regular season win. 
The Bulldogs took the court on Sunday, Oct 24 against the Lake Superior State Lakers for Ferris' senior day. Before the set kicked off, Ferris honored their seniors: Katie O'Connell, Nina Gorgijevska, Brooke Norder, Audrey Bellina and Samantha Hermann. Julia Mitchell, a former player and current student assistant coach, was honored as well.  
"It was great how engaged and energetic every single person on the team was each match," O'Connell said. "Our bench provides so much energy and communication for this team and it's been amazing." 
Ferris dominated the Lakers to win in three sets by scores of 25-13, 25-13, 25-11. O'Connell led the Bulldogs with 14 kills. Junior middle hitter Kira Merkle collected nine kills of her own. Freshman setter Kaylee Maat lead in assists with a total of 30. The Bulldogs also got four service aces from freshman libero Leah Bylut.
The Bulldogs had an attack percentage above .219 the whole day. They were at the .480 mark in the first set, and they ended their day with a .333 shot in the third set.
Gorgijevska had 13 digs against the Lakers, while O'Connell added eight. Norder and freshman outside hitter Claire Nowicki each chipped in seven digs, and they had six total blocks to LSSU's four on the defensive side. Merkle had three total blocks to lead all Bulldogs. 
Their win on Sunday gave them 12 in a row. They picked up their 11th straight win the day before on Saturday, Oct. 23 against Northwood with a 3-1 victory and set scores of 25-14, 20-25, 25-21 and 25-21. The Bulldogs have only lost a total of four sets on their 12-game win streak. 
O'Connell led the Bulldogs with 13 kills and 12 digs, while freshman outside hitter Keona Salesman had 11 kills. Maat finished with 32 assists. Senior libero Nina Gorgijevska led Ferris defensively with 21 digs, while junior libero Brooke Norder added 12 digs and Maat finished with 11 digs for the Bulldogs. 
The Bulldogs are grateful and happy for every win, and O'Connell said that so much of that comes from everyone bringing so much energy and competitiveness every day in practice and buying in to the process. O'Connell said the team just tries to get 1% better every day to be ready to play in games. 
"I think we're getting stronger and better each week of the season," O'Connell said. "It's great to be a part of a team where everyone is so committed to the team and helping each other out. So it's just fun to be a part of it all.
"We got a lot left and we're excited to get after it. Our biggest focus this next week is to use our practices to get better and work on our game, watch some film to prepare for these matches and just compete." 
Ferris advanced to 17-4 on the season and 8-2 in the GLIAC. The matches this weekend marked Ferris' final regular-season home contest inside Ewigleben Sports Arena. The Bulldogs have won 82% of their matches played in Ewigleben over the past 41 seasons of action. 
"It was a little bittersweet knowing it was our last regular season game inside Ewigleben Arena," O'Connell said. "There have been so many great memories in this gym, and it was great to celebrate all of those times this weekend, especially with so many alumni being here."
Ferris will turn their attention to next Friday, Oct. 29, as they travel to take on Grand Valley State University at 3 p.m. With just four regular season games left, the Bulldogs (8-2 GLIAC) are trying to keep pace with first place Michigan Tech (9-1 GLIAC).
am