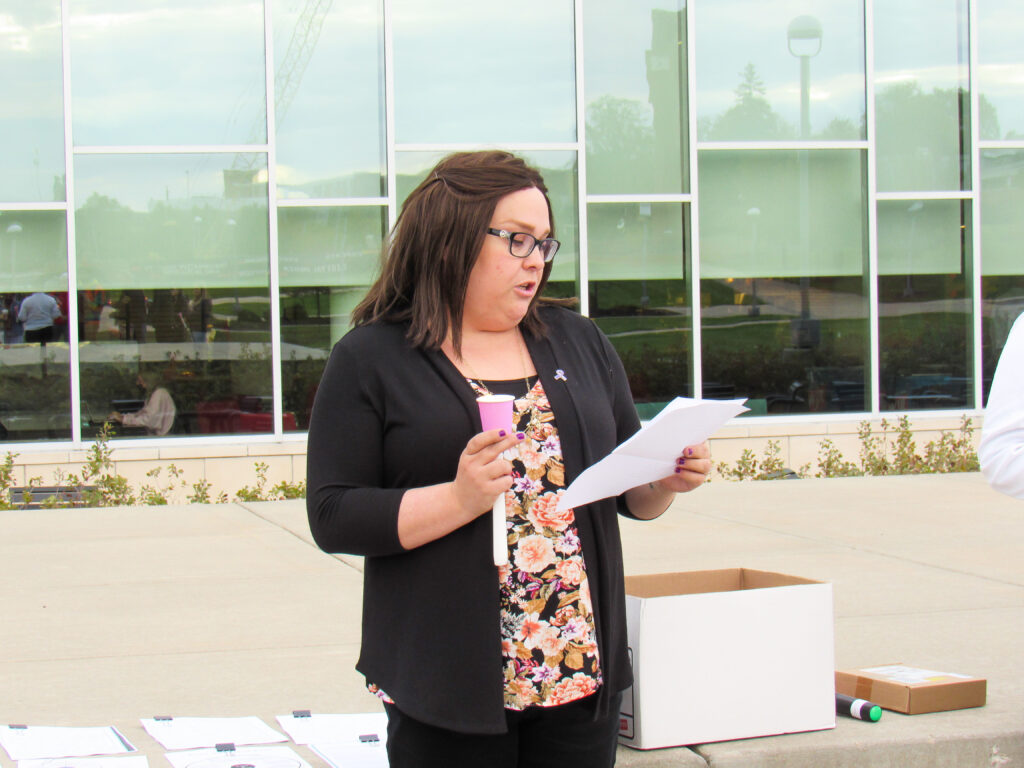 The Anti-Violence Alliance concluded Domestic Violence Awareness month with a solemn, third annual candlelight vigil at Robinson Quad Thursday evening.
Members of the AVA, students and community members gathered in front of the University Center to honor over 50 lives lost to domestic violence in Michigan over the past year.
Only traffic and birds could be heard in the background as peer educator Sydney Mingori read the names of these victims aloud. Her voice joined the candlelight in trembling against the wind. Men, women and children were commemorated during this time, with ages ranging from three to 59. Thirty-eight of these names were read in full, three of which were accompanied by the phrase "and her unborn child." The last names of 12 other victims remained undisclosed, as requested by the Wayne County prosecutor's office.
Violence prevention coordinator Jen Zamarron reminded the audience that this list of names is most likely incomplete due to "imperfect" domestic violence homicide data collection.
"Everyone on this list was an important and a valuable member of our community. Tonight, we mourn the loss of these lives. May we remember their names," Zamarron said.
Mingori hoped to show attendees the "gravity" of the situation surrounding domestic violence. This was apparent as stark statistics pulled the eyes of audience members to the ground.
Violence prevention coordinator Raven Hills informed the group that 36% of women and 25% of men experience domestic violence in Michigan. These numbers grow across demographics, with Black and Indigenous women experiencing domestic violence 30-50% more frequently than Latina, Asian and white women.
"We can all play a role in ending this violence, so I'm really appreciative that all of you are here with us tonight," Hills said.
Hills believes in the power of discussion. She, and the rest of the AVA, encourage people to be open about relationship dynamics.
"Like English, math and science, you should be having a class about relationships. That's the hope, that we will have some of these conversations with people about boundaries, communication, relationships and healthy dynamics," Hills said.
This event showcased the AVA's efforts to prevent future incidents of domestic violence while remembering those who were lost.
With candles in hand, attendees silently listened to Mingori read the poem "Remember my Name" by Kimberly A. Collins.
"…As your eyes glance my name
Understand once I breathed
Walked
Loved
just like you….
If my death reminds you to honor all you are daily
Then remember my name
Shout it from the center of your soul
Wake me in my grave
Let me know
My living was not in vain."
Attendees were reluctant to speak as the floor opened for names of additional domestic abuse victims. Hills sees this hesitation as a reflection of how victims and survivors are stigmatized.
"There's a lot of shame and embarrassment that comes from experiencing this yourself," Hills said. "You feel like you're alone, you feel like people don't understand. So, there's a lot of hesitancy on the part of survivors to come and talk about these issues because they feel like no one [will] understand them."
Carol Nelson was among the few who felt comfortable raising their voices. Nelson traveled from Maine to support her daughter-in-law, a member of the Ferris community, and all victims of domestic abuse.
"That could have been my name," Nelson said.
This October was the 32nd annual Domestic Violence Awareness Month. In addition to the candlelight vigil, the AVA hosted several other events including Engaging the Black Community in Domestic Violence, Co-Dependency in Pop Culture, Then it all Changed and multiple tabling events for resource distribution.
The AVA plans to continuously increase their impact on campus. As the year goes on, they are arranging events for Stalking Awareness Month in January and Teen Dating Violence Awareness Month in February.
"As more people learn about the Anti-Violence Alliance and the work that we do, we want to really saturate the community with messages about prevention and messages about awareness," Hills said.
Information about upcoming events can be found on the AVA's website, Facebook page or Bulldog Connect.