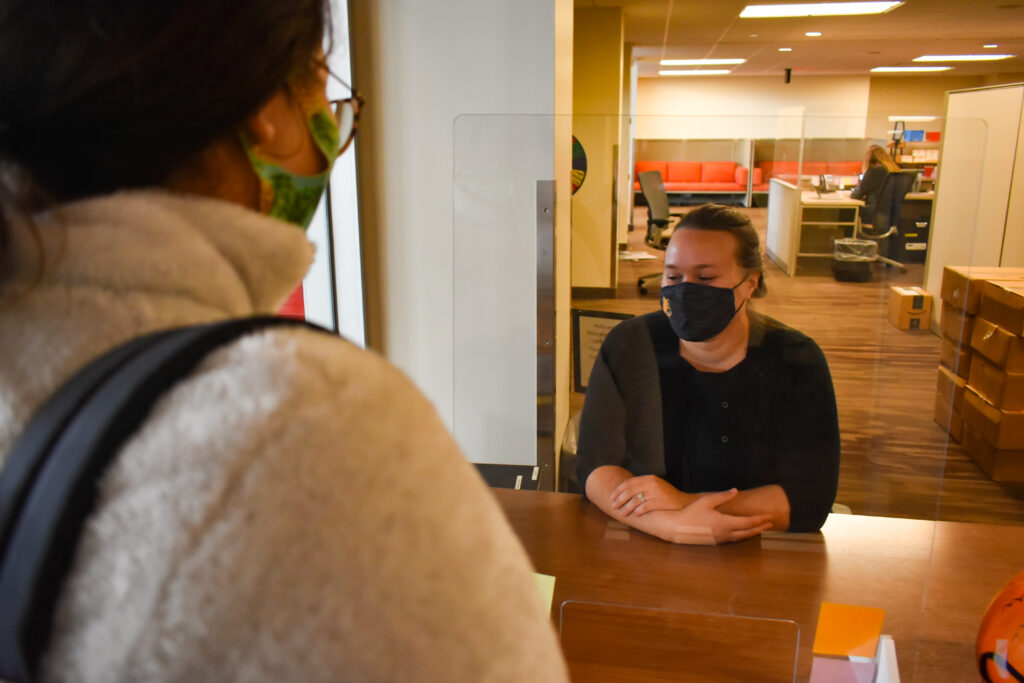 The Center for Leadership, Activities and Career Services (CLACS) is no more, instead, there are two offices ready to help students on campus with their future.
For nine years the CLACS office lived in the University Center. It specialized in RSO leadership programs, RSO funding, professional development, resume guidance and more. Over the summer the center was split into two offices: the Center for Student Involvement (CSI) and the Center for Career and Professional Success (CAPS).
Both centers are still located in the University Center. The CSI office is located in the same place as the CLACS office, and the CAPS office is their next-door neighbor.
Angela Roman, the director of the CAPS office, said the split of the CLACS office should allow the staff to increase the resources that prioritize and innovate career readiness opportunities for students. Especially in the CAPS office, as Ferris' mission is to provide students with a career-oriented education.
"The CAPS office empowers students and alumni to engage in life-long career and professional development," Roman said. "We offer resources, workshops and coaching that encourage participants to explore careers, take part in experiential learning, complete personal reflection, serve their community and attain essential skills."
Previously, the CLACS office held six different departments, including professional development, career and volunteer opportunities, alongside RSO information and activities, greek life and much more dealing with the community life of the campus.
Nicholas Campau, the associate dean of student life, said that the two separate offices allow each area to focus on their own unique work and mission, and it has helped them increase the visibility of both areas on campus.
CAPS, in particular, can focus on "empowering students and alumni to engage in life-long career and professional development by encouraging exploration of careers, purposeful experiences, personal reflections and essential skills attainment."
"By realigning our staff into two departments," Campau said. "It's our hope that students see increased opportunities to be involved on campus and opportunities for career and professional development."
While the CAPS office focuses on career-oriented assistance to Ferris students, the CSI office focuses on on-campus community life. This office was created to focus on three key aspects: hosting events, supporting RSOs and supporting Greek life.
Nick Smith, the coordinator of activities, said that having an area just for supporting RSOs and Greek life has become more focused since more attention can be placed on events that students are wanting to put together.
"We provide a lot of different opportunities for students to either attend or plan their own events and activities," Smith said. "We help support them with event registration, promotions and liabilities. We help them through the whole process."
Providing resources and supporting student organizations is what the CSI office does best. Smith says that even with the 200 RSOs that are on campus, if a student would like to start a new one, the CSI office is ready to help them. When students join these RSOs, the connections they make don't end when they graduate, their friendships continue on in the working world.
Teresa Fogel, the student activity specialist, hosts a podcast on Thursday afternoons where she talks with Ferris alumni who have been in professional RSOs and other organizations that represent the entirety of the university, such as homecoming ambassador. Within these student organizations, Fogel says a lot of people have met their best friends and have learned a lot from the groups themselves by developing who they are and discovering what they are really interested in.
"Just stretch your wings and find out," Fogel said. "There might be something that you never knew you were interested in until you go and check it out."
The CSI office helps organizations begin, set up events and help students create connections for a lifetime.
While the CLACS office is no more, Ferris Bulldogs now have the CAPS office, specializing in professional development, and the CSI office, specializing in community development. Now split, the offices can offer more to their students in a more cohesive way than before.