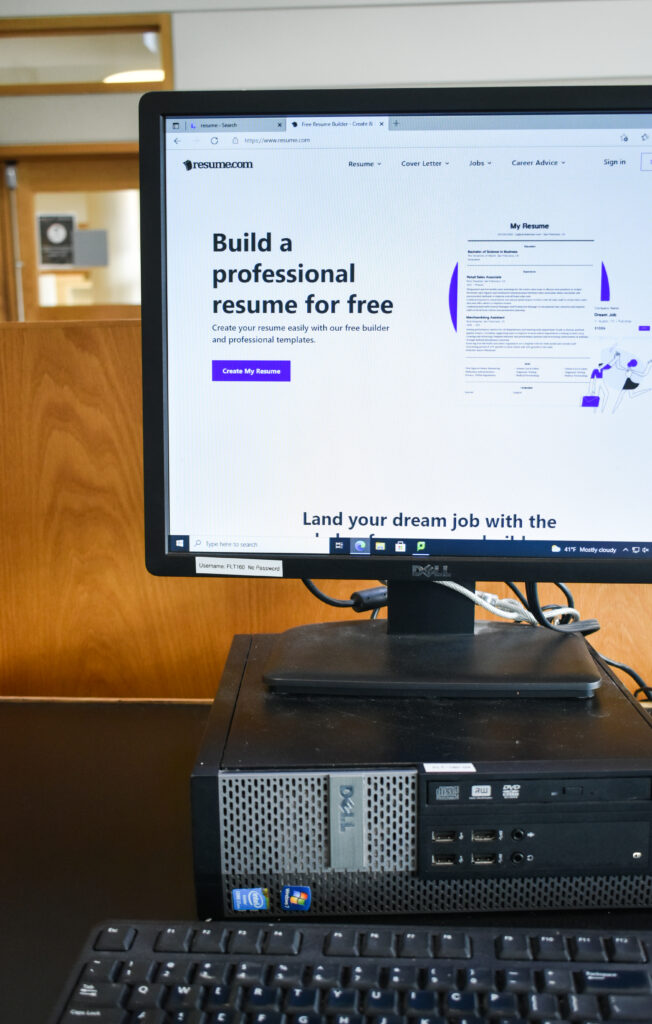 With the career and internship fair being back in person this year, inquiries about online and in-person internships fill the air.
Hannah Weiss, a criminal justice major, had an in-person internship with the Lapeer police department this past summer.
"I wasn't sure what I wanted to do, so I emailed the county I live in," Weiss said. "They pointed me in the direction of the recruiting officer."
She then went through the application and interviewing process, and started interning in many different areas to find which one she ended up liking best. Ride alongs were what Weiss focused on most during her internship. These consisted of basic road patrol duties and answering any calls.
"So, I would work six hours with [an officer] working on traffic control or any type of call, like taking someone to jail," Weiss said.
On other days she would work in the detective's office to go through cases. A few times she worked with the office assistant to learn how paperwork is filed, and with the dispatcher to listen in on 911 calls. This real-life experience helped her choose which direction in the criminal justice field she wanted to work in.
"I was undecided before going into it," Weiss said. "My internship, communicating with the officers and seeing firsthand what everything was helped me figure out the path that I wanted to be on."
Weiss believes that being in person for this internship made it even more educational and beneficial for her.
"Physically being there and witnessing it really helped. I definitely would not have gotten that experience online," Weiss said.
Online internships could be taken as a joke because students lose motivation to try and learn when they are not in a working environment.
"An [online] internship would be an easy out, and they're not getting actual experience," Weiss said. "I would just want to get it done, I [wouldn't] want to work for the experience or knowledge."
Weiss learned more about her field and herself during this experience, and she believes that in person internships are a great way to help figure out more about future careers.
Weiss thinks that it's especially important to do an in-person internship, 100% needed if someone is indecisive in what they want to do.
Emily Gudzinski, an illustration major at KCAD, interned online as the artist of a children's book last year. She found this internship through a referral from her mom, but she struggled looking for other internships because the options were limited. When this opportunity presented itself, Gudzinski went for it. She contacted the author that she was interested, and it began from there.
Gudzinski is familiar with online work because her major does not require much in-person work.
"With my major and my internship, it was a lot of online based work already," Gudzinski said. "The client requests what they want [through] message or email."
Other majors have a harder time with being online because most of their job is taught through experience, which is a lot harder to learn online. Even though she is used to this, she thinks it would have been easier to form a connection with her client if they worked together in person.
"I wish it would have been in person because there's that major disconnect when it comes to [being] online." Gudzinski said. "You just don't get that personable experience."
Being online is hard for a multitude of reasons. For people like Gudzinski, it is almost impossible to stay motivated at home.
Although this internship was fully online, she ended it with a stronger knowledge of how things work in the real world.
"It's like a trial to see if I can adapt to [those deadlines], and it kind of solidifies the fact I like this work, so I want to go into this field." Gudzinski said.
Katie Thomas works in the Career and Professional Success office. She has been organizing these fairs at Ferris for three years as a part of her position as a CLACS assistant. The career and internship fair is a resource offered to students to help them move further in their academic and nonacademic careers.
"We want to be able to provide an opportunity for students to network with employers in hopes that they can land a job or an internship that fits the degree that they're studying here at Ferris," Thomas said
The fair has been virtual for the past few semesters, and a decrease in attendance is usual for both in-person and online attendance in the spring because, by this time, most employers have already hired students for their internships.
The career and internship fair last year took place via a website called Easy Virtual Fair, but this year it is going to be through Handshake, which is a well-known software for Ferris students.
By going through a software that's familiar to them, Thomas hopes to still get a really good attendance at the virtual fair.
Even though attendance was not a huge problem when the fair was online, Thomas is happy to have the in-person option again, while still being able to keep everyone involved in this event safe and comfortable.
To Thomas, both in-person and online is important for students because it helps widen their options and availability.
"I think there's better networking that goes on in person. They're able to make more personal connections in person," Thomas said. "But we do live in a digital age, and still having those virtual opportunities available is still crucial, so [students] can be accountable online."
Over 200 employers will be offering full time and part-time jobs, internships and co-op opportunities at this fair for every major.
"Our employers are ready to recruit our students," Thomas said. "We have worked years to create some of these employer partnerships, and they really like to hire Ferris students."
Companies are coming to the fair with ten to fifteen positions open, when they usually only have about one or two.
"Start networking, start making those connections," Thomas said. "[Because it] is so crucial in the career world nowadays, and it works both with the in-person and the virtual.
The in-person career and internship fair will be held on Tuesday, Nov. 9, and Friday, Nov. 12, at 4 p.m. in the IRC, Granger Center, University Center, UREC and Optometry Building. The virtual career and internship fair will be on Handshake from 12 p.m. to 5 p.m. on Friday, Nov. 12.