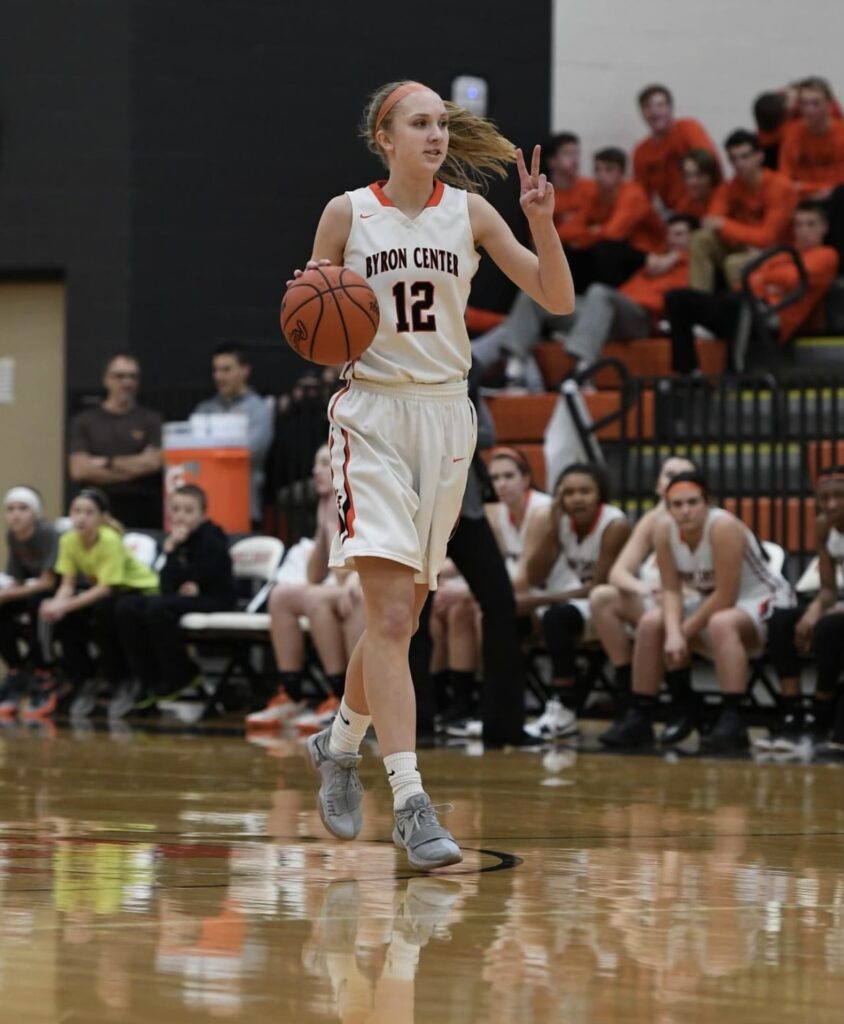 Many things are uncertain in life, but playing a collegiate sport was never uncertain for Ellie Dykstra.
Dykstra was exposed to first exposed to athletics by her older brother, Mitchell, who  went on to play baseball at Muskegon Community College.
Throughout her life, Dykstra has played just about every sport, but basketball just happened to be the one she enjoyed the most. She found her love for basketball in fifth grade as she attended camps. Her love for the sport grew throughout high school.
She began to attend basketball camps and saw the way the high school girls were coached and it made her fall more in love with the game. Dykstra said she remembered how she wanted to be just like them. From that moment on, she knew she would play collegiate basketball.
At Byron Center High School, Dykstra was a three-time Class A, all Ottawa-Kent Conference selection, a three-time all-area honoree, and named a Basketball Coaches Association of Michigan Class A Honorable Mention her final two seasons. She took her talents to Purdue-Fort Wayne in 2018 where she played in 25 games with one start in her first season there. She stayed at Purdue-Fort Wayne in 2019 and played in 29 games with 15 starts. Dykstra would go on to be named to the 2019-20 Summit League Commissioner's List of Academic Excellence and was a two-time Summit League Academic Honor Roll pick.
Then she got the opportunity to move to Big Rapids, Michigan and become a Ferris State Bulldog.
"I decided to transfer from Purdue Fort Wayne to Ferris because I wanted to find my perfect fit," Dykstra said. "There were aspects to college and basketball at PFW that were missing for me and I realized I only get my college experience once, and I wanted to ensure that I wasn't going to be complacent and have regrets. I am certain that Ferris is the perfect fit for me because I found my second family, my teammates have a mentality of craving success that is similar to me, and we have the same goals and same plans of achieving those goals."
She wants to bring her D1 skill and experience and dominate the GLIAC. However, Dykstra knows that her goals away from basketball are just as important. Building relationships with her teammates who became her best friends while making memories that will last forever is her biggest goal outside graduating.
When Dykstra transferred to Ferris, head coach Kurt Westendorp was also entering his first year at Ferris. He said that the team was fortunate to have Dykstra choose Ferris over everyone else, especially in the GLIAC. Westendorp knows how valuable a versatile player like Dykstra is.
 "Ellie was the first recruit I pursued after being named the head coach at Ferris," Westendorp said. "I was going through the transfer portal at the same time she was entering the portal looking for a new school.  There was mutual interest right away. She fit a need that we needed to add some skilled depth to our frontcourt.  It was a quick recruiting process and Ellie was an instant fit for our program. Ellie embodies everything we want out of our student-athletes.  She's great in the classroom, is a great teammate, and is one of the most coachable players on our team.  She is extremely dependable and is going to have a big role on our team this year."
Westendorp said that the team's practices to start the year have been extremely competitive. One way that Dykstra rubs off on her teammates is with her competitiveness, according to Westendorp. Since Dykstra has the experience of being a fourth-year college athlete with two of those years at the DI level, it helps impact every drill the team does.
Junior guard Mallory McCartney said that having Dykstra join the team was the best thing that could've happened for the Bulldogs. McCartney believes that Dykstra was the missing piece the team needed for the Bulldogs to make a leap for a championship.
"She brings energy and grit daily and when you look at her you can't help it but smile," McCartney said. "She is the most consistent player I've played with. Having her as a roommate is even better as we've all become best friends, and I couldn't imagine it any other way. Building chemistry was something that happened very fast with my roommates and Ellie and ever since she moved in with us, we would have small talk, but within the first two weeks we all got very close very fast with also transferred to the cour.
"She is always the one throwing in those little comments that just make you laugh," McCartney said. "She is the kindest person I know; she is always their first person to help with any situation. Ellie is a very special player and an even better person, and I am beyond thankful Ellie chose to come to Ferris, this is a friendship that will last a lifetime."
Not only has Dykstra made an impact on McCartney but also on senior guard Samantha Krauss. Dykstra, McCartney and Krauss all live together and Krauss said that before Dykstra committed to Ferris the three teammates were in search of a roommate. They said it worked out perfectly that there was an open room and Dykstra needed one. However, they never expected the chemistry to click as fast as it did.
"I couldn't imagine living with anyone else, we make dinners and have movie nights together basically every night, she truly became one of my best friends in such a short time," Krauss said. "She is one of the sweetest, kindest people I know. She is someone that I can always count on to put me in a good mood with her easy-going, lighthearted personality. She is a super special person that anyone would be lucky to know."
As the chemistry grows between the women's basketball team both on and off the court, the Bulldogs are excited for the upcoming season and ready to show what they can do together. Krauss said that for the team to land a DI prospect is amazing and super exciting, especially when that player is a great person. Like McCartney, Krauss said Dykstra was the missing piece the team needed.
"Sometimes I forget I've only actually known Ellie for a little over a year, it feels like I've known her and been playing with her for years," Krauss said.
When the season ends and Dykstra graduates, she said basketball will come to an end, but she will search for opportunities such as open gyms and pick-up games to keep the game in her life. Dykstra hopes to also coach in the future. Dykstra would like to obtain her master's degree as well.
Dykstra and the Bulldogs will start their season Saturday, Nov. 13 at home against Walsh.
.
JC