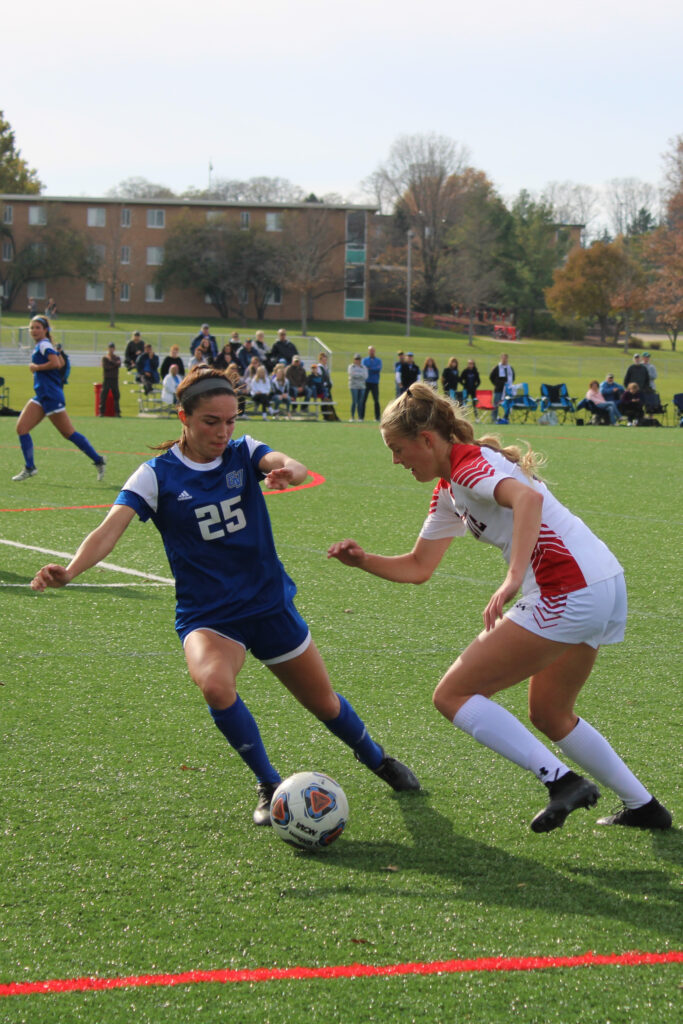 For the second time this season, the Bulldogs neither won nor lost against the best team in the nation.
On Sunday, Nov. 7, Ferris hosted the nationally top-ranked Lakers from Grand Valley. They closed the regular season with a tie 1-1 and finished with a 12-3-3 overall regular season record (9-2-3 GLIAC).
For Ferris, both games against Grand Valley
this season ended in a tie. Sunday's contest against the Lakers also marked the fourth game this season they played into double overtime.
The Bulldogs started strong with a 7-2 advantage on shots in the first half.  Senior forward Pia Nagel scored the game's first goal at 26:21 from an assist from senior midfielder Bri Rogers.
In the second half, both teams went back-to-back trying to gain an edge over one another. Late in the half, Grand Valley raced down the field and tied the game at 1-1 at 83:20 from a close range shot late in regulation.
Heading into overtime, the Bulldogs had an opportunity to score off the foot of senior forward Grace VerHage, who tried to slip past GVSU's goalkeeper away from the net, but the Lakers kept it away with 15 seconds to play in the final overtime.
"We are happy with the result and the effort the girls put out there today," head coach Greg Henson said. "We faced a good team, and down the stretch, the girls gave a championship effort. We are going to manage our games better, and we are looking forward to our next matchup and getting ready for the playoffs. We must be ready for a tough opponent and keep our season on the line."
GVSU had an 18-12 edge in shots for the game with a 4-3 lead in shots on goal. For Ferris, freshman keeper Darya Mossallaei made three stops, while the Laker's keeper made two. Ferris attempted four corner tries while Grand Valley earned six.
Nagel nothced her 10th goal of the season and the 37th of her career. She is in third place all-time in program history.
"We have to move past, and we can't be upset about the tie," Nagel said. "This will give us the push to be successful in the postseason, and it is a championship game from now on. We did a good job switching the field, and we are looking forward to our next couple of games having little time to prepare."
The Bulldogs earned the second overall seed in the GLIAC standing and will host the GLIAC Quarterfinal round on Tuesday, Nov. 9, at the Bulldog Soccer Field. Ferris beat Davenport twice during the regular season.