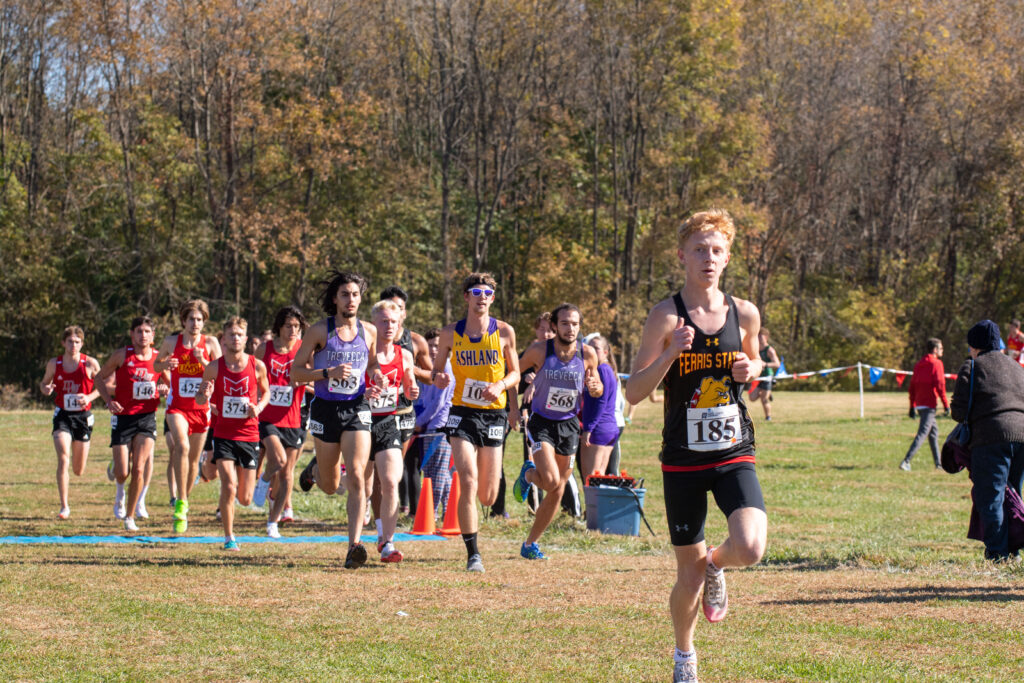 Ferris's cross-country teams put together a strong showing in the Midwest Regional.
Both the Ferris men's and women's cross-country teams wrapped up their competition Saturday, Nov. 6, in the NCAA Division II Midwest Regional Championships at Angel Mounds in Evansville, Indiana. The Midwest Region consists of teams from the Great Lakes Valley Conference, the Great Lakes Intercollegiate Athletic Conference, and the Great Midwest Athletic Conference. A total of nine states were represented at the regional meet, such as Illinois, Indiana, Kentucky, Michigan, Missouri, Ohio, Tennessee, West Virginia and Wisconsin. 
In the women's race, the Bulldogs placed 19th overall with 536 total points and the men's squad finished with 560 total points in 22nd place overall. The women were paced by sophomore Sydney Kubiak in 75th place as she finished with a time of 22:38.0 on the 6K course. Ferris junior Callie Delaney came in 104th place (23:10.7) with Ferris senior Katrina Droski in 108th overall (23:171).
A pair of Ferris freshman contributed as well with Hanna Brock at 124th (23:35.5) and Daisey Englund in 125th (23:35.9). The Bulldogs' top seven runners also included Ferris freshman Melanea Strauss, who finished 134th (23:47.6), and Ferris sophomore Diana Candela, who was 156th (24:28.8) in the race. 
Droski said overall the team ran very well collectively as many of them ran their best times ever. While the course was flat and fast, to Droski the toughest element was the team's mentality and soreness while running on the course in Indiana. Droski her teammates stayed engaged while running to push even when it hurt.  
"My mentality was that I had to keep on pushing, even when it felt hard," Droski said. "I tried to keep passing girls and what pushed me to do better, I would say to try to keep improving each race and that it's a process. The team atmosphere was very energetic, and we gave advice to every girl because we all knew we had it in us to run a great race and it helped us to run great times as a team." 
With the race being the regional championships there was a bigger crowd than the cross-country team has seen in the past years, and this was helpful for them to continue to push through corners and move forward. For Droski, being a senior in her last race, the amount of people that cheered helped her push and made her final experience more memorable.  
The Bulldog men's team took off after the women finished as Ferris junior Donis Harris led the men's 10K race as he clocked 32:08.7 and finished 57th overall. Harris was followed by two Ferris freshman in Noah Griffith, who placed 89th at 32:58.2 and Kevin Wilson, placed 128th (33:55.8). The Bulldogs' other two runners that scored included sophomore Dan Hardesty in 146th place (34:19.1) and sophomore Casey Bouman in 149th place (34:40.0). Sophomore Brandon Wirth came in 167th (35:35.5) with freshman Brendan Cariney in 17th place (35:48.4). They were the Bulldogs' top seven performers on the weekend. 
"Some guys didn't have as good of a race as they would've like, but they gave it their all and I couldn't be more proud of them, nonetheless," Wilson said. "I think the toughest element of the race for us was the distance, we are all used to racing 8ks and this race was a 10k which made it mentally tougher." 
The Ferris men's and women's cross-country teams are guided by former Bulldog standout and local native Jared Kelsh. Wilson mentioned that head coach Kelsh did not travel with the team due to personal reasons, so Wilson said that this race was dedicated to Kelsh. The team wanted to bring home results Kelsh could be proud of.  
"I couldn't really tell you how I did so well, I just felt good, so I went out there and gave it my all since it was my last race of the season," Wilson said. "Coach pushed me to do my best this year. This race was for him." 
The Bulldog men's squad has advanced to the national championships twice since 2012, which was the program's first since 1985. FSU went on to place 10th at the NCAA Division II National Championships after advancing out of the regional. The Bulldogs placed seventh in regional action in 2014.The women's team has qualified for the NCAA-II Nationals five times in the last 13 years following strong performances at the Midwest Regional.