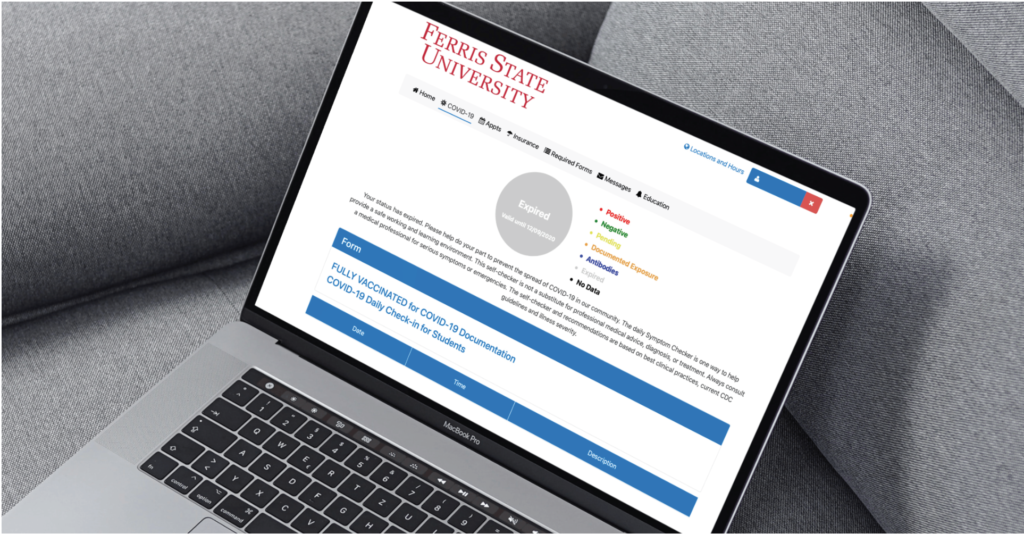 Compared to 2020, the number of individuals filling out the Ferris COVID-19 Daily Symptom Checker has decreased substantially.
The short, online questionnaire asks individuals whether they have had close contact with someone confirmed to have COVID-19 or had any symptoms of COVID-19.
Lindsay Barber is the director of health services on campus. She explained that while students, faculty and staff have continued to use the symptom checker, the numbers have gone down substantially in 2021.
"As compared to data from 2020, an average of 35% less faculty and staff, and 65% less students have been completing the symptom checker in 2021," Barber said.
Barber also added that Birkam is continuing to do contact tracing. The COVID-19 case manager works with the individuals who test positive to identify close contacts. They then reach out to those who were potentially exposed with quarantine protocol if they are not vaccinated.
The Dean of Student Life, Joy Pulsifer, noted that face coverings, vaccines, quarantine and other precautions against COVID-19 are helping to prevent the spread. She also added that individuals are still expected to fill out the symptom checker.
"We remain committed to educating and encouraging all students, faculty, and staff to complete our daily symptom checker whenever they are working and/or are at any of our campus locations," Pulsifer said.
Erin Bezeau is a junior majoring in pre-optometry, she explained that last year she filled out the symptom checker every day, but this year, she has not since she got vaccinated in the spring. She added that if she does experience COVID-19 symptoms, she will use the symptom checker.
"It's getting to the time of year where everyone has a cold, as well as it being flu season. If everyone were to fill it out truthfully, half our students would be told to self-isolate," Bezeau said.
If any faculty, staff or students want to fill out the daily symptom checker it can be found in the Healthy Dog Portal under the COVID-19 tab.