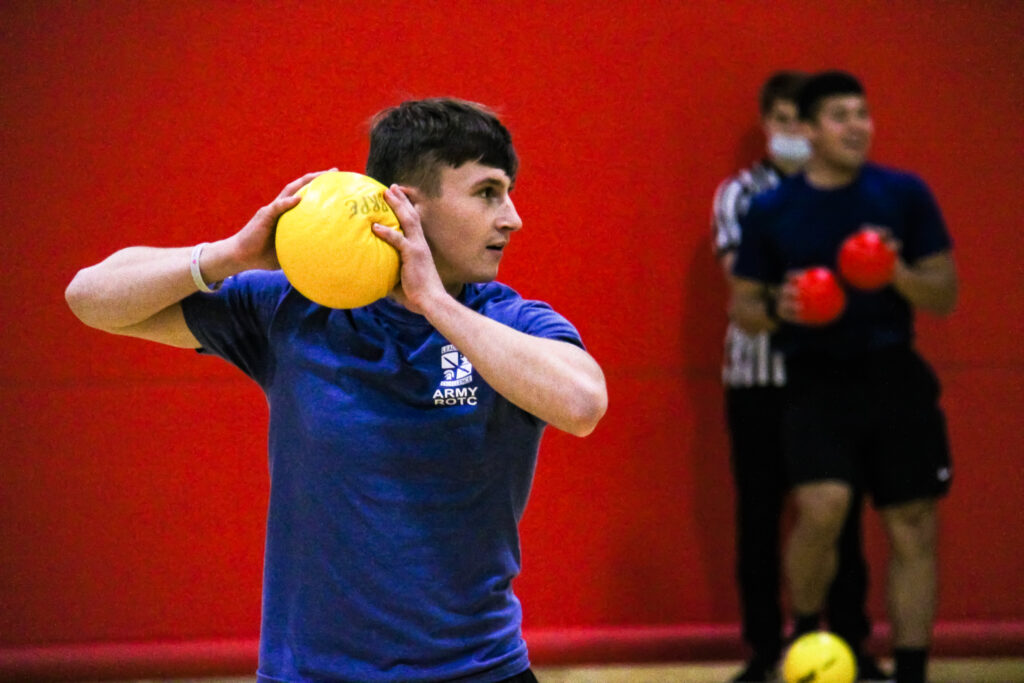 College is working hard and playing hard, so it is important to maintain a healthy schedule that involves time for yourself. A great way to do that at Ferris is playing Intramural Sports.
Intramural sports are an easy way to separate yourself from work and school and add some fun time to your busy schedule.
Ferris senior Katelyn Berens is very involved with intramurals because she never got into sports as a kid and always played them for fun rather than competition.
She joined coed softball teams during her summers throughout high school but never played for an official team. She found that her interest in sports was more about having fun and being with her friends.
"When I came to Ferris, I knew I wasn't going to be playing any club sports," Berens said. "It's for fun and it's great to play along with my friends."
She chose to participate in intramurals because they are relaxed and do not require a lot of commitment.
"When I came to Ferris, I was coming for school, and I wanted to do a couple of things on the side," Berens said. "Intramural's [gave me] the ability to play sports, but not have to commit for an entire season."
They are a good way to stay involved and make sure there is a balance between school, work, and a social life.
"It really gives you the opportunity to break up the class and homework grind and just take time to have fun and destress," Berens said.
Berens plays at least three sports each school year because she enjoys getting into new sports, having fun, and being involved.
"I usually play softball and broomball each school year, but recently I've been throwing beach volleyball and 6v6 in there," Berens said.
Berens encourages other students to join intramurals because it is an easily accessible and healthy way to exercise and have fun.
"It's a time to get with your friends or a club that you're a part of and just have fun for an hour," Berens said. "Be with your friends and have time away from the classroom."
Regardless of the end result, students enjoy playing intramural sports and the experience and memories that come with it.
"It wasn't the winning or losing that made it fun," Berens said. "It was just being with my friends and being with people that I enjoy being around."
When it comes to the belief that intramural sports are beneficial to all students, it is not just students that agree.
Stoney Hart, associate director of recreation of competitive sports and facility, thinks that intramurals are a great resource for students to let loose.
"As far as the participants go, I think it builds time management and teamwork," Hart said. "It [also] builds leadership because people take the role of captain and co-captain."
Along with benefiting students who play intramural sports, students who work for them also gain a lot of virtue.
"As the student worker side of things, [there's] added value because people move up from being officials to head officials, to supervisors," Hart said.
Moving up in a workplace is important and intramurals permit that. Students also learn skills and values on the job.
"You have to learn decision making on the fly, [how to deal] with participants and their needs, and teamwork within your students, staff, and coworkers," Hart said.
Within this job, making relationships is crucial to the future of a student. Having connections with coworkers helps a lot.
"Being able to work with the participants and the pro staff and build those relationships as well," Hart said. "And hopefully, the student workers get to utilize the pro staff to help them with resume building, cover letters, being able to jump right into the real-world workforce."
Students get thrown into the job as an official and learn mostly from experience.
"In my opinion, officiating is the hardest position a student can have," Hart said. "You learn so much and you get yelled at so much that you can really take anything that comes at you in life after this, it builds character."
Intramurals are not as stressful as club or varsity sports in any aspect because they require more practice, work, commitment, and money.
"For club baseball, their league fee is $1,600, that right there makes them more intense because IMs pay, for a bigger sport, $16," Hart said. "Compared to 10 guys having to come up and find $1,600 to give to their league so there's that added stress to get recruiting and tryouts done."
With varsity sports, there is all that added pressure of being great to get scholarships and bigger opportunities in the future.
"The varsity side of things, you're looking at winning championships, championships mean scholarship dollars which means coaches' dollars," Hart said. "So, I mean, there's just huge stresses on the coaches and the players to perform."
Intramural sports are a lot lower maintenance. Less time and effort is put into them, while higher-level sports require more.
"Examples are the women's rugby team and men's lacrosse team; they both still practice twice a week," Hart said. "The varsity student-athletes have to practice weight lifts for 20 hours a week, with intramurals you just have to have the heart of an athlete without the talent."
Community is a big thing when it comes to intramural sports, students see other students so often participating in different sports that they begin to recognize them and suddenly, they know double the people they used to.
"When I first got here, I could drive across campus, and nobody would know who I was," Hart said. "Now, I get stopped by students and they just want to chit chat for a minute, so that's been a big community change."
It has been proven in multiple studies that intramural sports benefit students academically, physically, and mentally.
According to a study made by NEIU Digital Commons, "College students who join intramural sports, increase their overall PA levels which could potentially lead to an increase in academic achievement. Finally, intramurals positively impact students' physical well-being, overall health, and fitness level."
Intramural sports are good for students in a lot of ways that higher-level sports are, but anyone can join and be a part of this community.