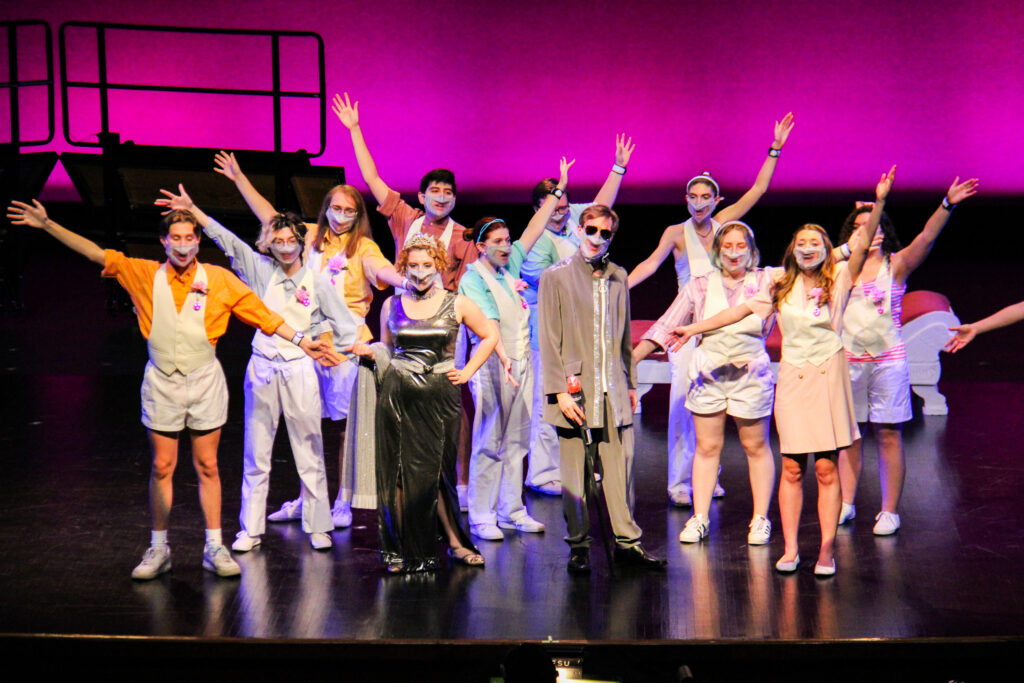 Despite COVID-19, student performers were still able to act and sing their hearts out during this semester's musical.
This past weekend, Ferris State Theater put on four live performances of the musical "We Will Rock You." The musical followed rebels Galileo and Scaramouche as they fought against the Killer Queen to bring back rock music. The musical was written by Ben Elton, and all the songs were written by Queen.
Due to COVID-19, they offered a live streaming option for their Friday night performance. All performers and audience members were required to wear masks during the whole performance. Some scenes, such as the scene where Galileo and Scaramouche kiss, were altered to prevent the spread of COVID-19.
"COVID has thrown a wrench in things to a level I didn't even expect," Nicole Hollinsky, a senior in the music and entertainment business program and the actress who played Scaramouche, said.
"Everything is 'back to normal', but in order to do anything, we have to find a work-around, which doubles or triples the work that goes into the show."
Keegan Zender, a senior in the biochemistry program and the actor who played Khashoggi, the assistant to the Killer Queen, explained that the pandemic made performing in person difficult. During rehearsals, the performers would have to go outside every half hour to let the room air out. Temperatures were taken before each rehearsal, as well.
"Also having rehearsals with less people," Zender said. "Instead of the whole cast coming to a lot of rehearsals, usually it was only about half… We decided to livestream the show once so that way if people didn't want to come into a closer indoor space, they could still watch."
"Trying to mic everyone without having an echo or people sounding muffled was a challenge," Hollinsky said.
"It's also harder to breathe while singing… We also had understudies for the larger roles, just in case, which we don't usually do."
Despite the difficulties of performing during a pandemic, the cast was able to put together a successful show. The musical was directed by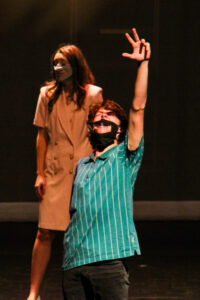 Katherine LaPietra, a professor of theater performance at Ferris. The cast consisted of 30 performers and various off-stage crew.
The musicals last year had been performed virtually over Zoom due to concerns about COVID-19. The move back to in-person performances allowed for more audience interaction and engagement during the show. The show had a decent turnout even though there had been a break in in-person performances.
"I'm honestly happy that anyone came," Hollinsky said. "Thursday, we had a pretty good turnout; smaller than past shows, but more than I was expecting. Friday, we had a great turnout; they were laughing the whole time."
For many of the seniors in the show, the move to in-person performing was a relief. Possibly being their last show, the seniors wanted the show to be as normal as possible.
"I really think most of us are just happy to be performing something in person again," Zender said. "The past year has been really hard for those involved in the arts, and the fact that we are able to be back up on stage means the world to us."