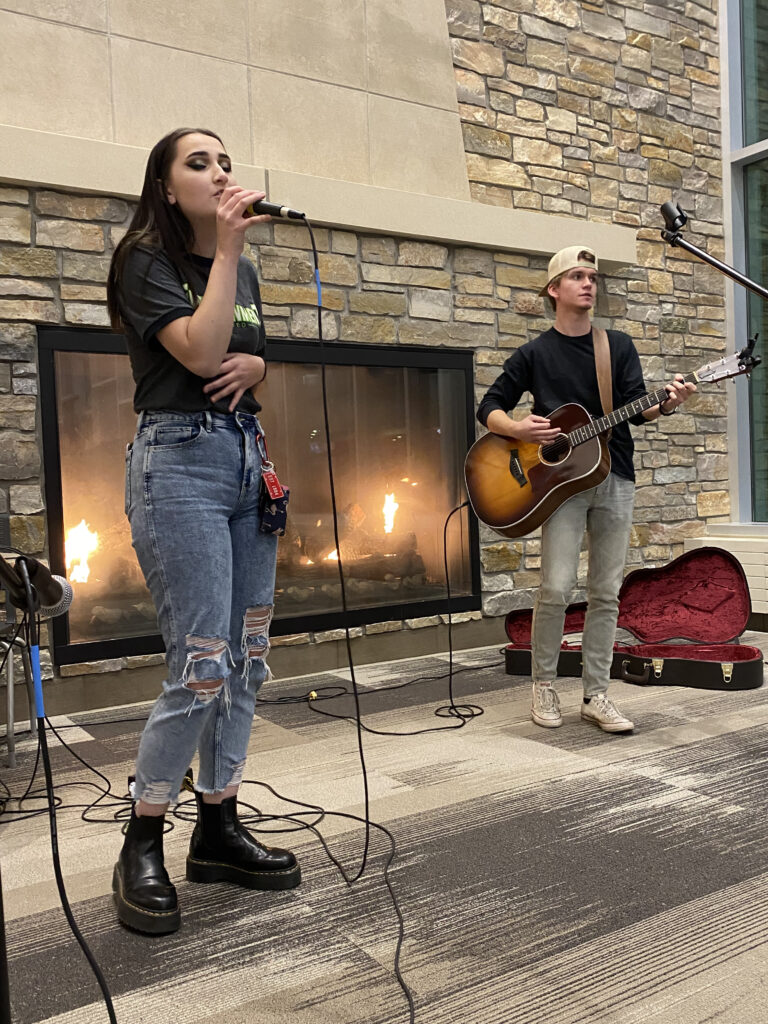 Ferris students filled the University Center with original music and comedy at Friday's annual Open Mic Night.
Student-led Entertainment Unlimited (EU) organized the event. Madison MacDowell, EU president and senior studying music and entertainment business, is always impressed by the line-up.
"It's honestly very amazing to see just how much Ferris has in talent," MacDowell said.
Nineteen performances took place between nine performers, including junior music and entertainment business major Ruby Opalite.
Opalite, who has been writing her own music for five years, sang two original songs on the guitar. "Whatever" and "It's Okay to be Not Okay" are both acoustic anthems about the trials and tribulations of being young, alive and in love.
"I really just like taking the bad experiences from relationships in the past and writing it into my music, finding positive ways to put a spin on it," Opalite said.
With "Whatever" currently streaming on Soundcloud, Opalite hopes to have an entire album released by next summer.
MacDowell conducted the event alongside fellow music and entertainment business senior Rob Malaksi. Both MacDowell and Malaksi took turns on the guitar.
"This man actually has an EP out," MacDowell said before Malaski's first song.
Along with passionate covers of songs by Post Malone and 3 Doors Down, Malaski sang "Growing Up" from his country EP "This Life, Vol. 1." The longing and mature lyrics resonated throughout the UC's high ceilings.
"It doesn't really mean much to be an adult, but I always keep moving," sang Malaski.
Seven of Malaski's original songs can be streamed on both Apple Music and Spotify.
The jokes were as original as the music at Open Mic Night. Junior business student and cold open comedian Sam Bayes was met with warm regards.
Bayes' coffee-based material held the attention of neighboring Starbucks employees as much as that of the audience.
"I don't even go to Starbucks, I make my coffee at home," Bayes said. "So, according to any old person, I'm probably a millionaire."
Like many others on this night, Bayes made more than one appearance on stage. In contrast to his initial comedic performance, he returned shortly after for a sincere ukulele cover of the Beatles' "In my Life."
The rest of the night alternated between MacDowell's powerful guitar ballads by Heart, Radiohead and Vance Joy, and high energy duets by dental hygiene students LaNiyah Mitchell and Aleecia Williams.
Mitchell and Williams embodied the spirit of Open Mic Night by spontaneously shifting from audience members to performers. Their joyful renditions of Nicki Minaj's "Superbass" and the Hamilton cast's "Satisfied" prompted cheers and laughter from the audience.
"People that are here today aren't gonna remember what you did tomorrow," MacDowell said. "If you mess up, you mess up. You just have fun through your mistakes, right? Getting that courage and seeing it happen is always so fun."
After three historically difficult semesters, MacDowell was "ecstatic" with how the night went.
"With us having [what] feels like 10 years off, not being able to have any sort of events in person, having people that just want to come out and have a good time at our events is always great. We had incredible talent," MacDowell said.
For more information about future EU events such as grocery bingo, headphone disco or laser tag, visit their profile on Bulldog Connect.