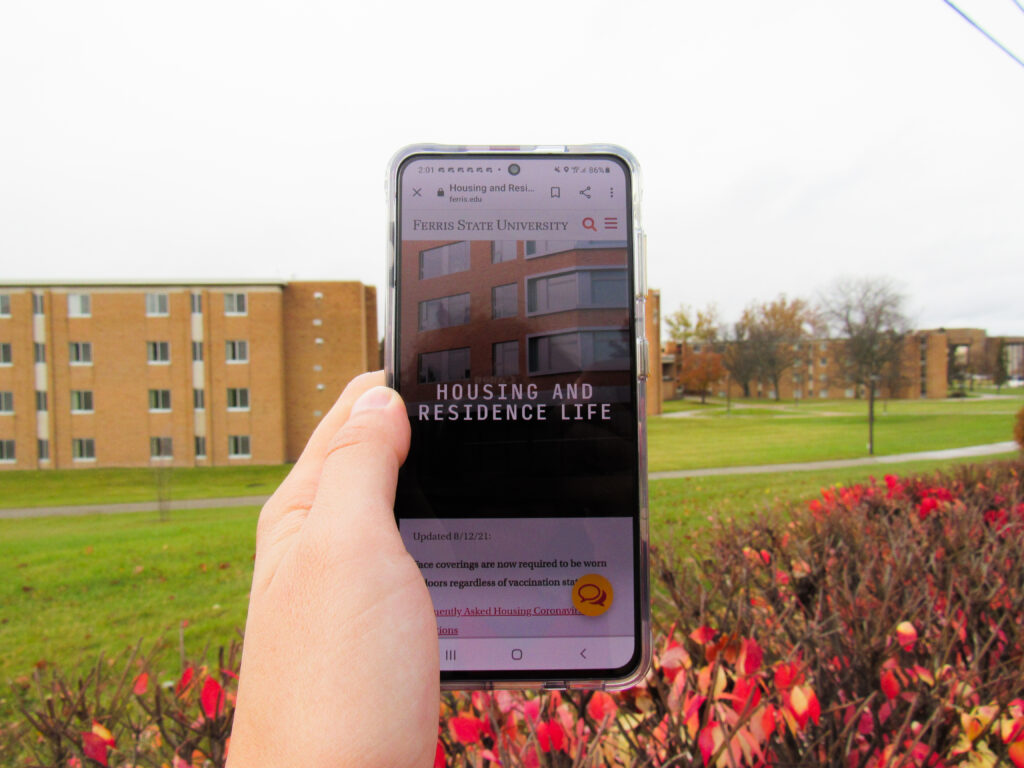 Students are given tons of on and off-campus housing options that fit their needs and wants for the 2022-23 school year.
McKenzie Feldpausch, a senior at Ferris, has lived off-campus for both of her years at Ferris. Last year she lived at Campus Creek, and this year she is staying at the Hillcrest Apartments.
"I just felt that the dorm options were a lot smaller than what I wanted," Feldpausch said. "On-campus is just a little bit more crowded."
At her previous university, she lived in a dorm during her freshman year, and from that experience, she's found that she prefers living off-campus.
Though living off-campus is what works best for her, there are pros and cons to both options. One of the cons she feels comes from living off-campus is that students who live on-campus are within walking distance from almost everything. With that, students on campus are exposed to more people and events.
"You're in the know [about] a lot more with things. You just see people walking around and the events because you're on campus," Feldpausch said.
She is more likely to take advantage of what the university has to offer, like the library, the university center, the dining halls and the recreational center, when she is on campus because everything is at a convenient distance from each other. She does not have the opportunity to use these facilities as often as she would like to because she does not live right by them. Despite this, she feels that the pros outweigh the cons.
"Living off-campus is more laid back, [and it] might be a little bit cheaper depending on where you go," Feldpausch said. "And I like it because you have like your own kitchen and you have your own space."
For some students, living off-campus is a choice they would rather steer away from. It comes with the responsibility of paying monthly rent and utilities and buying furniture and groceries. Other students do not know the process of getting their own apartment, and the deciding factor might come down to whether it is easy to find a place or not.
"I just Googled apartments near Ferris State University and they all came up," Feldpausch said. "Hillcrest is very helpful. When I called them, I was able to set up a tour online."
Hillcrest apartments house a mix of students and Big Rapids residents. It is more diverse than Campus Creek, where the majority of the residents are Ferris students.
Campus Creek is one of the off-campus housing options that is chosen by a lot of Ferris students. They offer apartments, cottages and townhomes. Each of these options have tons of amenities, and they are all set at different prices to fit what all students are looking for and can afford. The process of living at Campus Creek is simple. Students just have to apply online, choose their type of housing and, once accepted, the rest goes on from there.
With many other off-campus options available and affordable, some students still choose to live on-campus.
Elizabeth Thomas, a freshman at Ferris, chose to live in Travis Hall this year with a roommate because it was her cheapest bet on campus.
"[Living on-campus] makes everything a little bit easier," Thomas said. "But there are some things that you can't do. So that makes it a little more difficult."
Her dorm is close to The Rock Cafe and a lot of other facilities, so she thinks that is an advantage to living on campus.
"I could be living a lot further, but it's close, [so] I don't have to worry about driving or passes"
It is a lot more crowded and louder in a dorm hall, and sometimes it can end up being more expensive than living in an apartment. Students either pay more or the same price for less space when choosing on-campus housing. With that, there are more rules and restrictions that come along with it.
"There's that quiet time that we have in Travis Hall, but there's definitely people that don't follow it," Thomas said. "So I have a feeling that if I move off-campus, there'll be more mature people that'll take that into consideration for all of us."
Thomas plans on getting an off-campus apartment with her friend next year so that they can have more space, privacy and freedom while saving some money.
"We [would] have a lot more freedom," Thomas said. "We would get to have our candles and we would be able to come [back] whenever we wanted."
Although she lived on campus and thought it was a good experience, she wants to try out something new for her next few years as a college student.
"I think living on campus was definitely a learning experience for me," Thomas said. "I wouldn't have changed it this year."
Ferris' on-campus housing offers a lot of options for students. They get to choose from about ten or more residence halls, the East Campus Suites and the West Campus Apartments. Each option is different in the way it looks, the location and the price so that all students can find exactly what they are looking for. With contracting for housing next year starting, it is important for students to look into all their options.