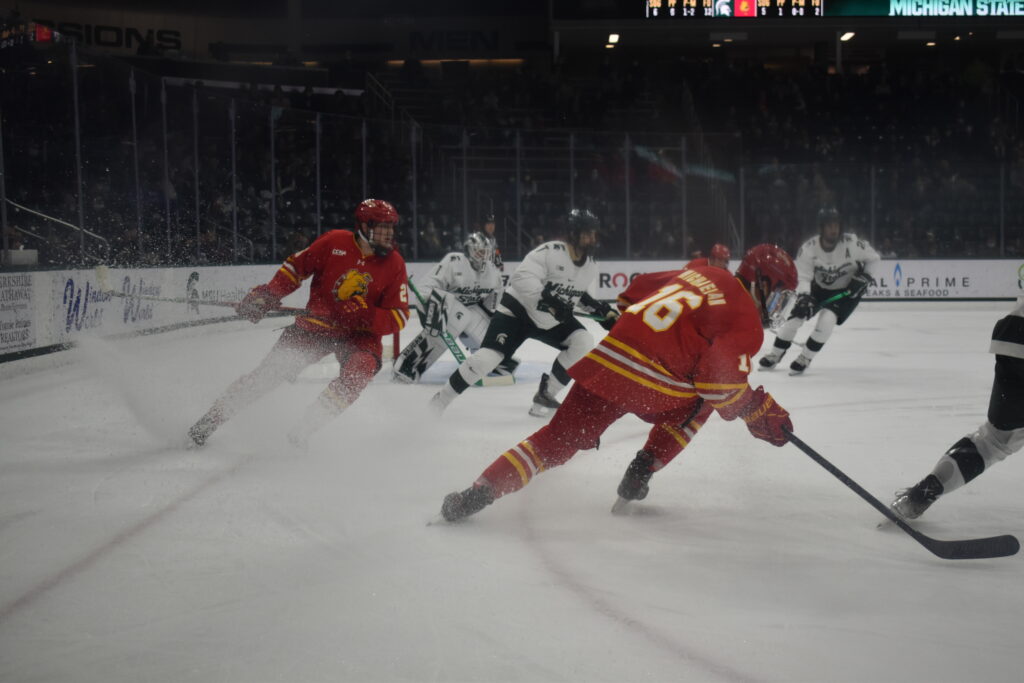 For the third time this year, the Bulldogs blew a third-period lead.
Ferris (4-8, 3-2 GLIAC) hosted the Michigan State Spartans (6-5-1, 1-3 Big 10) on Saturday, Nov. 13, and took a 3-1 lead into the third period. However, they ended up falling 4-3 to the Spartans thanks to three Spartan goals in the third period.
The Bulldogs have now lost three games which they have led in the third period. The previous two were against Western Michigan University and Canisius earlier in the season.
"It's a tough loss, especially having a 3-1 lead going into the third," head coach Bob Daniels said regarding Saturday's loss to Michigan State. "We've been in this position so many times this year when we've had leads going into the third. It's really disappointing that we couldn't drive this one home. We found a way not to win tonight."
Ferris wasted little time putting a goal on the scoreboard. The Spartans took two penalties and Ferris scored on the power play with a 5-3 player advantage at 6:08 in the first, thanks to sophomore defenseman Drew Cooper's slap shot goal.
Cooper's first goal of the season gave Ferris an early 1-0 lead. Sophomore defenseman Sam Skinner and senior forward Liam MacDougall assisted on the goal.
After the first period, MSU led in shots-on-goal with 12 compared to Ferris's 10, but it was Ferris who took a 1-0 lead into the second period.
At 6:47 in the second period, the Bulldogs scored their second power-play goal of the night. Freshman forward Bradley Marek scored his fifth goal of the season to give the Bulldogs a 2-0 lead. Cooper picked up an assist on the goal.
Ferris took a slashing penalty at 7:25 but scored a shorthanded goal just 12 seconds into the Spartan's power play. Senior forward Justin Michaelian intercepted a Spartan pass and took it the length of the ice for his second goal of the season.
Junior defender Brenden Rons took a roughing penalty with 2:30 to play in the second period, and the Spartans scored on the power play to put their first goal on the board.
Ferris took a 3-1 lead into the third period. MSU had 26 shots compared to 21 for Ferris.
After the conclusion of the second period, a brief scuffle broke out as the teams headed to the locker room, resulting in an unsportsmanlike penalty against sophomore defenseman Ben Schultheis. That two-minute penalty took effect at the start of the third period, and Ferris killed the Spartan's power play.
At 7:49, senior forward Jake Transit took two penalties, one for tripping and then another for roughing. He served four minutes in the penalty box. Ferris held strong for just over half of the power play before Michigan State took a penalty of its own. Neither team scored during 4-on-4 play.
"I was very disappointed in the Transit penalties," Daniels said. "The four minutes in a row, that's a tough thing to try to kill. Then you're overusing certain players."
Transit said he was "mad at" himself for those penalties.
"I feel like I let my team down," Transit said. "I put a lot of pressure on myself to help this team win as much as possible and I lost a lot of sleep thinking about that game."
Michigan State pocketed its second goal of the night at 13:41 and pulled within one goal. With 2:52 left in regulation, the Spartans tied the game at three goals apiece.
The Spartans completed the comeback with 21 seconds left in the game. Their fourth straight unanswered goal gave them the 4-3 lead and the victory. Daniels said not scoring in the third period and giving up multiple goals were equally to blame for the loss to the Spartans, but blamed the penalties "more than anything."
Ferris pulled sophomore goaltender Logan Stein to try to answer the Spartans' comeback but were unable to score despite multiple opportunities in front of Michigan State's net.
"We managed to get two pretty good looks," Daniels said. "The kid just made two pretty good saves. It could've easily been tied right there even though things looked pretty bleak."
Stein had 30 saves in the losing effort for Ferris. Michigan State had 34 shots on goal and Ferris had 33. Ferris went 2-for-5 on the power play and held Michigan State to 1-for-5.
"We put ourselves in a position to win a game and we have to learn to close it out," Stein said about losing despite having a late lead to the Spartans. "This was a learning experience."
Freshman forward Bradley Marek said his team needs to find a way to win games where they have a lead late.
"I think as a team we played well and had a leg up the entire game until late in the third," Marek said. "We need to have better discipline and realize when we need to lock it down and close out games."
Ferris visited Michigan on Thursday, Nov. 11 as well and also lost that game 2-0 to the Spartans. The two losses to the Spartans put Ferris on a three-game losing streak. 
The Bulldogs kept it close during Thursday's contest in shots on goal and blocks through two uneventful periods. Unfortunately for the Bulldogs, Michigan State was able to bury a goal at 13:38 in the third period.
Trailing by one goal, the Bulldogs pulled Stein from goal for a man-advantage but came up short again with Michigan State scoring an empty netter with a minute left to play. 
Stein had 20 saves on 21 shot attempts. 
Despite the loss, Ferris led in shots on goal with 26 compared to Michigan State's 22. Neither team succeeded on the power play, with Ferris going 0-for-2 and Michigan State going 0-for-1. 
Ferris will look to close out games and get back in the win column.
"As a team we need to push forward and solely focus on winning," Transit said. "We have a lot of opportunities in league play coming up that are absolutely crucial. Big and better things are on this team's horizon."
Ferris will face Northern Michigan at home Friday, Nov. 19 at 7:07 p.m and Saturday, Nov. 20 at 6:07 p.m.
JC