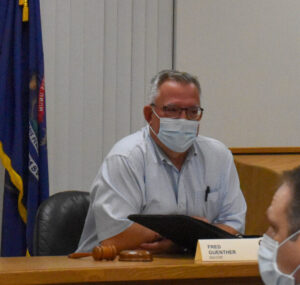 Big Rapids' new mayor, Fred Guenther, was sworn into office on Monday, Nov. 8, alongside Karen Simmonds, the new city commissioner, and Jonathan Eppley, who was re-elected as a city commissioner.
Before retiring, Guenther served the Big Rapids community as an OB-GYN for 36 years. After observing issues in this community, he decided that he wanted to run for mayor and give back in another way.
"I felt that Big Rapids [was] losing its family-friendly atmosphere. We need to focus back on giving housing for families, [offering] fun things for families and make people want to live here in Big Rapids," Guenther said.
As a chairperson, Guenther has spent time on the Mecosta County Medical Center Board, the Old Kent Bank Board, the Tuba Bach Board, the Michigan Tech University Fund Board and the United Church Board. He believes the time spent on these boards will help him in this new venture.
Guenther has been a part of the Ferris community for many years, and he hopes to continue this relationship as mayor. In the past, he has been involved in the athletic department; he built the trophy case and basketball locker room.
Jennifer Cochran, who ran against Guenther, expressed her best wishes toward him and his candidacy. She has two years left in her term as a city commissioner, and during this time she hopes to continue her community outreach.
"If I could say one thing to him, it would be this: Do the work necessary to develop informed opinions on the issues. Ask questions to further your understanding, listen without judging, encourage valid criticism and leave your personal likes and dislikes at the Commission Room door. And always remember that your first duty is to the community," Cochran said.
Guenther has many plans and ideas as he begins his tenure as mayor. He hopes to assist in housing and address the Hemlock Park project.