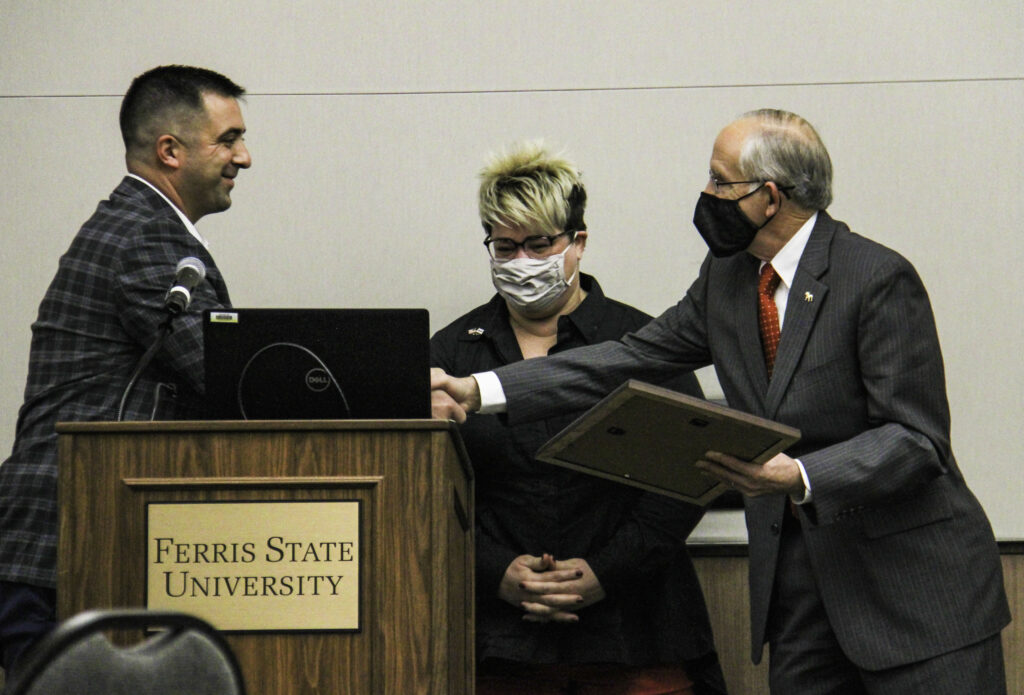 The Ferris State University Student Veterans Association hosted its annual Veterans Day Breakfast at the University Center Thursday morning.
Veterans from the Big Rapids community gathered for the event, held in their honor, and sponsored by University President David Eisler. Trays of eggs, bacon, and biscuits with gravy were served to thank them for their years of service.
"It just seemed that around Veterans Day, we should have some way to salute the many veterans who are students at Ferris, who are employees at Ferris," said Eisler. "It seemed the best way to do this was to have breakfast together."
The breakfast was coordinated by the Student Veterans Association, a group that has received praise for the services it provides to those who have served and are currently serving. Jacob Schrot, the assistant director of veteran services, spoke at the event and introduced guest speakers.
"It's a great way for Ferris to bring together a good number of people, a good number of veterans to celebrate all that have served," said Schrot. "It's just a good time to get together and reacquaint with fellow veterans across campus and Big Rapids."
Although there were minor cutbacks such as using plastic dishes instead of traditional silverware and some gripes from older veterans about facemask requirements, the event was positively received by those who attended.
"The breakfast itself was a good memorial," said pre-veterinary junior Mickelli Hartman. "We also got a good group of people to come out."
Noticeably missing from the event, however, were many of the school's younger veterans and military students. Several of these students, particularly those who are still actively serving, have voiced their displeasure with a lack of support from professors, something the SVA can do little to help fix.
"If I have some drill stuff to go to, (professors) acknowledge that they're forced to let me go to it and work around my schedule but at the same time they've definitely given me attitude about it," said Hartman, who is an Army Reserve Soldier. "I've had times where I'm at drill and had to get permission to drive out to a McDonald's, pull out my laptop, and take an exam because a professor wouldn't work with me."
Ferris has a high population of Reserve and National Guard personnel who attend monthly drills. These drills are a mandatory part of their service requirement that cannot be ignored or skipped.
"It's not like I can just tell the military, like hey I can't make it because my biology 121 professor told me I have to make it to lab," said Hartman. "That kind of struggle and professors holding grudges over that is more so where I struggle with it than anything else."
This attitude among certain professors becomes worse when students are forced to leave due to a deployment. In 2020, many Ferris students were called up to serve during protests and to help stop the COVID-19 pandemic. One of these students was Zachary Lucian, a junior in the history program.
"I had two classes in particular that were very ghostly," said Lucian, an Army National Guard Soldier who was deployed to Washington after protestors stormed the U.S. Capitol on Jan. 6. "They wouldn't respond to me like ever if not at all and if they did it was either just complete your work and turn it in or you missed it so you can't redo it."
While certain professors have been known to cause issues for those currently serving, at the institutional level, Ferris offers some financial incentives for veterans to attend Ferris. These include grants for National Guard Soldiers as well as veterans.
"We encourage (veterans) to come back to school when they are finished with their military service," said President Eisler. "We created a scholarship program for them where the student gets $1,000 a year when they come back from active duty."
Not all student veterans are equally entitled to those financial incentives, however. Criminal justice senior Bryan Teneyck, an Army Soldier on active-duty orders to attend school, recently reached out to Eisler about how he could be approved for the $1,000 grant. Eisler's lack of response was discouraging to the almost 14-year veteran.
"I sent him an email regarding tuition for veterans at Ferris State… he responded to me that I could get the scholarship for veterans… of course my response was I'm not eligible for it because I'm active duty, so I'm not considered a veteran," said Teneyck. "Pretty much that was the end of the conversation there was nothing more after that."
Because of university policy stating that those who apply must have discharge papers to prove their veteran status, those who are currently serving in The Reserve or on active duty cannot receive the grant. Although a similar grant is offered to students who are National Guard Soldiers, these students are not required to submit discharge papers.
"To me, it was a little discouraging," said Teneyck. "Despite the fact that I've been in 13 and a half years and have been on a couple deployments I don't meet their veteran status but yet I still go through the veteran services to do my Montgomery GI Bill."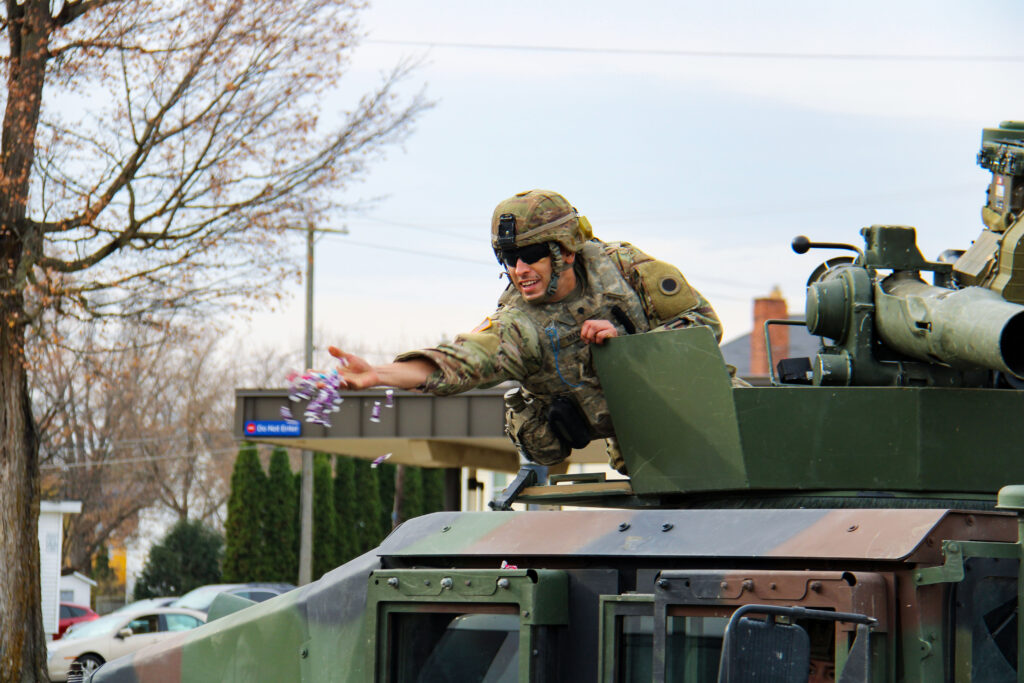 Teneyck said that he has considered pursuing his degree at Central Michigan University due to the lack of support he has received from Ferris administration regarding their tuition incentives. With the announcement of Eisler's retirement and new leadership, he hopes that positive change will be implemented going forward.
"Moving forward, I hope Ferris kind of gets on board and maybe helps out a little bit more," said Teneyck. "I'm hoping they can help alleviate a little more pressure for their veterans."