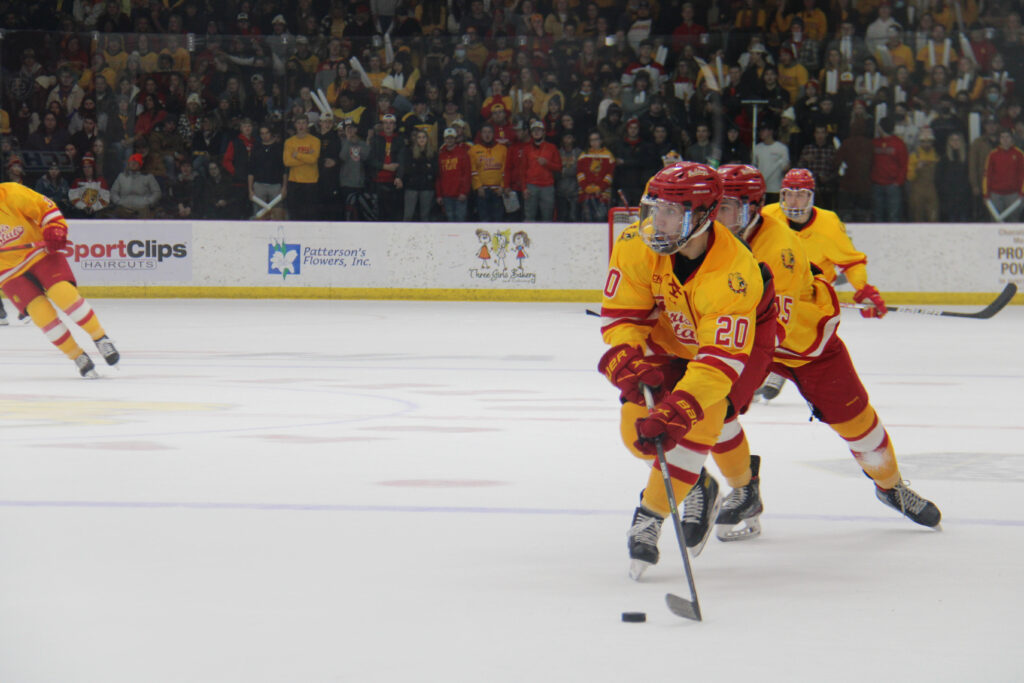 The Bulldogs' struggles continued as a loss to Northern Michigan left them looking at a four-game losing streak.
The Bulldogs fell to the Northern Michigan Wildcats on Friday, November 19th, 6-3. This game marks the fifth time where the deciding goals from the opposing team would come in the 3rd period. After a strong two periods, the Bulldogs couldn't keep pace and would ultimately be handed another loss. 
Head coach Bob Daniels made it clear about where the Bulldogs struggled most.
"We went into the third 3-3, " Daniels said. "I'll be honest with you, really though. We gave them 29 shots. You give up six goals. I have to say, our goaltender struggled. Their goaltender didn't, he had a pretty solid night. You can't give up six goals on 29 shots. It wasn't like they were all point-blank or things like that." 
Sophomore goaltender Logan Stein had a 73.9% save percentage, saving 23 of 29 shots.
The first period started off strong for the Bulldogs as defenseman Brendan Rons capitalized on a rebound to take the lead. The Wildcats would answer back a minute later and tie the game.
With only a minute and 15 seconds left in the period, Rons recorded his second goal of the night on a delayed penalty. Ferris took a 2-1 lead into the second.
The Wildcats struck first in the second period and tallied another goal shortly afterward to take the lead over the Bulldogs. A late goal from senior forward Liam MacDougall tied the game up, 3 – 3.
The Bulldogs hopes' were dashed quickly in the third period as the Wildcats opened up scoring two minutes in for the lead. 19 seconds after the go-ahead goal, the Wildcats added another goal for insurance. Halfway through the third period, the Bulldogs took a penalty for cross-checking. The Wildcats converted on their fifth powerplay of the night.
The Bulldogs were 0 – 5 on the powerplay while also outshooting the Wildcats 31 – 29. 
The Bulldogs looked
to Saturday night to even their series against Northern Michigan.
JC