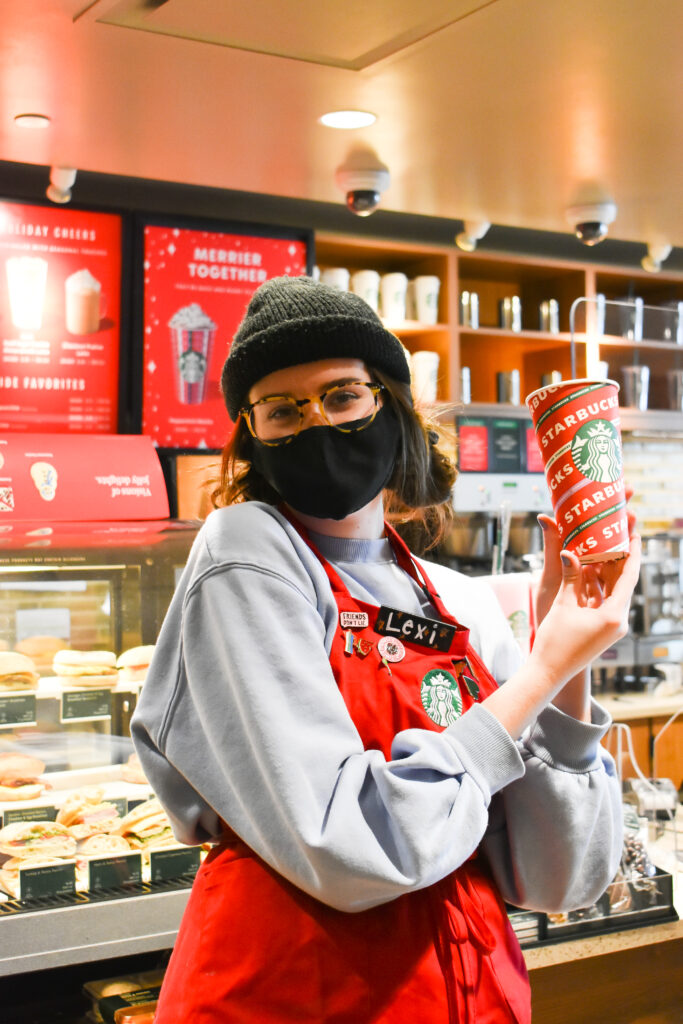 There are certain constants that can be expected in America every year during the winter holidays. Bright lights all around towns, music that is played almost non-stop, making it so people can only stand it one month a year, and Starbucks bringing back their holiday drinks.
Following the yearly takeover of the Pumpkin Spice Latte signifying fall, winter at Starbucks brings drinks like the Toasted White Chocolate Mocha Frappuccino, Chestnut Praline Latte and, most notably, the Peppermint Mocha. These drinks take over Starbucks all around, and the University Center location is no different.
Some students, of course, are excited about the return of the holiday drinks. Drew Smythe goes to the campus Starbucks at least three times a week. Her favorite drink is the Caramel Brulee Latte.
"I love the holiday drinks," Smythe said.
Other students, like pre-optometry major Brooke Bradley, stick to what they know they like.
"I've tried the peppermint mocha frappe, or something that was really good, but usually I just get the same thing every time. I don't branch out," Bradley said.
While they have different feelings about the many holiday drinks that Starbucks has, both knew that the drinks were back for the year, finding out in different ways.
"I saw them on the official Starbucks social media," Smythe said.
Meanwhile, Bradley said she found out by seeing the sign in front of the campus Starbucks.
"It was like maybe a week ago, I saw the sign up front that had the holiday drinks on it," Bradley said.
Both students said there were no ads up around campus advertising the return of the drinks. In fact, neither student has really ever seen the campus Starbucks advertise anything around campus. Smythe said the only time she has noticed the campus Starbucks say anything is when they want students to work for them.
"I think I've heard of them doing like fundraisers for clubs and stuff, but that's more the club advertising that they are having a fundraiser, rather than Starbucks," Bradley said.
Both students also believe that there are opportunities for the campus Starbucks to reach out to the Ferris community in order to draw more people in.
"I think they could advertise to the school and the townspeople," Smythe said, "I think they could use paper, flyers, their own social media or radio."
While Bradley thinks that the campus Starbucks could definitely promote things around campus, they are probably not losing any popularity by not advertising.
"Maybe in the case of, like, the holiday drinks, it would be nice like if people heard about the holiday drinks; they might go more often or go to try them. But I feel like so many people already go to Starbucks already," Bradley said, "Like, if you're going to go to Starbucks, you're going to go every week or however many days you go, and then they're getting their business that way."
Whether the campus Starbucks does eventually take the opportunity to promote their seasonal drinks around campus has yet to be seen, but right now they seem to be doing just fine with students telling each other what they think is good from the coffee chain.
If you want to grab a drink from the campus Starbucks, they are open from 7 a.m. to 9 p.m. You can also order in the app and pick it up in the store.