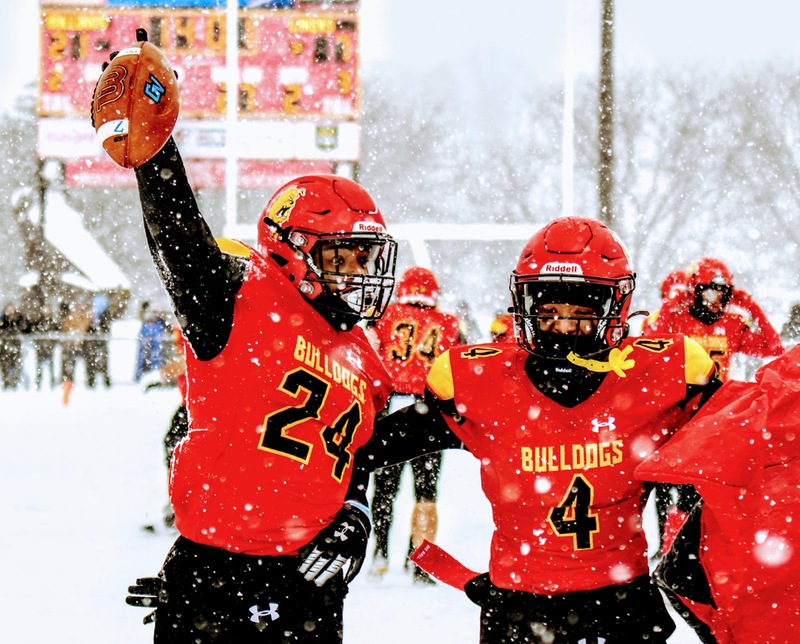 In what was the most anticipated rematch of the season, Ferris beat Grand Valley for a second time in the second round of the NCAA Division II playoffs.
Ferris welcomed the rival Lakers to Top Taggart Field and advanced to the third round of the playoffs with a 54-20 victory. Heavy snow affected both teams throughout the contest.
"People outside of Michigan think we are used to this," head coach Tony Annese said regarding the weather. "This was the biggest snow game I've coached in."
In spite of the cold conditions, the #1 team in the nation showed no sign of slowing down. On the third play from scrimmage, Jared Bernhardt broke free on an outside run for 63 yards and the game's first score.
Ferris's quick score in this game was a welcomed changed for Annese compared to their regular season matchup with the Lakers where they did not score until late in the first quarter. 
Bernhardt added another rushing touchdown later in the first and Ferris took a 14-7 lead into the second quarter. 
The Bulldogs tacked on 19 second quarter points thanks to two passing touchdowns from Bernhardt and two field goals from Sy Barnett. 
Ferris forced four consecutive turnovers in the second quarter thanks to interceptions by Cyntell Williams and Alex Bock, a forced fumble and recovery by Major Dedmond, and a fourth down tackle by Jordan Jones.
"Our coaching staff and scout team did a great job preparing us," Jones said regarding the defensive performance. "We kept playing hard like the score was 0-0 the whole game."
Ferris took a commanding 40-14 lead into the fourth quarter, but lost Bernhardt to an injury during the game.
"Since I'm so locked into the game, I haven't had a conversation with him since he came off the field," Annese said about Bernhardt's injury. "It's a little early to know but we'll find out. He's a tough guy and played great."
The injury brought on sophomore Mylik Mitchell. Mitchell finished the game with two total touchdowns.
"When coach told to get ready, that's all I needed to know." Mitchell said about entering the game. "I just went out there and do what I do."
The Bulldogs totaled 532 yards in the contest, including 299 on the ground. Bernhardt led the way with 117 yards and two scores, followed by Carson Clark at 64 yards and Mitchell with 53 yards and a TD. Bernhardt also completed 7 of 11 passes for 166 yards and two more touchdowns, with Mitchell adding 66 yards and a score. Marcus Taylor led the way with four catches, 115 yards, and 2 TD's receiving.
Defensively, Ferris held Grand Valley to only 276 yards of total offense. They also prevented a single third down conversion (0-10) and forced five GVSU turnovers.
"I'm proud of our guys," Annese said. "I thought we played a complete game and were very business-like. I'm happy we are 11-0 and get another opportunity to spend the week together."
With the quarterfinal victory, the Bulldogs will advance to the NCAA Division II Midwest Super Regional Final. They will face a familiar postseason foe in Northwest Missouri State, who the Bulldogs are 2-1 against in their last three postseason meetings since 2016.
"We've got quite a rivalry with them," Annese said. "We've beaten them twice in a row so they are going to bring an energy level that will be tough."
The game will be held on Sat. Dec. 4th at Top Taggart Field. Kickoff time is yet to be determined. To learn more about tickets and game information, visit www.ferrisstatebulldogs.com.