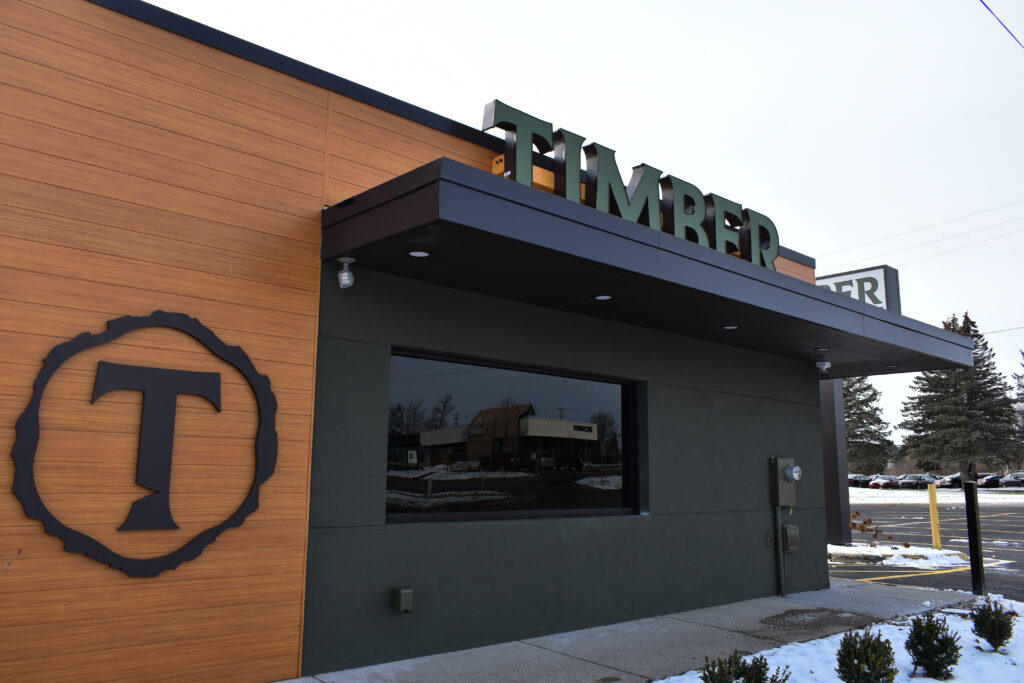 Timber Cannabis Co. is constructing its soon-to-be third location where the former TTOWA Sushi restaurant once stood.
Timber was founded in 2020 and will soon have four locations throughout Michigan once the construction of their Big Rap- ids and Sturgis stores are completed. Their current operating locations are in Allegan and Muskegon.
"It's easy to shop at Timber," marketing manager at Timber Cannabis Co. Chivonne Rush said. "We want people to have an inviting atmosphere where the seasoned cannabis user and canna curious can feel
comfortable."
According to Timber's website, their products are categorized by the effects customers are looking for. They offer products with effects that restore, chill, dream, focus, and activate.
Customers can look at the cannabis product along with being able to smell the product with sniff jars Timber uses to dis- play product.
As reported by the Pioneer, Timber owner Julie Moorehead stated that the renovation of the Big Rapids location has been their easiest so far.
"This location will have our largest sales floor compared to our other buildings," Moorehead said.
According to Rush, Timber Cannabis Co. has a program called Timber Gives, which consists of each location picking a charity of their choice and raising money for each quarter. The money is raised through giving a percentage of sales along with their monthly themed bundles to the charity they have chosen.
While the growth of dispensaries can be alarming to some owners, it is also welcomed.
"I think that there are a lot of great places around, and that we could all be successful in our own way," Lake Life Farms General Manager Amani Perkins said. "We have different styles and target areas that we focus on, which makes us individually
unique with a lot to offer to the community and its residents."
With the number of dispensaries in the Big Rapids area reaching double digits, some owners bring the local government into the conversation.
"The prevalence of dispensaries is a function of the local ordinance not limiting the number," Dunegrass Co. CEO Nick Pied- monte said. "It honestly makes it harder for operators when the local government chooses not to exercise its right to choose 'the best suited' operators."
Big Rapids now has over 10 recreational dispensaries with no plans of slowing down in the future.