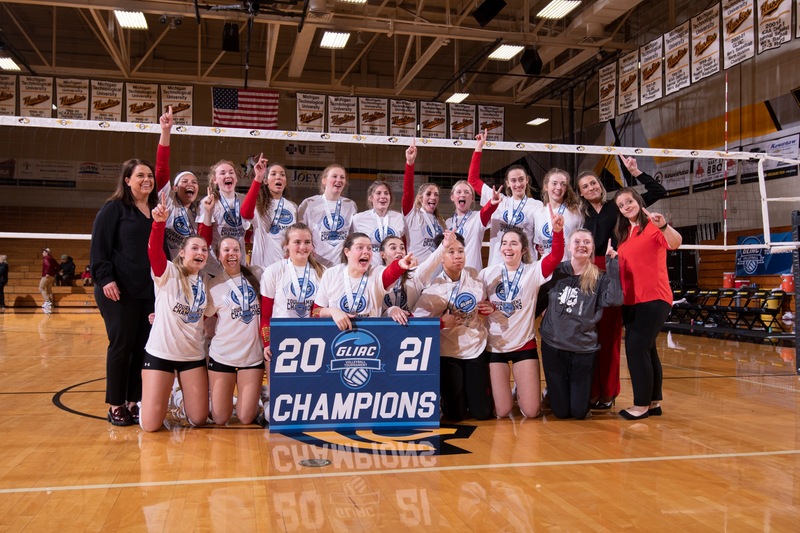 The Bulldogs' 20th straight win was their biggest of the entire season. 
Ferris's 25th victory of the season earned them the GLIAC tournament championship, 10th consecutive NCAA DII tournament appearance and the Midwest region's number one seed.
Ferris (25-4, 12-2 GLIAC) beat Michigan Tech 3-2 in the GLIAC tournament championship. The victory helped the Bulldogs clinch a number one seed in the NCAA tournament and set them up to host Rockhurst (MO) in the first round Thursday, Dec. 2.
The Bulldogs began GLIAC tournament play against Northern Michigan Nov. 17 with a victory at home 3-0. Then they hosted Wayne State Nov. 20 and won 3-1 before traveling to Michigan Tech Nov. 21.
In the first game on Nov. 17, the women's volleyball team took the floor with over 82 percent of their outings. They defeated the Northern Michigan Wildcats 3-0 sweep in the GLIAC tournament Quarterfinal and moved forward to the GLIAC Semifinals.
"We won in a way that was different from what we expected, and I was proud how we adapted the game plan," head coach Tia Brandel-Wilhelm said. "Post season is a time everyone is playing well. We are ready to get every point and stay aggressive in our style. We are playing better than last week and getting better as a team by implementing what we do in practice in our games." 
For the Bulldogs, senior outside hitter Katie O'Connell had 12 kills to lead the way. Freshman middle hitter Olivia Henneman-Dallape added 11 kills and hit a team-best .375.
On the defensive end, freshman setter Kaylee Maat and senior libero Nina Gorgijevska each had 13 digs, while O'Connell had 11. The Bulldogs held the Wildcats to a .105 attack percentage, while Ferris hit .229. 
"It was fun," senior middle hitter Samantha Hermann said. "We worked hard together as a team, and we are getting better every day to compete at our level. Our team has a tight culture, and it shows in our games and energy. We know every team is good, and we also have a good team."
In the GLIAC semifinals, the Bulldogs secured a 3-1 win over the Wayne State Warriors on Saturday, Nov. 20.
O'Connell completed 18 kills and 21 digs for the Bulldogs to lead in both categories. 
Ferris won the first two sets (25-21 and 25-16), but lost the third set (23-25). The Bulldogs rallied back in the final set (25-21) to advance to the finals. 
Gorgijevska, GLIAC Defensive Player of the Year, had 20 digs and six assists to go with an ace. Freshman outside hitter Keona Salesman also had 17 kills to contribute towards the Bulldog win. 
Ferris had five blocks and six block assists. Salesman finished with three solo blocks, while junior middle hitter Kira Merkle had three total blocks. Merkle also added eight kills, while Henneman-Dallape added nine. Maat also had a strong outing with 45 assists, 12 digs and three kills to help run the Bulldog offensive attack that hit better than .316 in each of the first two sets. 
The Bulldogs also had eight service aces, led by Merkle's three. O'Connell added in a pair, as well. The Bulldogs hit a strong .255 attack clip in the match. Both teams finished with 81 digs in four sets. 
In their last game of the GLIAC tournament on Sunday, Nov. 21, the Bulldogs took on Michigan Tech for a 3-2 win. 
The Bulldogs elevated their winning streak to 20 consecutive matches and earned their berth into the NCAA Tournament by bouncing back from a one-set deficit twice towards their win. 
Ferris dropped the opening set 21-25 before battling back for a 25-21 win in the second set. The Huskies quickly answered by taking a 25-15 win in the third set, but the Bulldogs did not back down and they captured a 25-19 victory in the fourth set. In the final and deciding set, the Bulldogs jumped out to an early lead before Michigan Tech tied it back at 14-14, forcing extra points. The Bulldogs picked up the two crucial points to capture the win by a 16-14 margin. 
O'Connell was a significant factor for the Bulldogs, contributing a match-high of 25 kills while hitting .404 for the afternoon. She added a team-high tying 24 digs in a championship performance. 
Gorgijevska came up with 24 digs as well, while Salesman garnered 15 digs to go with her 11 kills. Merkle chipped in 13 kills, and  Hermann totaled nine kills for the Bulldogs. 
Ferris also received 54 assists and 14 digs from Maat, while Brooke Norder added 12 digs in the winning effort and freshman Claire Nowicki had 10 digs. 
Meanwhile, Hermann paced Ferris with four block assists at the net, with O'Connell totaling a solo block and three assists. Henneman-Dallape had two solo blocks and an assist to go with her seven kills. 
Ferris hit .201 for the afternoon, totaling 67 kills and only 24 attack errors on 214 attempts. They finished with 110 digs and had three aces, including two from Merkle. 
Ferris held the Huskies to a .192 attack figure, and Michigan Tech netted 64 kills with 22 attack errors on 219 attempts.   
The Bulldogs will turn their attention to their Thursday, Dec. 2 matchup with Rockhurst at 5 p.m. in Jim Wink Arena. 
JC