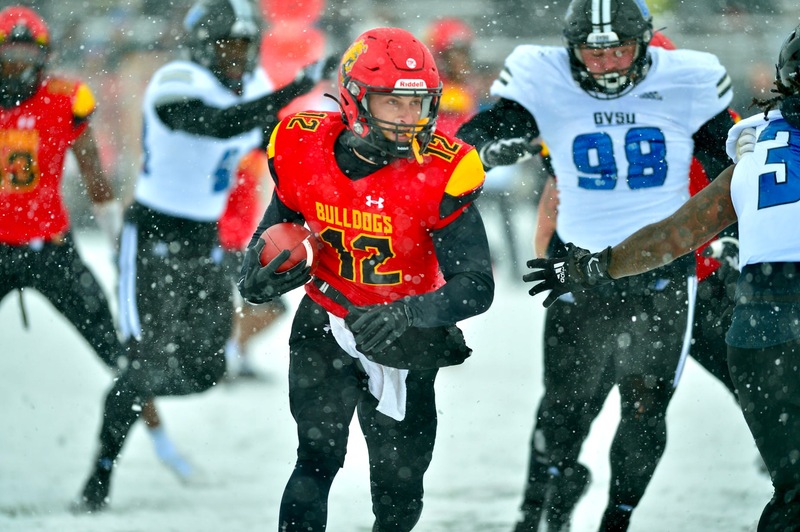 Ferris will look to continue their run to the national title with a matchup against Northwest Missouri State on Saturday.
There will be two competing styles on Saturday as the explosive Bulldogs offense with be taking on the dominant Bearcat defense at Top Taggart Field.
The #1 ranked Bulldogs, who are still undefeated, is 2nd in the nation in points per game, scoring 46.1 points per game over the course of the season in which they have scored over 35 points in every contest. They are coming off a dominant 54 – 20 victory against arch rival Grand Valley State University in Big Rapids.
Sitting at 11 – 1, Northwest Missouri State's biggest strength lies within their defense, in which they rank 2nd in the nation in points allowed per game. The Bearcats have allowed 10.08 points per game throughout their 12-game schedule. No opponent has been allowed to score more than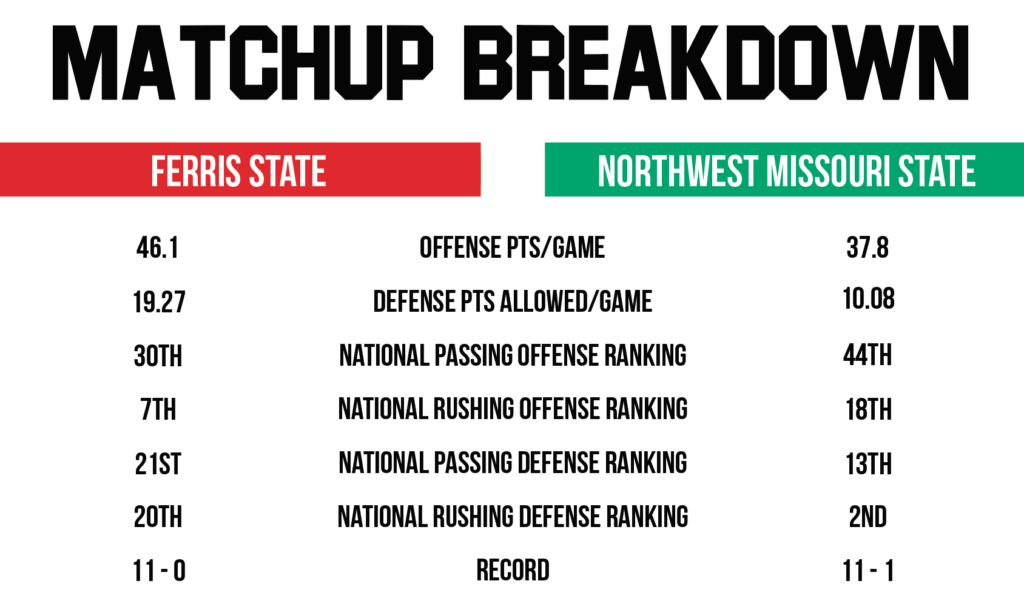 21 points in a game.
As the #3 seed region, the Bearcats upset #2 seed Harding 28 – 9 in Searcy, Arkansas.
The Bulldogs will be relying on a combination of three quarterbacks in the matchup. Quarterback Jared Bernhardt left the Grand Valley matchup early with an apparent injury. Bernhardt, who is a Harlon Hill finalist, leads the team in passing yards (1271 yards), rushing yards (1072), passing touchdowns (11) and rushing touchdowns (18).
If Bernhardt is limited, the team will also see a combination of Mylik Mitchell and Evan Cummins, both of whom have started multiple games for the Bulldogs this season. Mitchell is second on the team in passing yards, and holds the school record for passing yards in a game after a 508-yard passing performance against Northwood. A game in which he threw for 6 touchdowns. Cummins is second on the team in total touchdowns with 13, 7 passing and 6 rushing. He has also recorded a 6-touchdown game this season, against Saginaw Valley State.
Senior running back Al McKeller is the leading offensive weapon for the Bearcats. The 5 foot 9 inch, 215 pound running back sits 5th in the nation in rushing yards with 1,527 and is 6th in the nation alongside Bernhardt in rushing touchdowns with 18.
The Bearcats are led at QB by junior Braden Wright. The 6-foot 2 in. QB has started the last two playoff games. Prior to this he had played sparingly throughout the season after having to undergo emergency surgery to repair midgut volvulus — twisting of the intestine, in September. In his two playoff appearances, Wright has thrown for a combined 6 touchdowns compared to 1 interception. He has also rushed for one touchdown.
Defensively for Northwest Missouri State, senior defensive back Drew Dostal leads the team in interceptions with 5 on the year. While junior defensive tackle Zach Howard leads the team in sacks with 8.5 on the year. Senior linebacker Jackson Barnes leads the team in tackles with 81 on the year.
For the Bulldogs, senior linebacker Liam Daly leads the team in tackles with 65 tackles. Sophomore defensive end Caleb Murphy leads the team in sacks with 9. Senior defensive back Alex Thomas and junior defensive back Cyntell Williams lead the team in interceptions with 3 each.
The game will start at 1 p.m. Saturday, December 4th at Top Taggart Field. Weather wise, the high tomorrow will be 34 degrees, but no precipitation is in the forecastThose not in attendance will be able to get updates on the Ferris State Bulldogs twitter page and watch online for free at the Bulldog Sports Network. Go to www.ferrisstatebulldogs.com for more info.