When completing a perfect season, everything has to go right for a program. They must have elite players, coaches and even a bit of luck. It would seem that an injury to a key player like the team's starting quarterback can derail the best of seasons.
For the Bulldogs, this wasn't the case as they were able to successfully utilize three different quarterbacks to complete the national championship run.
It's not every day that QB room can have three top talent quarterbacks who can lead the team when needed. However, Tony Annese and the Bulldog fanbase are blessed with the likes of Jared Bernhardt, Mylik Mitchell, and Evan Cummins. Although the three were fighting for the starting job all year, they've never put themselves before the well-being of the team.
College football programs would kill to have a quarterback who is a Harlon Hill finalist, a quarterback who can throw for 508 yards in a game or a quarterback that can score at will both on the ground and through the air. Ferris State had that in three different players.
Although fans have seen it all year, the three guys showed their unselfishness these past two games, where each player scored a touchdown in both the national semifinal and championship game. A feat of athleticism that will be hard to beat by other teams in the nation.
Bernhardt finished the postseason with 10 touchdowns in total, 8 on the ground and 2 in the air. Mylik Mitchell had 8 trips to the endzone that were evenly split down the middle, 4 rushing and 4 passing. Evan Cummins was close behind them with 6 rushing touchdowns, keeping his reputation as the goal-line specialist.
JARED BERNHARDT
When you think of 2021 Ferris football, the first athlete you think of is Jared Bernhardt.
Bernhardt, a fifth-year senior transfer from Maryland, decided to turn away from a chance to play in the Premier Lacrosse League to honor his late father, Jim Bernhardt. And after losing a heartbreaker to the University of Virginia in the 2021 National Championship game, Bernhardt was looking for redemption.
"I told coach I wanted to come to a team that was going to compete. I wanted to win a championship whether I played or didn't play. I just wanted to help out," Bernhardt said. "I told coach I just want to go win a championship."
With experience on the big stage, Bernhardt looked to find his role among his QB counterparts. Even though he was the primary starter throughout the year, he
knew that if he went down the offense would be in good hands with Mylik, Evan, and Coach Annese. Something that ended up coming to fruition early in the season when Bernhardt missed three games in the regular season and another in the playoffs.
"We're just trying to listen to coach, so he has confidence in all of us, you know, You guys have seen that throughout the year," Bernhardt said after the semi-final win over Shepherd. "Last week with Mylik and Evan getting a touchdown there, and I think it's just really special."
Bernhardt was special from the very first game, scoring seven touchdowns in his first collegiate football game against Findlay.
Jared finished the season with 34 touchdowns. With 23 of those on the ground and 11 in the air, Bernhardt added an incredible offensive threat to opposing defenses. Bernhardt would rush for 1,421 yards in only ten games played, averaging 142 yards per game on the ground. With a 182.4 passing efficiency completing 87 passes on 123 attempts, his versatility is one of the many reasons the Bulldogs were able to hoist the championship trophy this past weekend.
MYLIK MITCHELL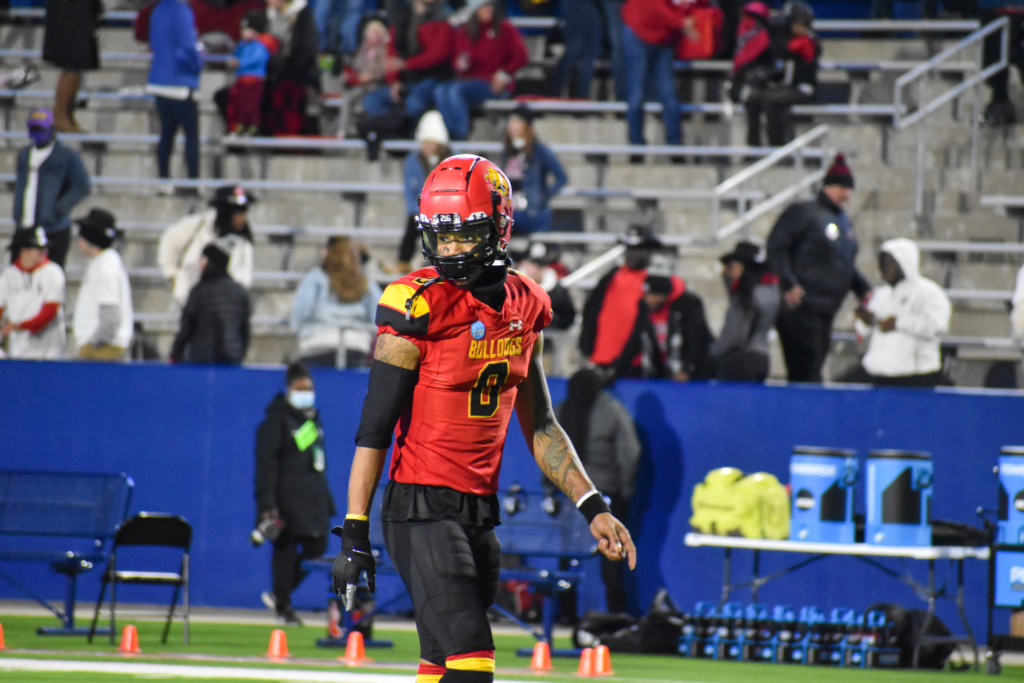 Mitchell is another Division 1 transfer, however, he has stayed on the gridiron for the whole of his collegiate career. After a strong start to his redshirt freshman season at Kent State, where he had thrown for five touchdowns to one interception in four games, a broken hand cut his season short. After the healing process, Mitchell was hit with more adversity, tearing his right ACL before his sophomore season.
Due to his injuries, Mitchell opened his commitment and found himself in the crimson and gold. His struggles with injuries would follow him. Right before the 2020 spring game, he tore his left ACL, and with the COVID-19 pandemic halting the world, it became a blessing in disguise to give him more time to heal.
Mylik was all smiles after raising the trophy last weekend, especially seeing all his hard work come to fruition.
"Man to my family, to me, to everybody who helped get me here man, I can't explain it. I really can't explain it right now," Mitchell said. "From where I came from to where a lot of these people on this team came from just seeing everybody come together and do their thing it's amazing man."
Mitchell's favoring of his arm helped open the possibilities of the offensive schemes. Countless times on the season, he made pinpoint throws from distance, proving that he is still a D1 talent. He proved his arm talent against Northwood, where he broke the single-game school passing record with 506 passing touchdowns to go along with 6 passing touchdowns. However, he credits his improvements and abilities to the guys around him.
Mitchell laughed after the national championship when asked about the depth in the QB room.
"QBU, QBU man. Jared, Evan, Jesse, I mean we got 10 quarterbacks and they all work. Even on scout team them guys work hard. Each and every one of us we're coached well."
Mylik finished the season with 1,199 passing yards. Completing 81 out of 124 passes, tallying a 65.3% completion rate and 172.6 in efficiency. With 11 touchdowns in the air for the southpaw, he was able to keep the defenses guessing with his scrambling ability, adding 3 TDs with 187 yards on 61 attempts.
EVAN CUMMINS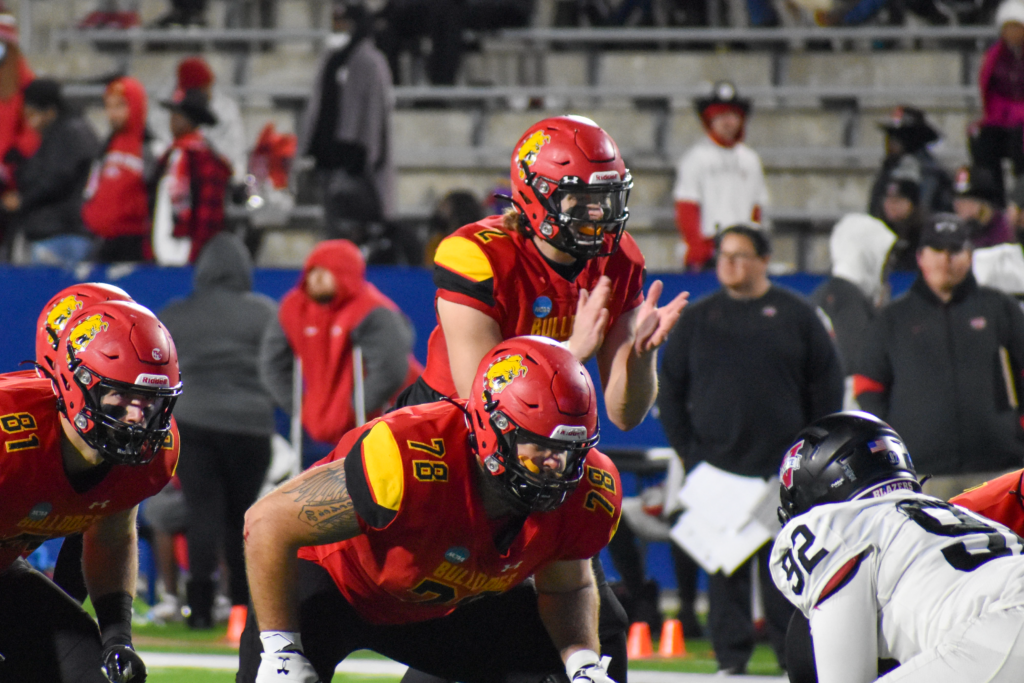 Although Cummins eased into a different role than he was expecting this year, his talent and experience allowed him to come into the game and make a difference when needed. Being one of the handfuls of players that made it to the last dance in 2018, he helped keep the focus to hoist the trophy when it was all said and done last weekend.
Cummins shares the versatility of being both a runner and thrower like his counterparts in Mitchell and Bernhardt. Although he has seen the field less than the other two, he's adopted the next-man-up mentality.
In a quote from the Big Rapids Pioneer, Cummins talked about the depth of talent that graces the QB room at Ferris State.
"We have so many weapons it's kind of crazy," Cummins said. "We are supportive of each other because we have unreal depth and we can pretty much throw it to anybody and they're playmakers out there."
The 6'3" 225-pound quarterback's number was called, he was a force near the goal line this season. Notching 5 rushing touchdowns and 7 passing touchdowns in the regular season. Cummins made the most of his opportunities when Bernhardt went down with a knee injury during the 3rd game. Starting for the Bulldogs against Saginaw Valley State, Cummins threw for three touchdowns and ran for another three touchdowns in a 47 – 45 shootout with the Cardinals.
Cummins completed the season just shy of 600 all-purpose yards. Completing 38 of his 51 passes with 407 yards, he achieved 53.4% completion and 148.8 efficiency. On the ground, he gained 162 total yards on 54 carries. Cummins finished 3rd on the team in rushing touchdowns with nine on the year.
During the post-game press conference following the National Championship game, Coach Annese made sure to praise his quarterbacks.
"I feel blessed to have [Bernhardt] on our team like that," Annese said. "But I will add that Mylik Mitchell and Evan Cummins, those three guys were so unselfish this year. It's just incredible."
Jared, Mylik, and Evan have embodied the next-man-up mentality. Challenging themselves and each other during practice, while being able to build relationships that will last longer than their time on the gridiron.
Congratulations to the Ferris State football team, your 2021 NCAA Division 2 National Champions.