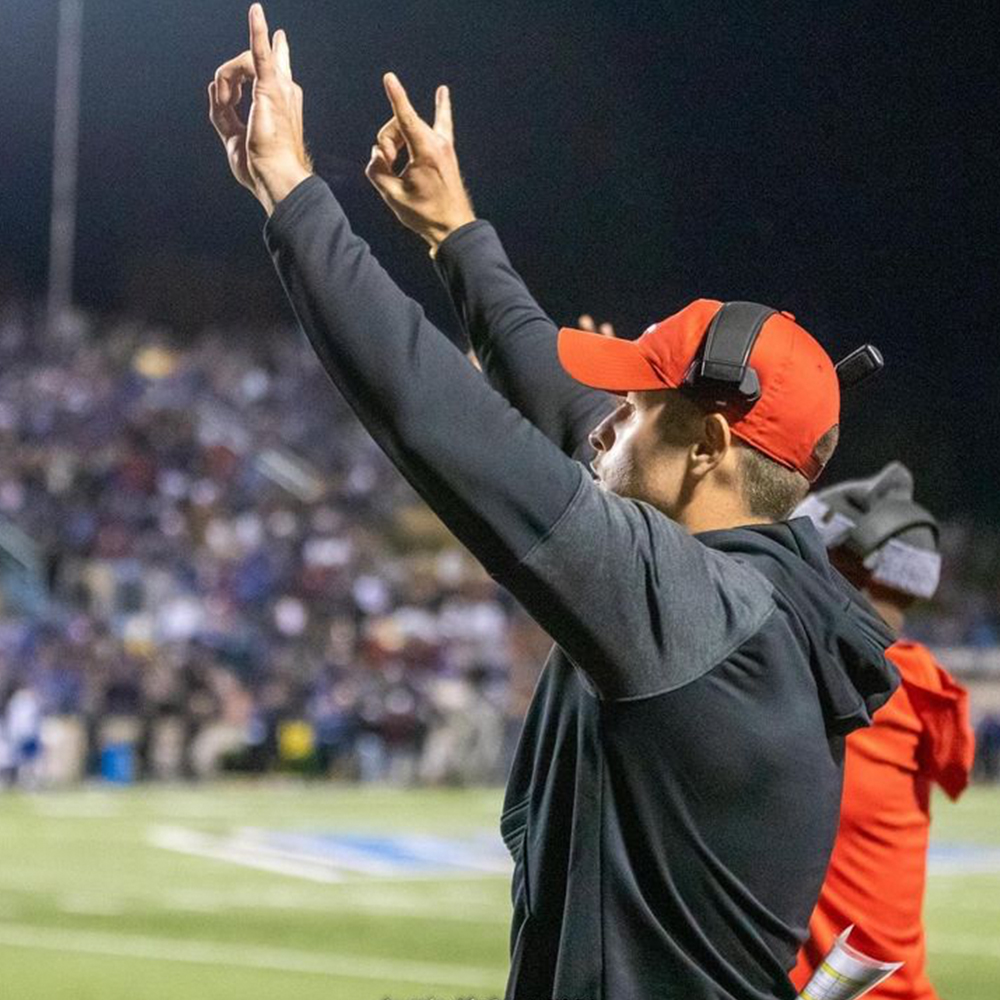 After finishing a near 2-decade career of being on the football field, former quarterback Travis Russell left his job after college to return to the gridiron.
Falling short in both 2018 and 2019 of the national title, Russell thought that his college football career would conclude after the heartbreaking loss to West Florida in the semi-final game. Instead, that following the new year, he'd be putting his marketing and finance degree to use.
Russell was able to do something that some may say is harder than winning a national championship. That was securing a well-paying job in his hometown right after college.
"When I played my last game in December of 2019, that first Monday of the new year in 2020, I started. I worked for a brokerage firm called AON," Russell said. "To be honest, I had a great experience."
However, there was always a desire to take the next step in his football career. He started slow with helping out the football program at Grand Rapids Union High School but being around the sport again rekindled a fire to help young men through football.
"I wanted to dedicate my life to helping young men through a game that I love. So, after a year and a half, I decided to walk away, and after a year and a half, it was the best decision that I ever made." Russell said.
2021 was the first year Russell joined the coaching staff, officially being an assistant and slot receivers coach. Making the jump to a full-time college coaching job from part-time at a high school brings many challenges both on and off the field.
Being in between jobs, the last thing that Russell wanted to worry about was finding a place to stay. About to bite the bullet on having to commute two hours out of the day from Grand Rapids, he got a special offer from head coach Tony Annese to stay at his house for the duration of the season.
"So coach being the world-class person that he is, said, 'hey, I have an extra room, and it's just my wife and me, so you can stay with us.' So he let me stay with him during the season, so it allowed me to dedicate a lot more time to our team and football," Russell said.
Being around Annese for more than just football practice gave him many invaluable lessons as a young coach. Who better to learn how to coach at the college level than the reigning Division 2 coach of the year.
Getting players to buy into a program is always tough, even for a national championship-caliber team. Especially with the off-season just getting underway, Russell's focus lately has been fully on recruiting. And with the Bulldogs pulling in the top-ranked recruiting class for D2, there's a lot to expect for this off-season's recruits.
But with the team's newfound reputation, convincing players to come to Big Rapids may have gotten easier, but maintaining the winning culture is Russell's number one focus.
"You need to find a coach and a program that can simultaneously push you and challenge you and hold you to a really high standard and demand lofty expectations, but at the same time believe in you and help you and push you to get there," Russell said.
With a team that is heavy in veterans, it takes a lot of stress off of the coaches' plates when they can rely on the culture and leaders of the team to keep everyone on focus.
"I think our players and the cultures we have there is the best possible recruiting field we can possibly have," Russell said. "It recruits itself in a way."
Not to mention the stages that the Bulldogs play year after year, more specifically, the AnchorBone classic. Russell had played in a handful of games against the Lakers, but when the team traveled to Lubber's in late 2021, it took the cake for him and the players.
With an attendance of 17,009, it was quite honestly the biggest crowd that most of the players would ever play against. And for Coach Russell, to see his guys dig deep and make plays when they needed it most, it was special to get a win against such a good rival.
"I knew that at some point against Grand Valley, whether it was another game there in the playoffs, at some point, we were going to be tested. I knew our guys were going to respond well, and they sure did that night," Russell said.
And for the young coach, preparing for these big games hasn't changed. Although he doesn't have as much pressure on the field as he did as a player, Russell still shows the same demeanor as he did when he'd take the helm of the Bulldogs.
"There's a lot of similarities in that as a coach. No matter what happens, turnover or touchdown, let's make sure that we're on the same page, we're calm, and we're focused on the next drive, the next series, the next match-up," Russell said. "So I would say although it is very different, that is one of the similarities that making sure you stay calm and level-headed, no matter the situation you stay level-headed all the time."
However, when he was a player, he can recall when he wanted to get the boys as fired up as he was. Many people can recall when they saw the Bulldogs take on Michigan Tech in 2019, there was a blizzard and freezing temperatures. Regardless of the conditions, Russell still strolled out to warmups without a shirt.
We might not see that again as the NCAA has since enforced a rule that all players must be wearing an article of clothing where their number is visible.
"Whether that had anything to do with me that day, I don't know, but our team was lighting it up that day," Russell said.
It's still up for debate whether Russell had a part to play in the NCAA's decision. Still, the Bulldog faithful will always refer to as the Travis Russell rule.
Russell and the other coaches have bought into the process to make the team's national championship an expectation rather than one of accomplishment. A process that will take three parts to cultivate success in every facet of the program.
"There are three things that come to mind. Number one is developing the players that we have on campus. Continue to push them, help them grow, help them work on things they need to work on," Russell said.
A time-tested process that can help continue the success that the team has been experiencing through the last handful of years.
"Number two, strengthen our relationships with them. Become closer with them, do everything we can to understand them, and put ourselves in a position to better serve them and better help them so that they can have a better experience," Russell commented.
Developing and maintaining those relationships with the players is something that all coaches can attest to. Growing a bond that surpasses the football field and something that can last a lifetime.
"Number three, continue to recruit the very best players and bring them in so that we continue that experienced success, and we're able to develop players that know how to win and that want to do it. So those three things I think are the primary focus for the coaches right now to do what we want to do, and that's win at a very high level," Russell said.
With just one year under his belt and the number of connections he has at his fingertips, Coach Russell's future seems to be promising, whether at Ferris or somewhere else.