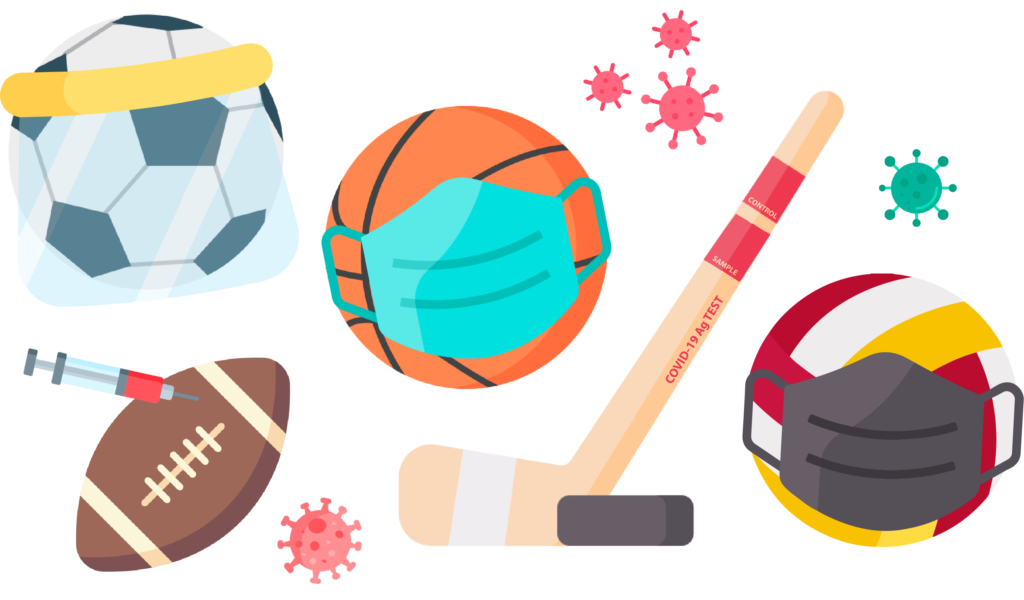 Ferris athletics' attempts to return to normal in a COVID-19-ridden world seem to be working well.
Athletics posted low COVID-19 cases throughout their programs with high vaccination rates in their student-athletes during the fall season. Athletics also had gone the distance in order to allow for the continuation of fall sports.
Associate athletic director Rob Bentley shared his thoughts on how the seasons were going.
"I think we're doing well," Bentley said. "Obviously from the athletics standpoint, we haven't had any team shutdowns or anything. No major issues. A lot of it is due to the fact that I think our student-athletes, our coaches have taken it seriously and had a lot of practice going through it last year."
The fall season in 2020 had massive changes made to some teams' play. Bentley also explained that sports like volleyball and soccer had their seasons pushed to the spring and were also shortened.
However, the fall season in 2021 returned to more of a traditional schedule. Keeping COVID cases low was imperative for the continuation of athletics.
"We haven't had any shutdowns with less than 20 cases and athletics all fall," head athletic director Brett Knight said. "And so obviously a lot of credit to our staff, to our student-athletes, to our coaches, and administrators. We've all worked really hard to keep our athletes playing and keep our teams participating. So it's a good relief, because things feel normal."
Knight added that any COVID cases present in Ferris's sports teams were spread out amongst programs.
In addition to the low COVID numbers, Knight also said that all athletics has a 90% vaccination rate against COVID-19. For the 10% of athletics that are unvaccinated, they were required to go through a medical or religious exemption waiver before they were cleared to play. Those who went through that waiver are required to take COVID tests three times a week compared to vaccinated players who are not required to test unless symptomatic.
From a student-athlete standpoint, there seems to be agreement on how athletics has carried themselves this semester. Nick Grimaldi, a freshman on the hockey team, spoke on athletic procedures.
"I think Ferris has done pretty good with COVID protocol and everything," Grimaldi said. "On the hockey team, we haven't had any issues. If anyone feels down, we get tested and stay away from the team until you get results back."
Grimaldi also spoke about feeling safe knowing that his teammates are vaccinated.
Through the first semester, all sports had returned, along with the fans. Ferris athletics hopes to continue this. However, with the emergence of the Omicron variant, there is some concern from athletics moving into the second semester.
In the pro-sports world, the Omicron variant has taken its toll with postponements of games, pauses, and numerous players being added to COVID lists. According to the New York Times, Michigan is experiencing a daily average of 16,048 COVID cases.
With Omicron carrying a higher transmission rate, athletics has some worries about what events it will be able to hold with student-athletes returning to campus. Knight voiced his concerns about the return of both students and student-athletes.
"The biggest concern is that we've all been away from campus for certain periods of time," Knight said. "Family gatherings and just travel in general- I think that's why we're seeing a big surge right now in the community, state, and nationally. I certainly think we're going to see that. It's a concern for people's health but also we know there's gonna be disruptions in events and schedules and maybe even changing of policy, whether it's from campus or [the] state, or the university, or [the] NCAA."
Knight also stated that athletics looks at and compares NCAA suggestions regarding protocol with state and local health departments to make their judgment on what would work best for athletics.
Unlike the initial two doses of the vaccine, the booster shot is not being mandated by athletics. Teams have a list of players who are rolling off their six months after being initially vaccinated and have been strongly suggesting the booster shot.
Junior women's basketball point guard Mallory McCartney shared her concerns related to the Omicron variant and student-athletes making a return.
"I think there's always a concern just when it comes to anything COVID," McCartney said. "So whether it be a different variant or whatever strand it is, it's just always a concern that we can shut down just how we did before and not be with each other [or] play with each other."
Despite the concerns with COVID-19, head hockey coach Bob Daniels remains optimistic in the athletics department's ability to continue winter sports.
"I have faith that they'll make all the right decisions," Daniels said. "I thought they made all the right decisions a year ago, I really did. I continue to feel that way. Obviously, at the end of the day, I think all of us take the health of not only the athletes but all students here very seriously. As long as I think we continue to be guided by that principle, that the number one thing is health and safety, we'll continue to make all the right decisions."
With both concerns and faith held by those in and around athletics, all programs' main goal will be to continue their seasons with no illness or pauses within the respected programs. With sports like hockey and basketball continuing their fight, there will surely be a heightened sense of caution throughout.