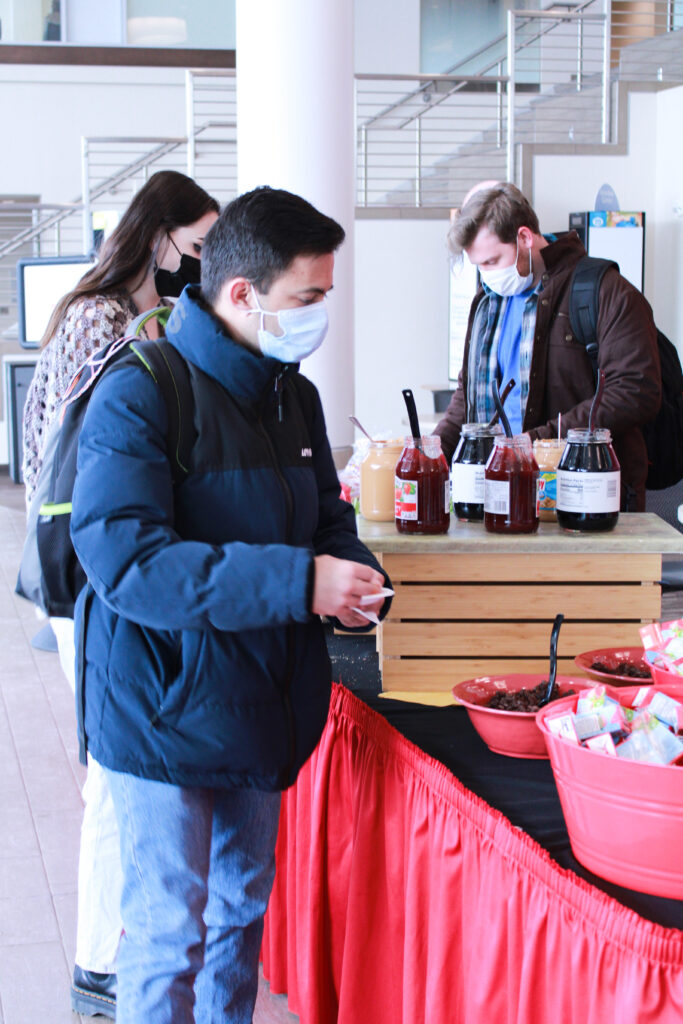 The peanut butter and jelly sandwich, a childhood classic, made a comeback on our college campus, delighting students on their first day back.
On Monday, Jan. 10, the Center for Student Involvement hosted its first event of the semester. They invited students to make their own peanut butter and jelly sandwich.
The sweet and salty event was curated by CSI events coordinator Nick Smith in hopes that it would remind students of their first day of school when they were younger.
"It's a really simple kind of throwback," Smith said. "A good way to kind of relax on the first day of class, and food brings people together. [It's] just a really fun way to just stop in and grab some food."
The sandwich-making station was held in the university center, not too far away from the book store, which Smith said was perfect, since there was already a built-in audience of students coming to collect their books.
Madison MacDowell, the president of Entertainment Unlimited, said she had noticed the event going on as she was getting her parking pass and figured she would come to check it out.
"Immediately I thought of when I was in kindergarten or first grade and my parents would pack me a lunch for school," MacDowell said. "It's funny too because the bread is the exact same brand of bread I had, and I was like, oh, I feel like a kid again. That was the first thing I thought of, just that nostalgic aspect."
The feeling of childhood nostalgia and excitement for the first day of school stemming from a unique event is what had students stopping and taking part. MacDowell says Smith and Nicholas Campau, the associate dean of student life, come up with different events all the time with the help of their student staff and EU.
"Nothing shocks me anymore with them and the ideas they have," MacDowell said. "They have very creative minds behind it and that's how these events come to life. Last semester, towards the end of finals week, they brought in reindeer and a hot cocoa bar, that was really cool!"
The CSI office and its staff work hard with students to be able to throw exciting and unique events that blow students away when they come to them.
Leah Thomas, a student studying environmental biology, had frozen with excitement when she saw that she would be able to make her own PB and J.
"I actually wanted a peanut butter and jelly all day," Thomas said. "I saw my suitemate have one and I thought that looks so good! Coming here and knowing I could eat all I want, it's the best day of my life!"
Thomas said she remembers going to school with Uncrustables for lunch, and this event made her remember so many memories as a kid.
There are many unique events that the CSI hosts to engage students and make lasting memories. Especially with an event involving the sweet and salty classic at the beginning of the semester, it can get students excited for other events that will come next.
"We thought, how cool would it be if we did this?" Smith said. "Everyone was like, yeah, that sounds fun, and I think people have had fun so far and we're just getting started."
The CSI has multiple events planned every week till the end of the year, from weekly trivia nights to headphone disco. One of their biggest events coming up is the University Center anniversary celebration happening this Saturday.
Students who want to stay up to date on upcoming events can head to BulldogConnect and view the electronic events calendar.