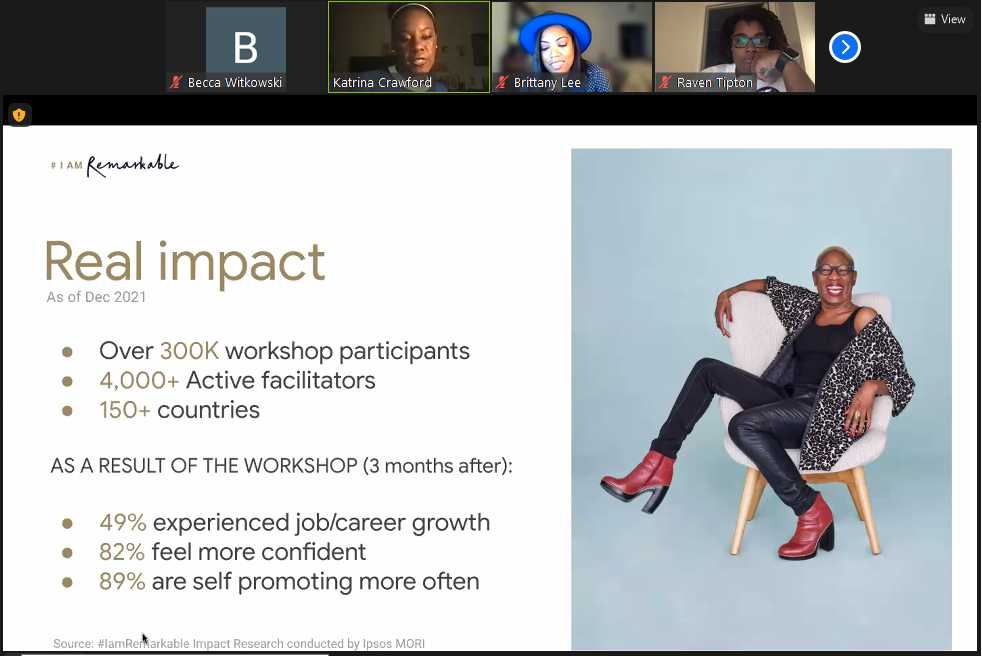 Women came together to remind each other that #IAmRemarkable and to celebrate the professional accomplishments and feats that society made them feel they should shy away from discussing.
The presentation took place Friday evening and was facilitated by Kristina Crawford. About 17 women ranging from Michigan to Texas discussed self-promotion, self-advocation and differences in workplace treatment.
#IAmRemarkable is a global initiative run by Google to encourage women to embrace their achievements and to use their full potential in the workplace. After becoming a facilitator for the initiative, Crawford went to her chapter of the Zeta Phi Beta sorority graduate chapter based in Mount Pleasant.
"I brought this to the sorority, they loved it and we do the program at least once a year," Crawford said. "To, you know, make sure that folks know how remarkable they are, and that women are empowered to advocate for themselves."
The presentation provided encouragement as well as facts to motivate young women to advocate for themselves and their professional abilities. For example, the presentation claimed that companies with women on their board of directors outperformed others by 53%. Crawford also explained that when women feel comfortable speaking up about their accomplishments, it indirectly gives other women permission to speak highly about their own accomplishments.
"It's not bragging if it's based on facts," the presentation stated. "Accomplishments do not speak for themselves."
#IAmRemarkable was created in 2016 by Anna Vainer and Anna Zapesochini. Vainer and Zapesochini noticed that women and other under-represented populations had a hard time with self-advocating and speaking openly about their accomplishments. The initiative quickly grew and became popular among various agencies, universities and various other customers.
"This program might not be the ownership of the sorority, but because our member is a facilitator and has done an awesome job, we have taken it on as a chapter ownership," Traci Buckley, assistant vice president for inclusive excellence at the University of Texas San Antonio and sorority chapter member said. "We'd like to help other people realize how phenomenal and remarkable they are as well."
Before COVID-19, the presentation usually took place in person. Now, the presentation has moved to a completely online format. It is expected that when the pandemic begins to wane, there will be both online and in-person formats for the presentation.
After the presentation, it was announced that the Zeta Phi Beta sorority was hoping to reactivate the Kappa Theta chapter at Ferris State University. The organization will be present at a tabling event on Jan. 25, as well as providing information in the IRC on Feb. 5.