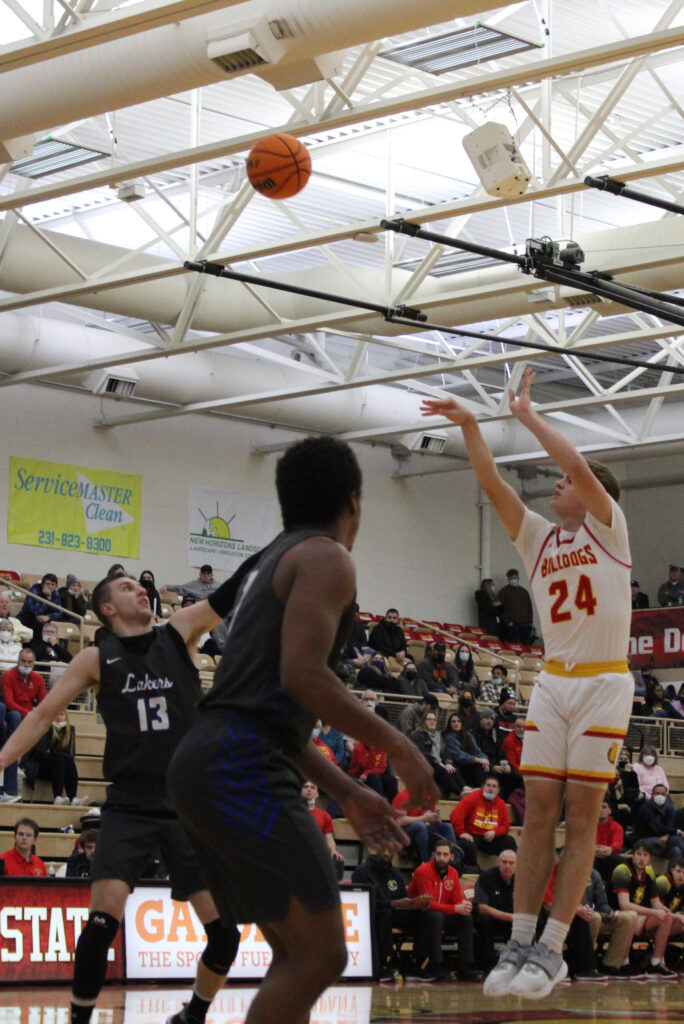 For the first time in 10 days, the Bulldogs played a game on their home court and rewarded fans with a victory.
The men's basketball team returned home to break up a four-game road stretch by hosting Lake Superior State University. After an uncharacteristically slow first half, Ferris heated up offensively in the second half. Their effort was enough to remain unbeaten in the GLIAC thanks to a 95-80 victory over the Lakers.
Ferris dominated on both sides of the court, shooting just under 50% (12-25) from beyond the arc. Senior Walt Kelser and freshman Ethan Erickson led the team with three three-pointers each, and senior Lee Higgins was right behind them with a pair of his own.
Six Bulldog players recorded 10 or more points in what was a balanced scoring effort. Every player who saw the floor also scored.
"We tried to share the basketball, we tried to move it around," head coach Andy Bronkema said. "We came out a little flat, and it's hard to meet Lake State's energy."
Ferris led 43-39 going into the second half. Redshirt sophomore Ben Davidson energized the crowd and his team before halftime by blocking a fade away shot, then pulling up from three on the fast break to beat the buzzer.
Kelser led the team in scoring with 15, but he was followed closely by the senior trio of Davidson, Dorian Aluyi, and Higgins each with 13. Logan Ryan had 11, and freshman Mykel Bingham was perfect from the field coming off the bench with 11 as well.
As a team, Ferris finished 50% from the field (35-70) including an efficient 12-25 (48%) from three-point range. They also shot 13-19 (68.4%) from the free throw line.
When the shots weren't falling, senior forwards Ryan and Aluyi got to work on the glass. The two combined for 25 rebounds, with seven of them being offensive rebounds.
"We rebounded well, and we played good," Bronkema said. "I mean that's a good team."
The Lakers, however, only had three players break the threshold of 10 points. Week 7 GLIAC player of the week Malek Adams led their scoring with 19 points, followed by 16 from senior guard David Wren, and 13 from senior Justin Fischer.
With this being their fourth win in a row, the Bulldogs broke back into the nation's top 25, reaching 24th overall just behind Bentley University. The Bulldogs move to 13-3 overall, and 8-0 in the GLIAC as the second half of the season starts up next week.
Bronkema feels the upcoming week of games will be a valued test for the middle of the season.
"It's going to be a tough stretch, but at the same time it's going to be a fun stretch," Bronkema said. "But we're going to look at it the other way, saying 'Hey, we're going to have fun with it.'"
The Bulldogs will visit Saginaw Valley State on Thursday, Jan. 27 at 8 p.m. and take on Wayne State this Saturday, Jan. 29 at 3:00 p.m.